Bublup Support Rolls
---
Add items to an existing roll
Use the sync feature of the Roll Editor to add content to an existing roll.
You've created a roll and now you want to add new items to it. No problem!
1. Start by adding any new items into the roll folder. This is the folder that you created the roll from (the roll source folder).
2. Click the orange button in the upper left corner to enter "edit" mode. Then click the hamburger menu and choose "Sync From Folder".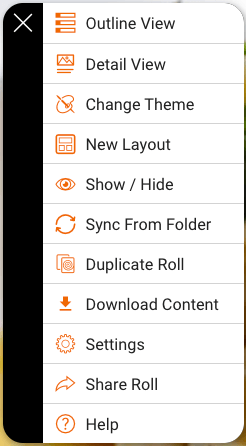 3. Syncing items to your roll only adds the items to your roll and cannot be undone. Any items no longer in your folder will not be deleted from the roll. To remove items, use the "Hide" or "Delete" options. Any other text, image, or layout changes you made to your roll will not be effected.

5. To sync, click the "sync" button when ready.