At Bublup, we know being a realtor is more than just opening doors, negotiating the best deals, and signing paperwork. It's about building relationships with clients and easily communicating the value of your properties. We're here to help. Bublup is an amazing app for visually organizing and consolidating information in one place. Realtors are using it daily because:
It's easy to use and improves productivity.
You can save links, photos, videos, notes, and files in one place.
It's collaborative. Any Bublup folder can instantly transform into a hub for communicating key information with colleagues and clients.
Best of all, Bublup complements the tools realtors already use! Links from any internal database can be saved in Bublup alongside notes and other content, and anything saved can easily be shared on other platforms, social media, or in emails with one link.
If you're a realtor, here are five steps to get you started with Bublup.
1. The Walkthrough – Getting Started as a Realtor
First things first, set up folders to save your important information. Your top-level folder should represent how you best organize your client information, listings, and company resources. An example of a folder hierarchy that might work for you is:
Create Top-Level Folders
Clients
Company Resources
Personal
Properties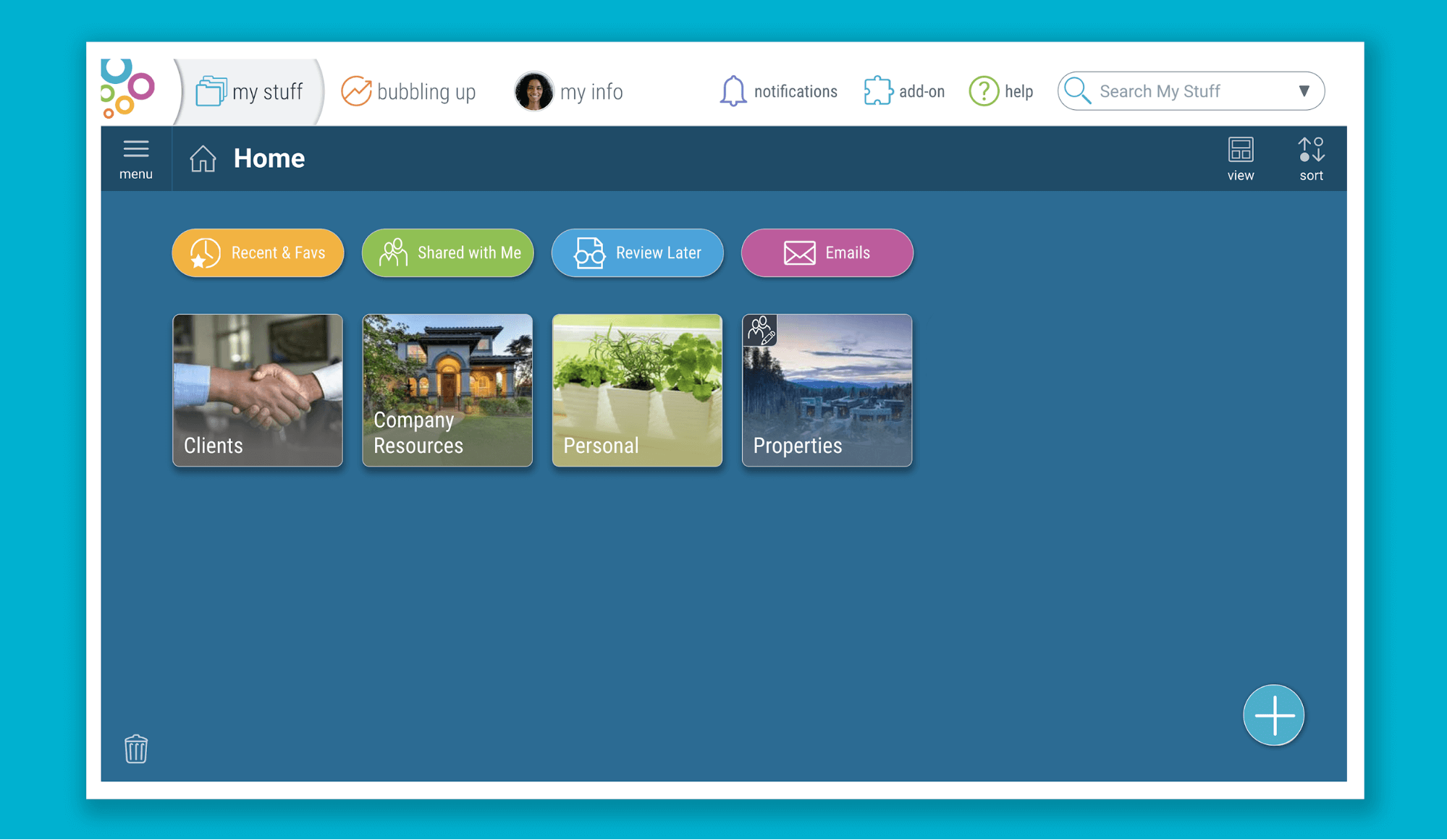 Create Subfolders
Top-level folders can contain endless subfolders, so whether you are someone who likes folders for each aspect of a deal or someone who prefers to keep information at the top level, Bublup allows for flexibility based on your preference.
Properties → 123 Main Street
Clients → John Smith
Personal → 2020 Goals
Company Resources → Marketing Materials
2. Furnish a Folder – Populate with Property Information
You can easily save web links, photos, videos, documents, and any other file type in your Bublup folders. Using "Properties" as an example, you might want to include:
Property photos
Links to property listings
Walkthrough videos
Links or notes with rental history or the property's realtor profile
There are multiple ways to add items from both desktop and your mobile device.
The "+" Button
Anything can be saved by clicking the blue "+" button in the bottom right corner of your folder. Select the file type you wish to upload or paste a web link.
The Built-In Camera
The mobile app offers a built-in camera that automatically saves photos in your folder. When you're on the go, use it to take those property photos of the hot water heaters or closets your client has been asking for. However, if you prefer to use your phone's camera app, you can also save your photos to a Bublup folder with the plus button.
Email to Bublup
Bublup's email forwarding feature is another great way to organize the influx of client emails and property listings hitting your inbox. When forwarding emails to Bublup, emails, and their attachments, save as PDFs in the "Email" folder located at the top of My Stuff. From there, you can move them into their designated folder alongside other pertinent information about that sale or rental.
To set up email forwarding, go to:
My Info → Preferences
"Save Emails to Bublup"
Add the email(s) addresses that you wish to forward emails from. Once complete, simply forward emails to your username @mybublup.com (i.e.,: forexample@mybublup.com).
3. Host a Virtual Open House – Share Effortlessly
Now that your folders are populated, you're ready to share them. There are several ways to do so:
Copy Shareable Link
You can find the "copy shareable link" option in the "…" menu on any item. To find it on desktop, hover over the saved item, and you will see the "…" menu in the top right corner. On mobile, the "…" button is always visible on any item.

Shareable links are essentially landing pages that allow you to share information quickly and send large or smile files easily by email, social media, or text. When you use a shareable link, important property details you include (in the title, description, image, or notes) will travel with your item. If you're a premium member, your custom branding will also travel with the item, adding a polished and professional touch to your communications.
Make Any Folder A Group Folder
With group folders, you can streamline communications into one consolidated location, versus a mess of emails and texts, saving yourself and others time.

By selecting the "invite" icon you can add others to your folder by email address or username. There are also different permission levels available such as view, add, edit, and invite privileges.
4. Create Curb Appeal – Make An Impression
Take your listings to the next level by rolling up any folder's content into a beautiful, single link that anyone can view.
Listings benefit from storytelling. Folders are the place where you gather the listing's table of contents, and rolls are the book waiting to be read! A roll is an instant web page that can be created with the click of a button but looks like it took hours to make.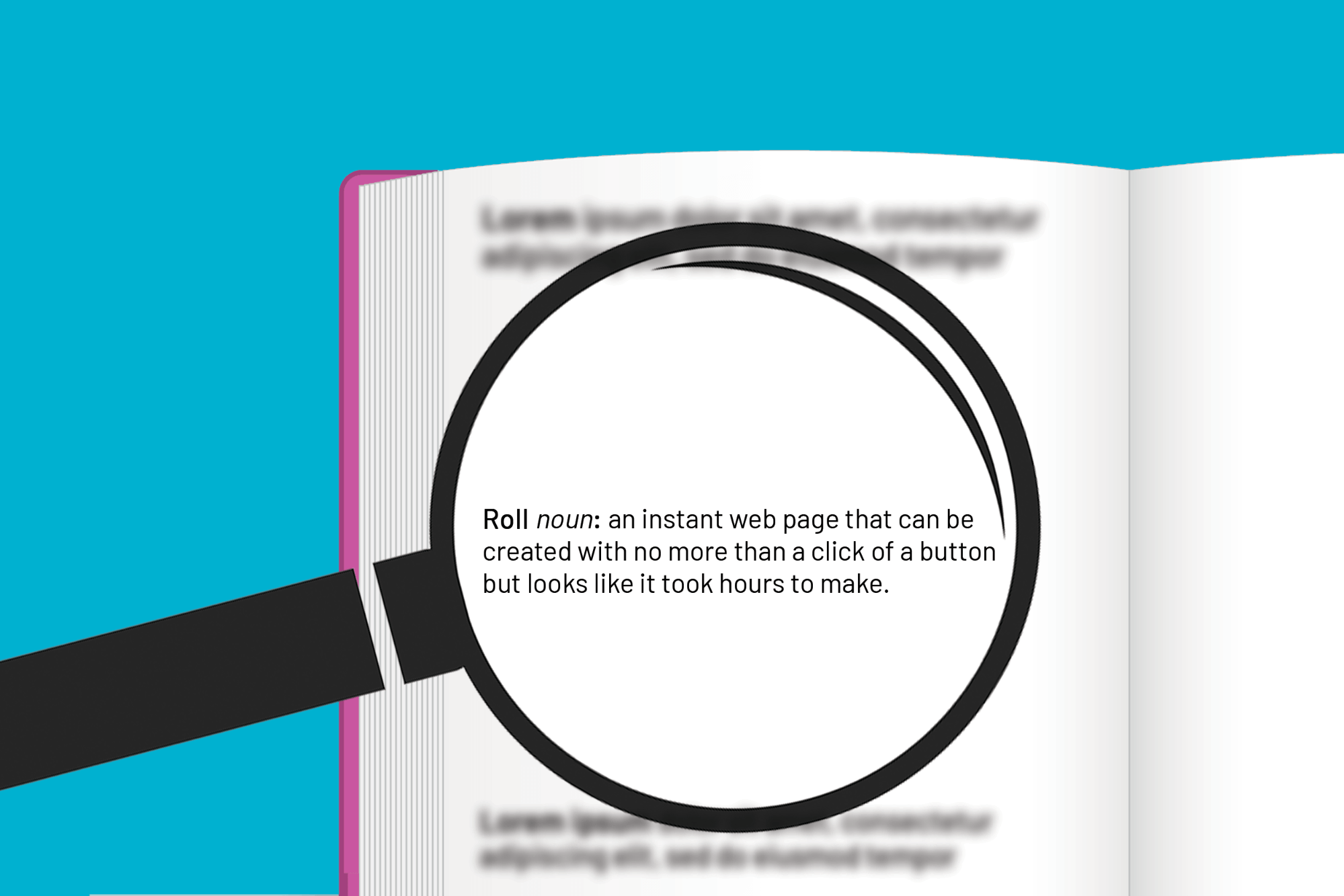 Your folder for a property may contain the official listing link plus additional property photos, floor plans, property history, and neighborhood information – the full makeup of 123 Main Street's fairytale. Select "Roll An Instant Web Page" from the menu, and watch as your folder contents transform into a beautiful website. Rolls allow for customization; some options to think about are:
5. Install the Security System – Advanced Personalization and Protection
Just like a new home, your roll may need personal touches and protection.
Brand your roll

Add your custom avatar and your company's logo to the footer for a professional feel.

Password protect your roll

Add a layer of protection to your roll by assigning it a password that only your clients or colleagues know.

Change your roll URL to an easy link (personalized to you!)

Rolls have customizable URLs that can be personalized to clients or properties. For example, your roll URL could be: https://rolls.bublup.com/johnsmith/123mainstreet.
With a Premium Bublup account, you can have three distinct and personalized domains. You may want to create a domain using your own name and one with your company name, depending on the content you're sharing and with whom.

To learn more about Bublup rolls, including how to customize your roll theme and roll URL, password protect your roll, and add your logo, watch this Roll Tutorial Video.

We hope this guide helps to streamline and simplify your job as a realtor. If you have any questions or feedback about Bublup, feel free to reach out to us at info@bublup.com.