The holidays are upon us, and that can only mean one thing: it's party season! Whether you're hosting a family meal, planning a New Year's Eve bash, or organizing a company event, we're here to help. This year, let Bublup take the stress off your plate and help you plan what to put on it instead. A few simple Bublup features will have you at the top of your organization game, so much so that you might actually enjoy your party this year!
1.Folders
Party planning involves a lot of moving pieces, and most likely, a mixture of web links and media types. Keep everything all together by creating folders where all of your research, inspiration, guest lists, checklists, notes, and more can live harmoniously in one place. Consider making folders for:
Vendor Information
Bringing in outside help? Good idea. Save your research on the best companies for the job, alongside contact info, contracts, your budget, and more.
Recipes and Menus
Trying to decide what to serve? Collect recipes and prepare your menu. Keep an eye on the bubbled up suggestions for more ideas similar to the links you've already saved!
Party Decor
Are you finding some great ideas from Pinterest or those creepy yet accurate Instagram ads that fill up your feed? Snag and save all of your inspo together by using the "share to" option on your phone. And don't forget to add Bublup to your iOS share menu! (Hint: you can also save links and customize them easily from your computer by installing our browser extension.)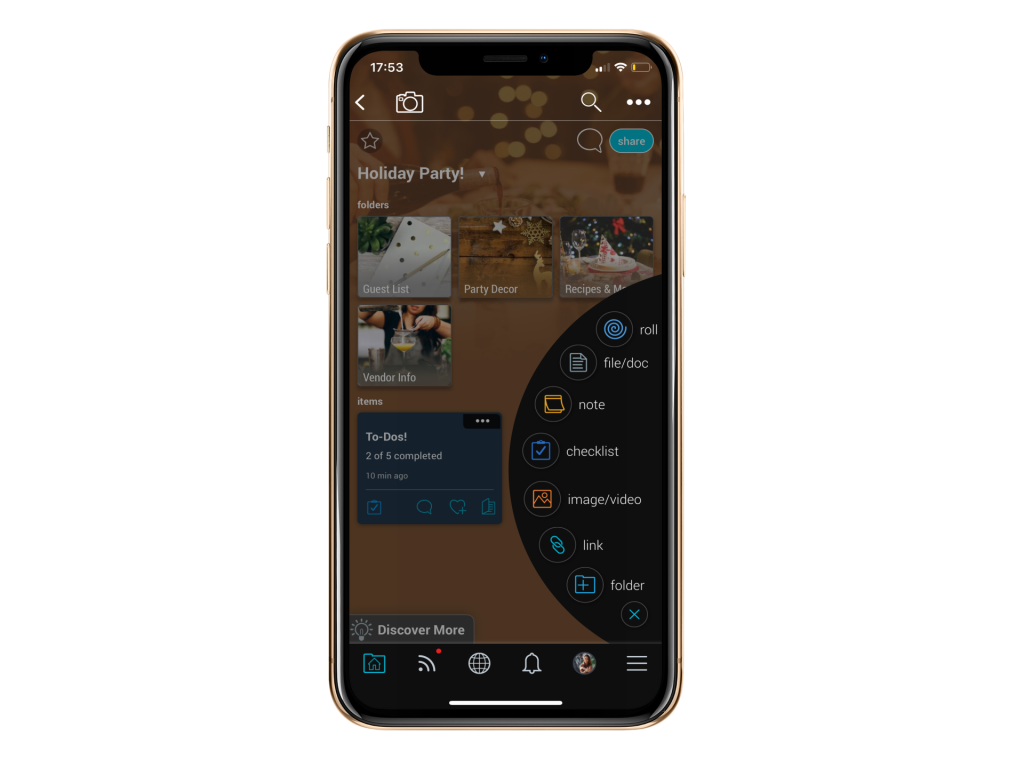 Guest List
Keeping an organized spreadsheet, or prefer to keep tabs on your guest list with a note? If Mary is a vegetarian, Pete has a peanut allergy, and Sue and Steve are best seated far, far away from one another, save these important pieces of information in a folder alongside your other party planning details!
To-Do List
Few things feel better than checking things off of your to-do list. You can create checklists for your shopping lists, decorating tasks, and so much more. Your checklists probably don't need their own folder though- keep it handy on your home page or pop it into the relevant folder!
2.Email to Bublup
Inboxes can fill up quickly, especially during the holiday season. Save time weeding through emails and keep all of your party planning communications in one place using the "Save Emails to Bublup" feature. Your guests have a long list of dietary restrictions? The caterer sent over a sample dinner menu? You received an invoice from the DJ? Forward them all to Bublup, and you'll never waste time searching again. Authorize emails that can forward to Bublup under "My Info" and "Email to Bublup". Then send or forward your emails to username@mybublup.com, and they will populate your Email folder.
3.Group Folders
Creating a Holiday Party Group Folder is a game-changer, and doing so even comes with a gift of its own! When you invite others to a group folder, and they sign up for Bublup, you each get 1GB of storage for free (up to 20 GB) for life! Give it a try if you're:
Party Planning with Others
If you're lucky enough to have enlisted the help of others to plan your holiday bash, a Group Folder is the perfect place to centralize everything. Delegate responsibilities and keep everyone in the loop with comments, reactions, and real-time updating. No more scouring emails and text messages!
Photo Sharing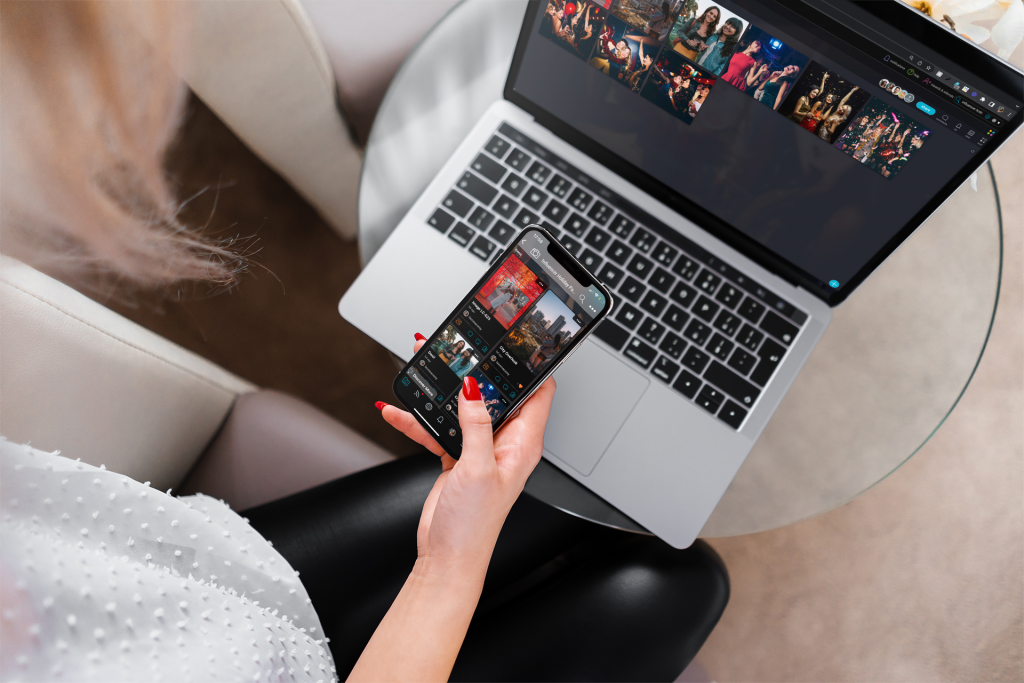 We've all been to a party where a million snaps were taken. After, it took a million years trying to track all the photos down! Avoid the wild goose chase and use a Group Folder as a shared location for your party photos. Guests can upload their own, and easily download photos added by others. The best part? You can easily share your pictures and videos this holiday season with anyone, Bublup user or not! 
Furthermore, you can spread the holiday cheer in real-time with Bublup's slideshow feature. Whether you're on mobile or desktop, go into your folder and simply select "Slideshow" from the folder's menu. To adjust the slideshow settings, use the buttons at the bottom to loop the slideshow, pause it, and shuffle the photos. With the help of a projector, television screen, or computer, you can easily live stream the party photos for the amusement of all.
4.In-app Camera
Use Bublup's in-app camera, which can be found in the top left corner of a folder, denoted by a camera icon. No need to leave the app, taking photos this way will save the images directly to the folder and save you time (simplifying is a great New Year's resolution, you know.) Once your folder starts to fill up with images, change the view to "gallery" for easier browsing. Tap the "…" in the top right-hand corner, and select "view" and then "gallery."
The key to a flawless party or event is excellent organization, and Bublup ensures the management of every last detail from any device at any time. You'll be amazed at what you can accomplish when you have one place to save, organize, and share all of your party needs! So throw on that ugly Christmas sweater and send out those invites, you've got a party to plan.
Happy holidays from Bublup!