As a solopreneur, consultant, independent business owner, or whatever you want to call me, I find it helpful to have a well-organized workspace. This is true of my physical office space as well as digital workspace. And this isn't just hyperbole – a more organized workplace equals a more efficient workplace. In fact, according to the National Organization of Professional Organizers (NAPO), 91% of people in the workforce said they would be more effective and efficient if their workspace was better organized.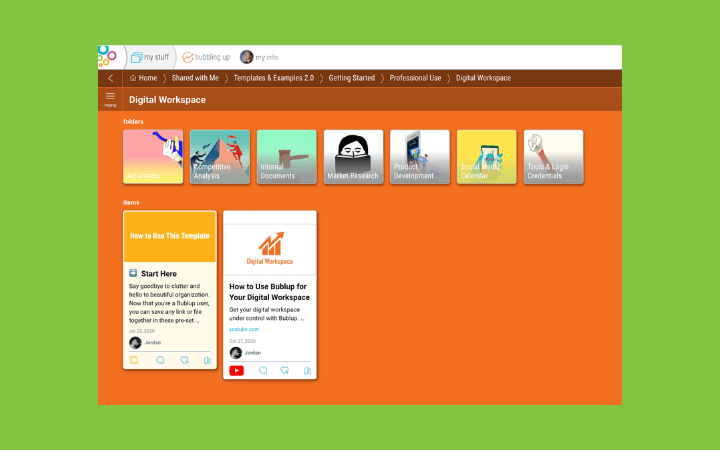 Before Bublup, my organization scheme included a combination of cloud storage, a notes app, browser bookmarks, and the occasional email to myself. But as things got busier and busier, having assets and information for five clients in four different places wasn't cutting it. Too many tabs to navigate, apps to download, and passwords to remember – it was just inefficient, and I was spending hours a week just looking for stuff.
With Bublup, I can create a folder for each client I'm working with and personalize that folder with a custom image. Inside each client folder, I can create unlimited subfolders for all of the things I'm working on, whether it's creative assets, some market research I've done, or some important internal documents. Sometimes I just need a folder to save inspiration without filling up my computer desktop.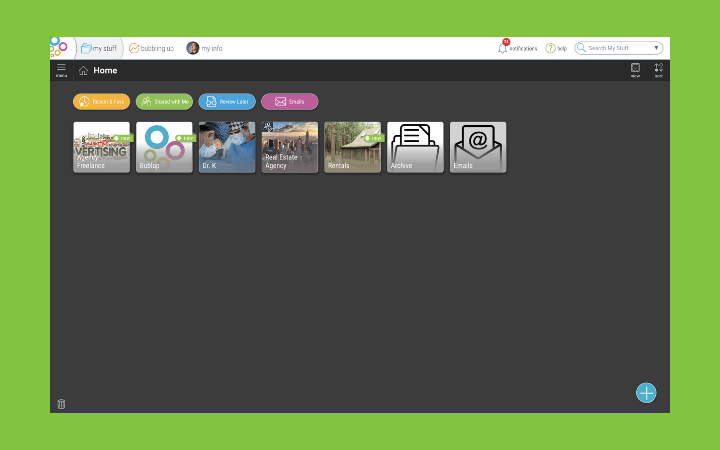 I can save all of my files just like a traditional cloud storage solution, but Bublup is also incredible for bookmarking online content, so I can literally save all of my stuff within the app. It doesn't matter if it's a Word Doc or Google Doc, an image from my phone or an image from the internet, or even a video someone texted me or a video on YouTube.
I'm able to save it all in Bublup, so I have fewer places to look. I can also organize important communications by using the app's Save emails to Bublup feature, which allows me to quickly and easily save emails to Bublup right from my inbox. They save as nice PDFs and attachments that I can further organize by putting them in project-related folders.
The app's visual interface also makes it super easy to find everything at a glance. When I've saved a lot of content and links, that's when the search toolbar becomes really useful. It helps me quickly find items that might be deeply nested in my folders.
Another noteworthy feature is the ability to take notes (see what I did there?) about the content I save right on the item card itself. For actual note-taking, Bublup has a simple notes app with rich text formatting and the option to add an image. I can also create a checklist so I can keep track of all my tasks related to a client and tick them off as they are completed.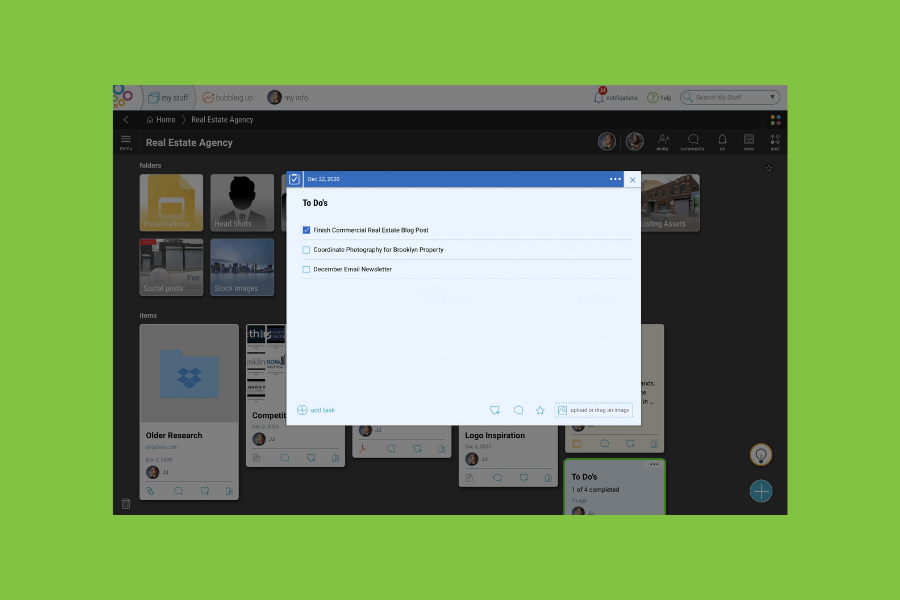 Before Bublup, I was organized, but had my content in a lot of different places. Now I can keep everything in one place and access it at any time from my browser or their mobile app. The visual aspect also makes me feel more motivated and creative when working with the content I save. Anyone looking to streamline and simplify their digital workspace will find it invaluable, too!