Bublup is perfect for organizing research, flight info, inspiration, and more.
Vacation planning can be stressful. You have to find the perfect dates, coordinate with friends or family, book plane tickets, research what to do and where to go — the list goes on and on. Not to mention the added stress of pulling up all the information that you need once that exciting travel day arrives. Ready for something easier? Enter: Bublup.
Bublup is a unique cloud storage app that allows you to save any type of link or file in one place. You can visually organize all the information you need to have a stress-free vacation! Travelers use Bublup to plan every trip because:
It's easy to use and is accessible on your phone or desktop.
You can save links, photos, videos, notes, files, and more all in one place.
It's collaborative. Any Bublup folder can instantly become your go-to place to plan and organize trips with your friends and family.
Imagine all the things you need to organize when planning a trip: hotel and flight confirmation emails; Google spreadsheets your uber-organized friend creates; a Nat Geo article that inspired you to take a trip in the first place; plus the link to that new Away suitcase you're saving up for. All of this can be saved and organized using Bublup folders! Accessing your saved stuff will be a breeze once your travel day arrives.
Here are four steps to get you started with Bublup:
1. Whip Out That Suitcase — Create Your First Set of Folders
First, you need to set up your folders. This will help you keep everything organized and easy to find. Your top-level folders should represent the way you think about all your vacation planning needs. There are template folders in the top-level Getting Started folder that offer an example folder hierarchy you might want to use:
Create Top-Level Folders
Flight Info
Must-See Sights
Lodging Options
Location
Food and Beverage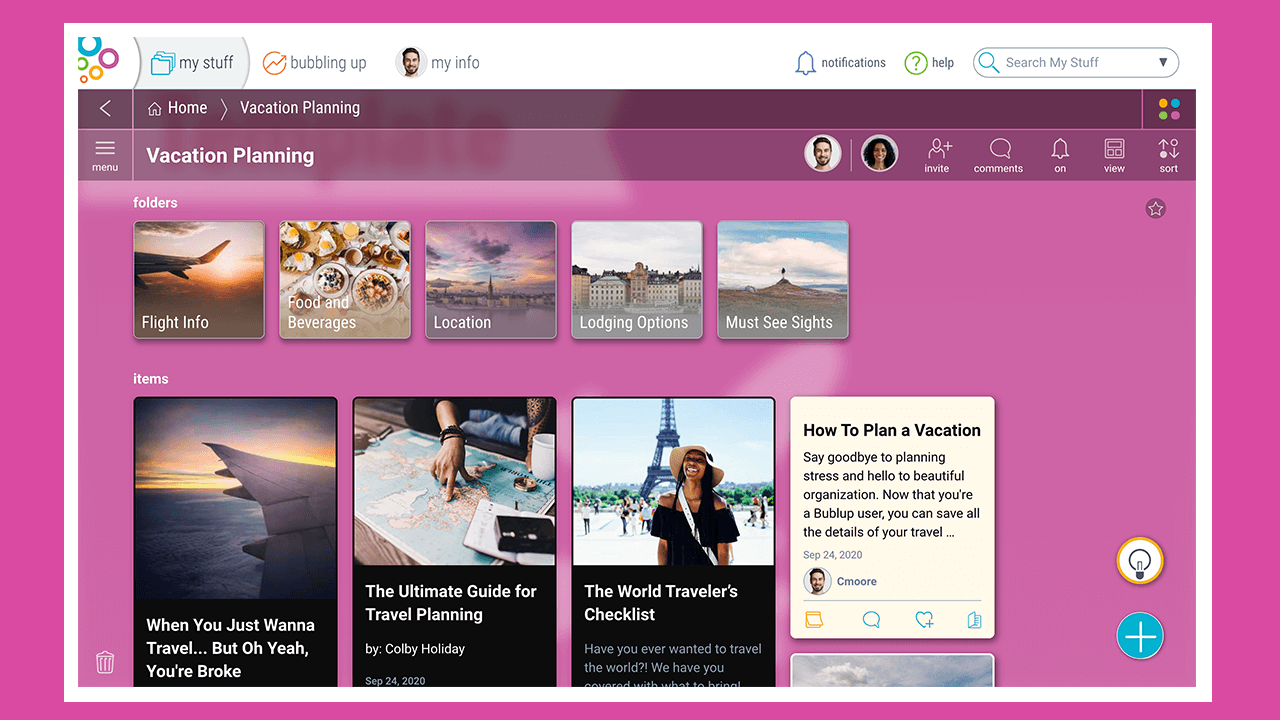 Create Subfolders
Top-level folders can contain endless subfolders, so whether you are someone who likes one top-level folder for every trip with detailed subfolders, or someone who prefers to keep all your documents and links at the top level, Bublup allows for flexibility based on your preference.
Let's say you use our template folders to get started. Your subfolders could look like this:
Flight Info → Confirmation Emails | Plane Tickets
Must-See Sights → Museums | Walking Tours | Natural Wonders
Lodging Options → Budget Hostels | Resorts | Other Hotels
Location → Caribbean Islands | South America | West Coast USA
Food and Beverage → Best Dinner Restaurants | Brunch Spots | Street Food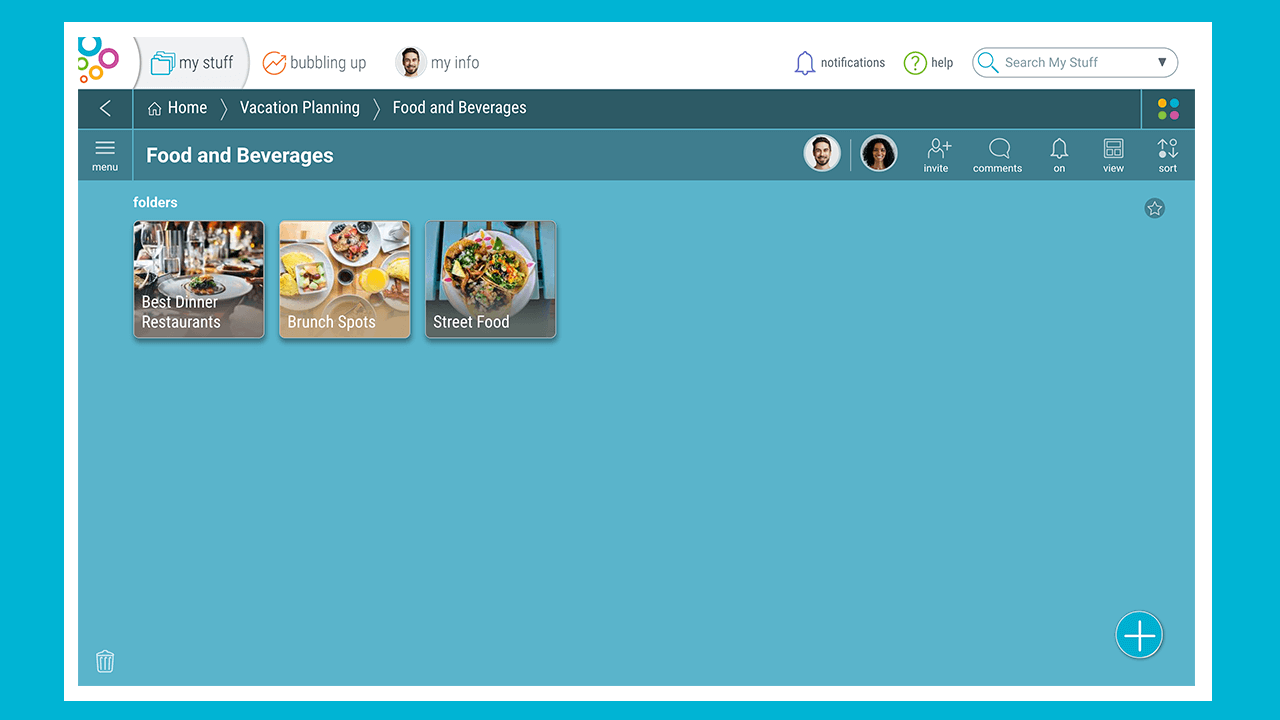 2. Start Packing and Save Anything
Now that you've created a base layer of folders, you can save nearly any web link, photo, video, or document into any of them. Some examples of things you might save are:
"Top 10" articles
Copies of your plane ticket
Your pet's travel documents
Links to Google spreadsheets
Links to epic travel posts on Instagram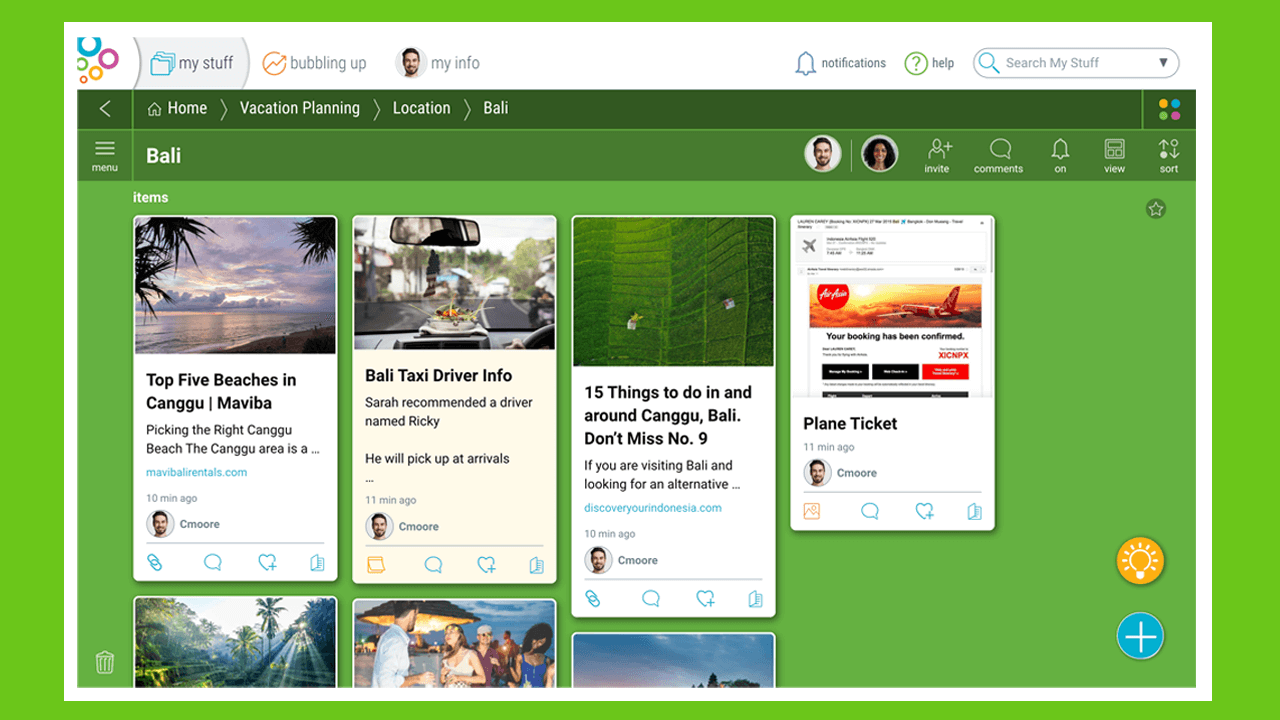 There are multiple ways to add items from both desktop and your mobile device.
The "+" Button
Anything can be saved by clicking the blue "+" button in the bottom right corner of your folder. Select the file type you wish to upload or paste a web link.
Drag & Drop
If you're using your computer, dragging a link from your browser and dropping it into an open Bublup window is an easy way to save links. You can also highlight files saved on your desktop and drop them into Bublup for simple uploading.
"Share to" Bublup
You can quickly set up Bublup as a "share to" option on your iPhone (if you're an Android user, simply move Bublup up to the top of your "share to" options). This is the quickest way to save links or files to Bublup while you're browsing on your phone. Found an amazing video on Facebook that inspired you to travel? Share it to Bublup to save it forever.
Email to Bublup
Bublup's email forwarding feature is a powerful way to save and organize all the flights, hotels, and other confirmations that you get when you're planning a trip. Your emails will be saved as PDFs in the "Email" folder located at the top of your Home screen. From there, you can move them into a designated folder, like "Flight Info."
To set up email forwarding, go to:
My Info → Preferences
"Save Emails to Bublup"
Add the email(s) addresses that you wish to forward emails from.
Once complete, simply forward emails to your username @mybublup.com.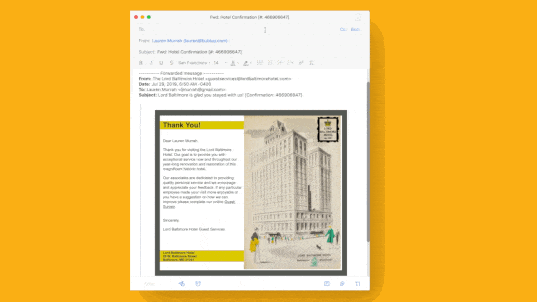 3. Travel Partners Make the World Go Round — Collaborate and Share Your Ideas
Now that you've saved plenty of stuff in your folders, you can share your planning with anyone. There are several ways to do so:
Email Folders to Anyone
Not only can you forward emails to Bublup, but you can also email your saved stuff to anyone outside of Bublup. Let's say you are a Bublup superstar, and you've saved all your inspiration, travel ideas, and more inside a folder. Now you want to share that with your best friend to convince them to join you. Simply select "Email Folder" from the menu on the left, then enter your friend's email address. You can write a message or simply hit "send" and let your inspo do the talking.
Make Any Folder A Group Folder
When you're planning a trip with friends and family, group folders are ideal for collaboration. Instead of sending each other random texts or emails with your ideas, each person can save their notes or inspiration into a group folder. Everyone in the folder will get notified whenever something new is added. Your planning just got that much easier!By selecting the "invite" icon you can add others to your folder by email address or username. There are also different permission levels available such as view, add, edit, and invite privileges.
Use Comments and Reactions to Communicate Better
Imagine you have a group folder where everyone periodically adds their ideas for where to go and what to do on your trip. Reactions are invaluable in making decisions on each person's contribution. Hate the idea? React with a ?. Love it? React with a ❤️. You can also comment on any saved item or folder and use @mentions to get someone's attention. Go on, start chatting about how much fun you're going to have!
4. Pay It Forward After Your Vacation – Roll up Your Trip Into a Shareable Web Page!
Once you're home after an epic vacation, your friends and family who didn't join you may be green with envy or, even better, begging you to give them information on that gorgeous hotel you stayed at.
Take your hard work to the next level by effortlessly rolling up any of your folders into a beautiful single link that anyone can view. We like to call this beautiful link a roll, which is an instant web page that can be created in seconds.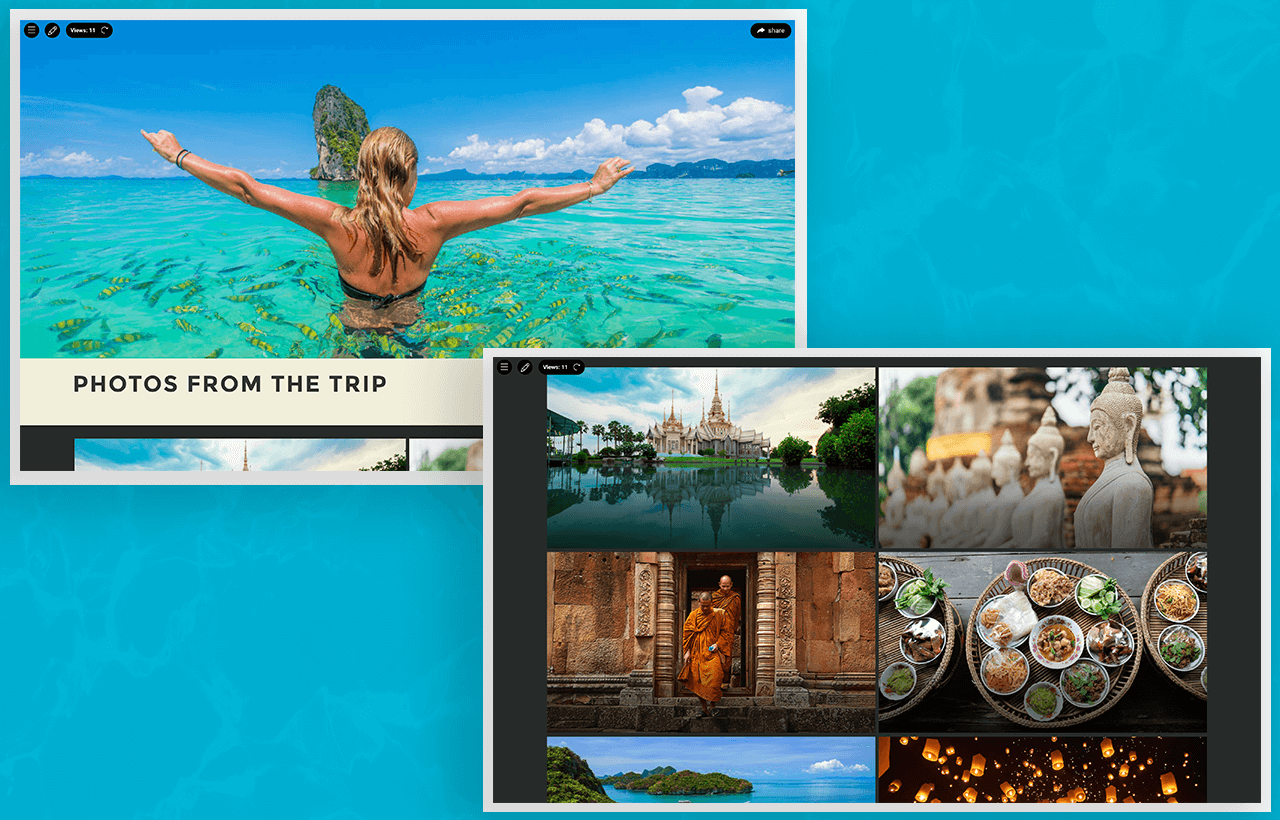 Select "Roll an Instant Web Page" on the top-left menu of any folder to transform your research into an easy-to-share URL. You'll impress your friends with your valuable resources and "wow" them with an impressive web page that seems like it took hours to make (hint: it's easy).
To learn more about Bublup rolls, including how to customize your roll theme and roll URL, watch this Roll Tutorial Video.
We hope this guide makes your vacation planning that much easier. If you have any questions or feedback about Bublup, feel free to reach out to us at info@bublup.com.