Planning a social media post is no easy feat. You're probably familiar with chasing down elusive photos and videos in your camera roll or jotting down clever captions and hashtags somewhere in your phone notes. Suggestion: stop wasting time scrolling and save your entire social plan in one efficient and easy to use place: Bublup.
Bublup is an amazing app for visually organizing and consolidating your content all in one place. You'll have all of your ideas, images, captions, hashtags, and more at your fingertips, so you can spend more time creating your content and less time searching for the content you want to post!
Social media planners are using the app daily because:
It's easy to use and improves productivity.
You can organize folders however you want: by date, social channel, post type, etc.
You can save links, photos, videos, notes, files, and more in one place.
It's collaborative. Any Bublup folder can instantly transform into a hub for brainstorming and collaborating with team members and clients.
Best of all, Bublup complements the tools you're already using! For example, links from different design platforms can be saved in Bublup alongside notes and other content, and anything saved can easily be shared with others.
If you're ready to up your social media planning game, these four steps will help you get started with Bublup.
1. Channel Your Inner Organizer – Create Folders
Speaking of "channel," there are a lot of social channels out there! You're going to want to set up folders to keep everything organized and easy to find. An example of a folder hierarchy that might work for you is:
Create Top-Level Folders
Content Calendar
Inspirational Quotes
Funny Memes
Hashtags
Logins & Credentials
Work in Progress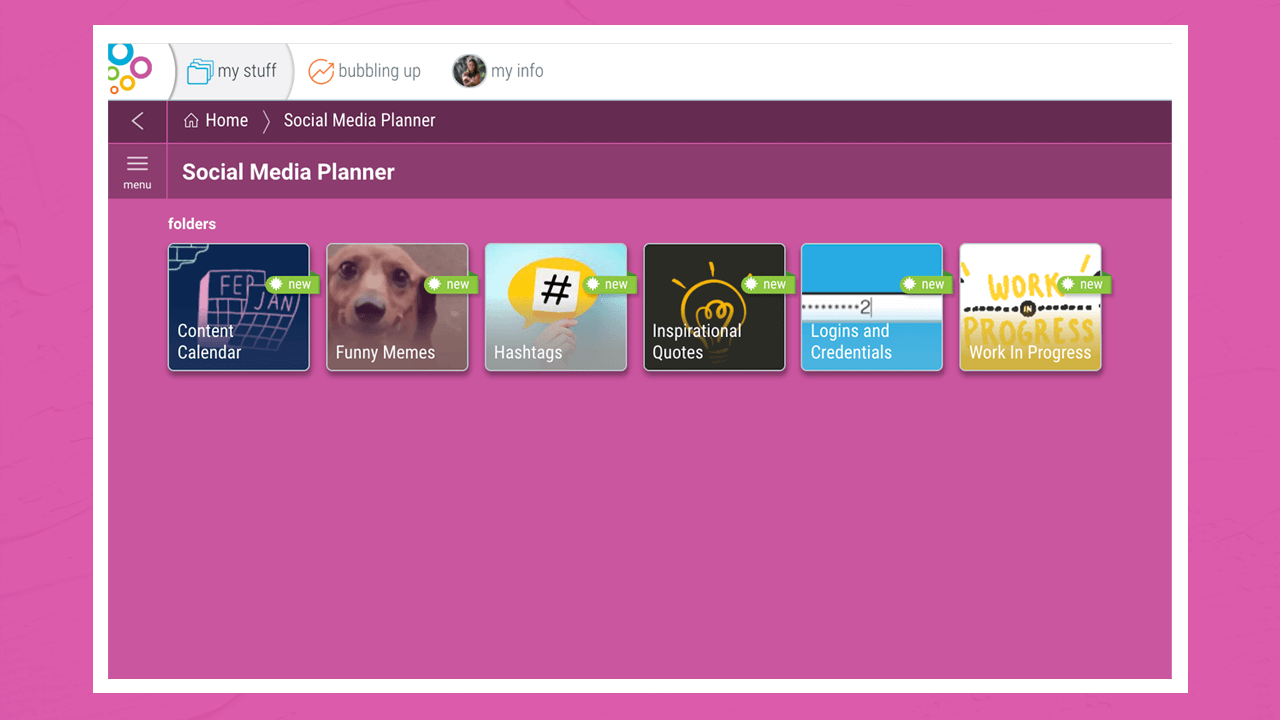 Create Subfolders
Top-level folders can contain endless subfolders, so whether you are someone who likes folders for each aspect of your social media planning or prefers to keep information at the top level, Bublup allows for flexibility based on your preference. For example, within your "Content Calendar" folder, you might want to make a subfolder for each individual channel:
Instagram
Facebook
Twitter
Pinterest
Additionally, you might want to make subfolders within the channels for the different months, further broken down into weeks and days, depending on the amount of content you're posting!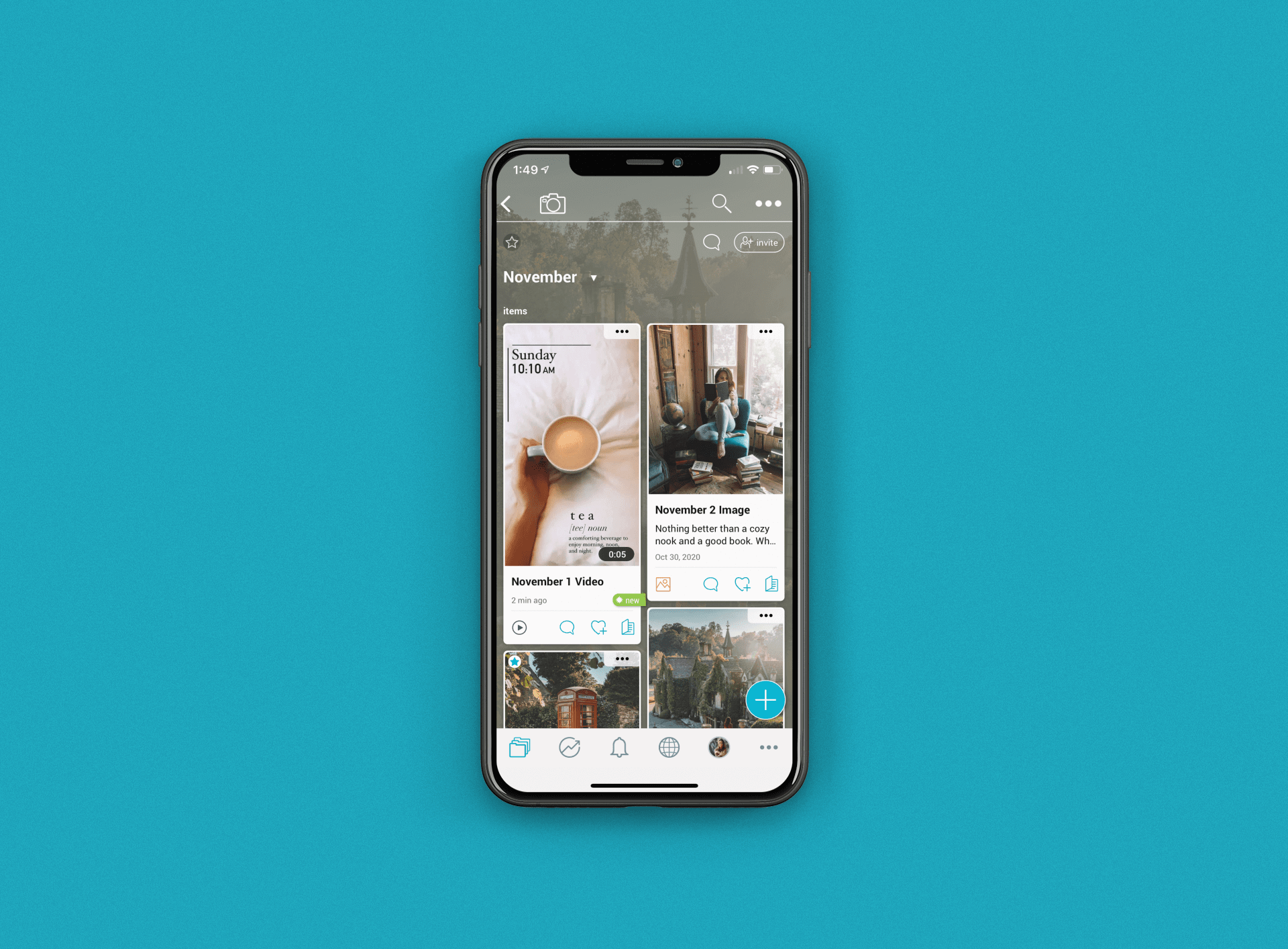 2. Get Planning- Populate with Content
Working with social media means handling all kinds of media types. With Bublup, you can easily save web links, photos, videos, notes, documents, and any other file type in your folders. Again, using "Content Calendar" as an example, this might be a place where you organize content for each channel, research your content strategy, and track upcoming holidays and events. Different media types you save might include:
Images or videos with post captions in the description
PDF or other files with your content strategy presentation
Links to your content strategy research
Notes with upcoming holidays and notable events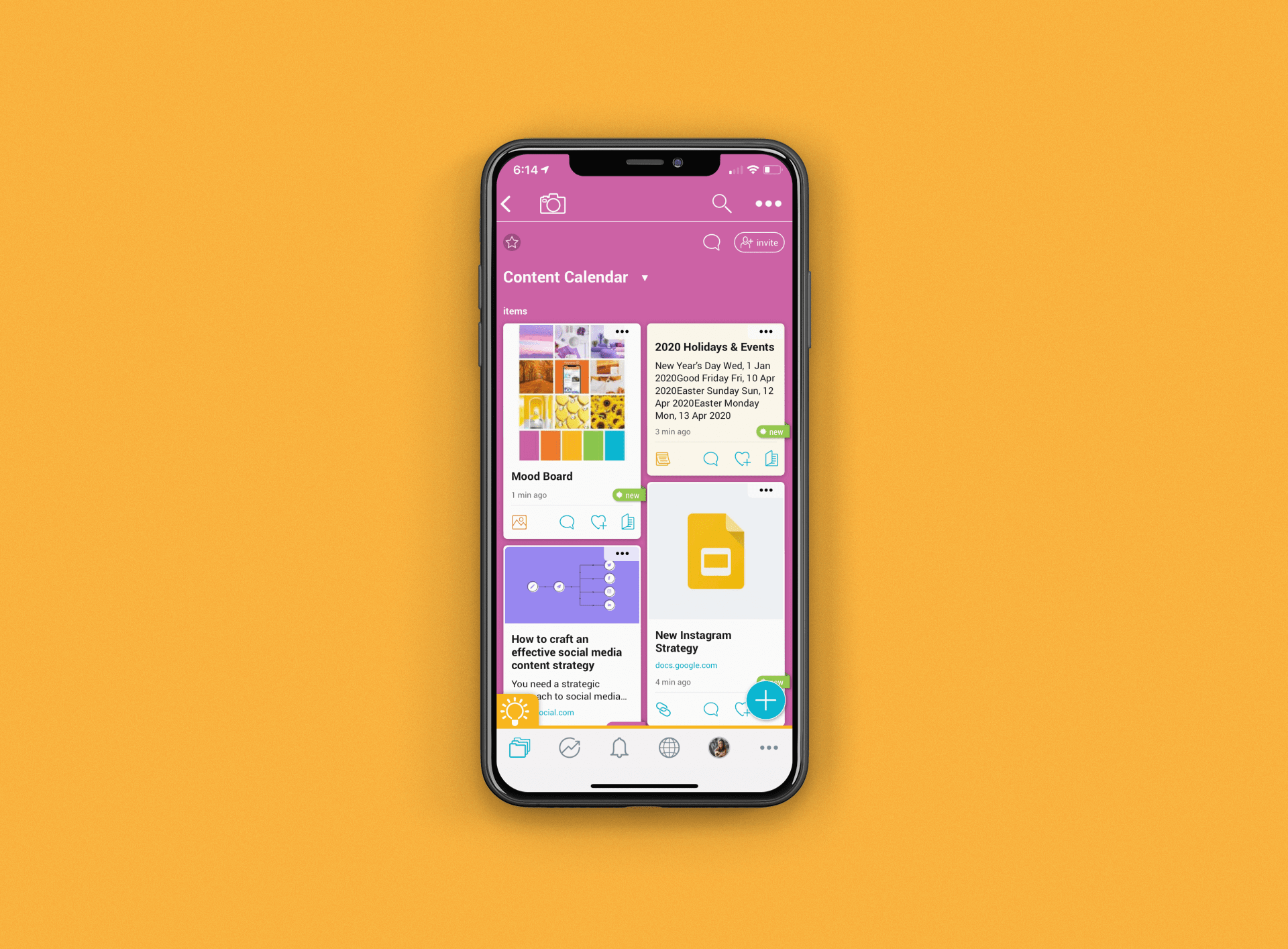 There are multiple ways to add items from both desktop and your mobile device.
The "+" Button
Anything can be saved by clicking the blue "+" button in the bottom right corner of your folder. Select the file type you wish to upload or paste a web link.
Drag & Drop
Save anything into your Bublup folders by dragging and dropping from your desktop. Select the file(s) from your desktop that you want to save and then drag and drop them into Bublup. Notice the drop area will be highlighted in green.
The Built-In Camera
The mobile app offers a built-in camera that automatically saves photos in your folder. When you're on the go, use it to snap any great photo spots you find or other things that inspire your content. However, if you prefer to use your phone's camera app, you can also save your photos to a Bublup folder with the plus button.
3. Make it a Team Effort – Work Together in Folders
Social media planning isn't always a one-person show. More often than not, it takes a whole village. Here's what you need to do when you want all hands on deck:
Make Any Folder A Group Folder

You can invite team members and/or clients to any folder when collaboration is needed, and set their permissions. For example, do you want them to be able to add their own content or only view the folder contents?

By selecting the "invite" icon, you can add others to your folder by email address or username. There are also different permission levels available such as view, add, edit, and invite privileges.
If you need to assign tasks, give an opinion, or receive approval for upcoming posts, you can use comments, @ mentions, and reactions to start conversations with other folder members.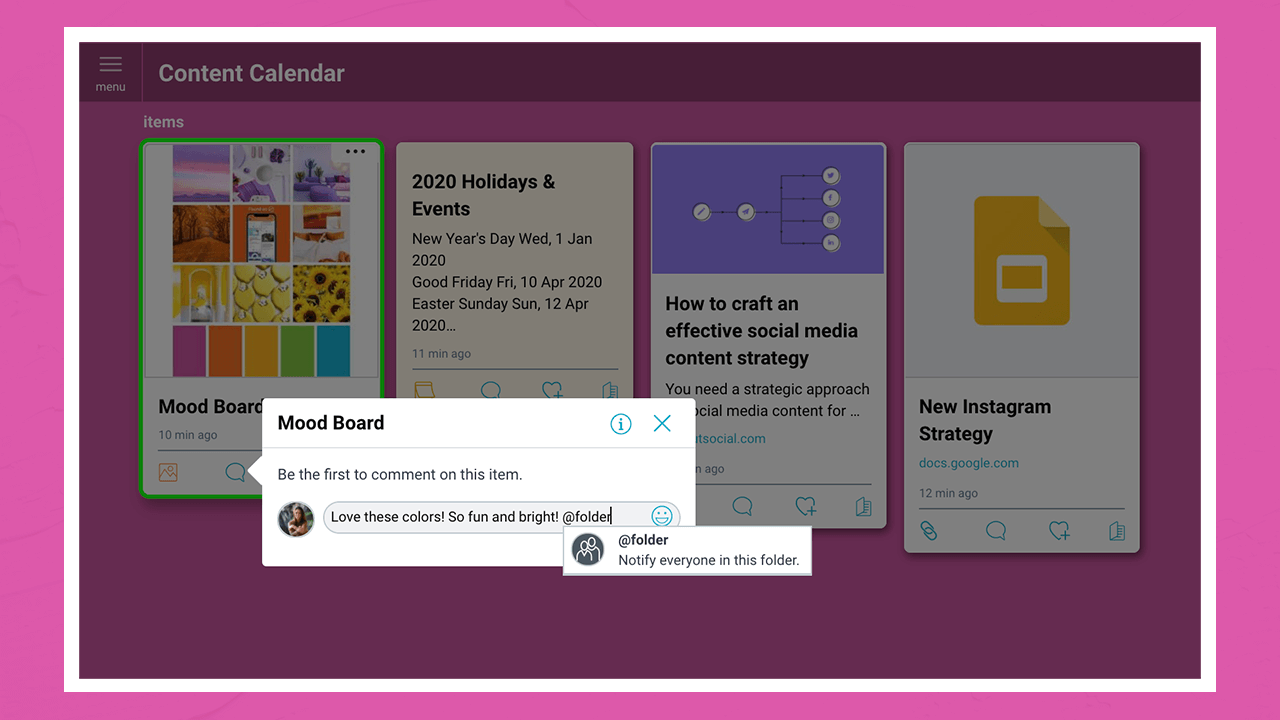 Hopefully this guide helps to streamline and simplify your social media planning! If you have any questions or feedback about Bublup, feel free to reach out at info@bublup.com..