With Bublup's latest release comes loads of new features that will help you advance your projects, whether working solo or in a group. Explore below to see what's new, including enhanced notifications, Firefox support, rich text formatting, new roll themes, and so much more.
Saving & Organizing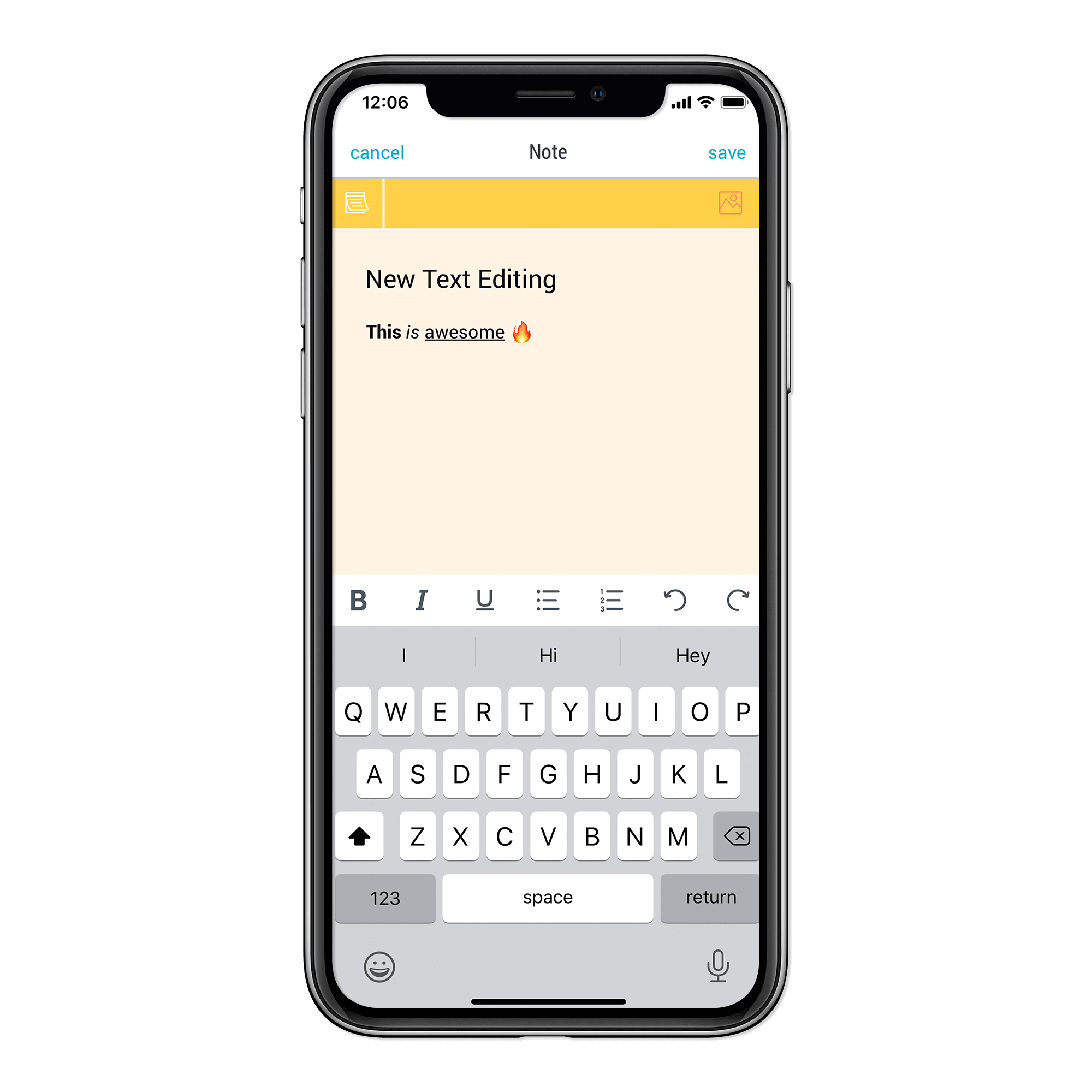 Rich Text Editing in Notes: You can now do more with your notes, whether in My Stuff or rolls. In addition to adding a photo and title to each note, you can format your text with bold, italic, and underline treatment. You can also add bullets and numbered lists, and use an emoji keyboard on both mobile and desktop.
Import Browser Bookmarks (Desktop Only): You may have already bookmarked your favorite or most frequently visited pages in your Chrome, Safari, or Firefox browsers. You can easily import those webpages from the Bublup home screen, creating one location for your organizational needs.
Titles for Documents & Images (Mobile): Customize titles for any kind of content at the time of saving, making it easier to find for future use. Previously, this streamlined workflow was available for links. Now for images and documents too. Of course, you can still also make changes to the titles, descriptions, and thumbnail images after saving.
Easy Access to My Info (Mobile): A new "My Info" button is now always visible from within our mobile app's bottom pane. The in-app "Web" browser that used to occupy that position has been replaced by an in-app web viewer, which allows you to browse, save, and get Bublup suggestions. Note: on desktop, My Info is already always visible.
Rolls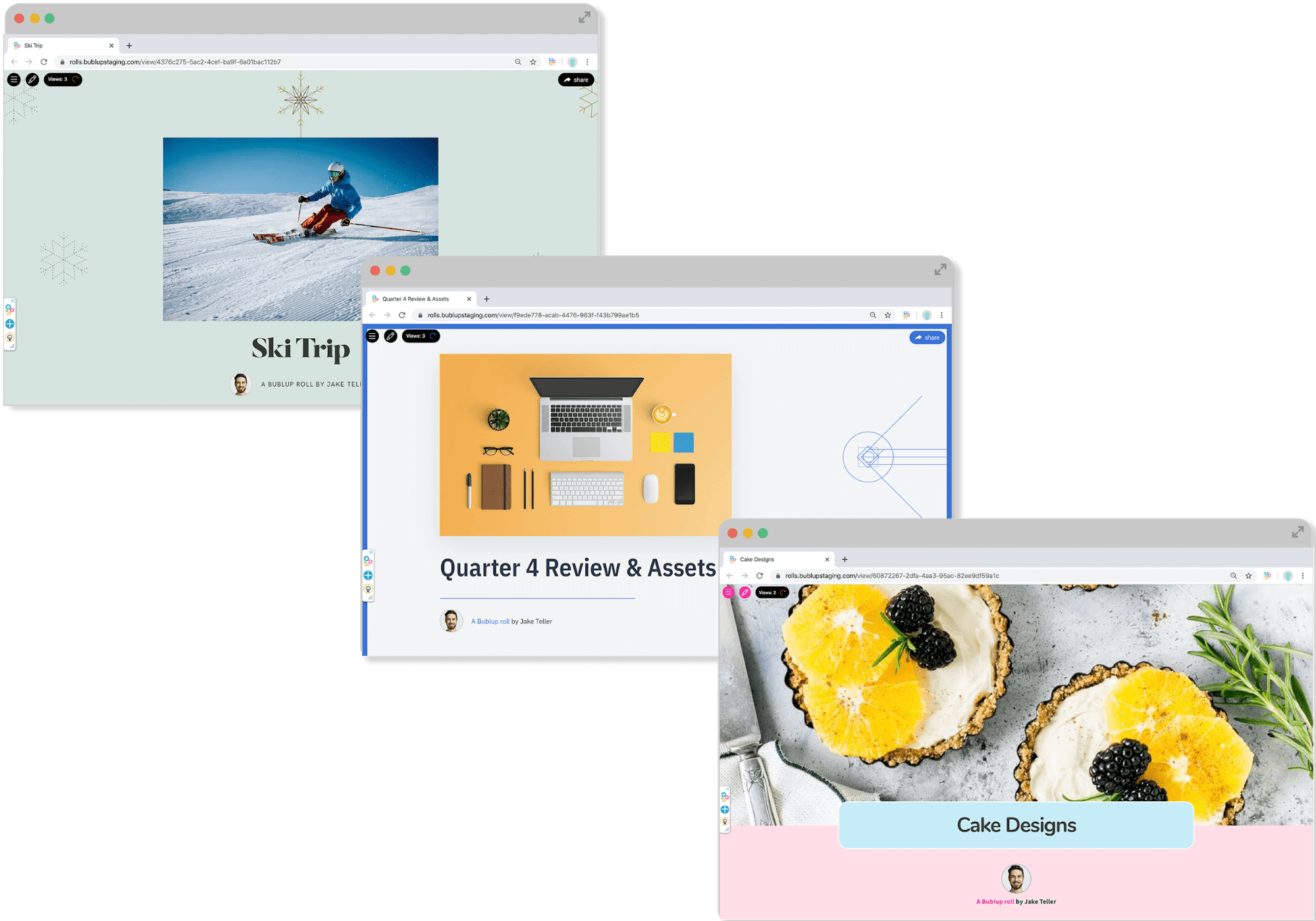 New Roll Themes: Cotton Candy, Frost, and Point! We've given you more ways to express yourself. Our new roll themes let you choose from fun, pastel colors (Cotton Candy), a precise architectural look (Point), or a winter wonderland layout (Frost).
Alternative Color Palette: Choose from new color palettes for select roll themes, including Express, Globe, Vanilla, Frost, and Point.
View Counter: Track the number of views your roll garners using the view counter, located in the top left corner of your roll. The counter is only visible to the author of the roll.
Compact Section Layout: Our new compact layout allows your audience to see more information "at a glance." Any kind of content now shows equally-sized, highlighting imagery and titles while giving your roll a grid aesthetic. Perfect for "link in bio" use cases and available in multi-column roll themes (Blade, Cosmo, Express, Headline, Darkroom, etc.)
Sharing & Collaboration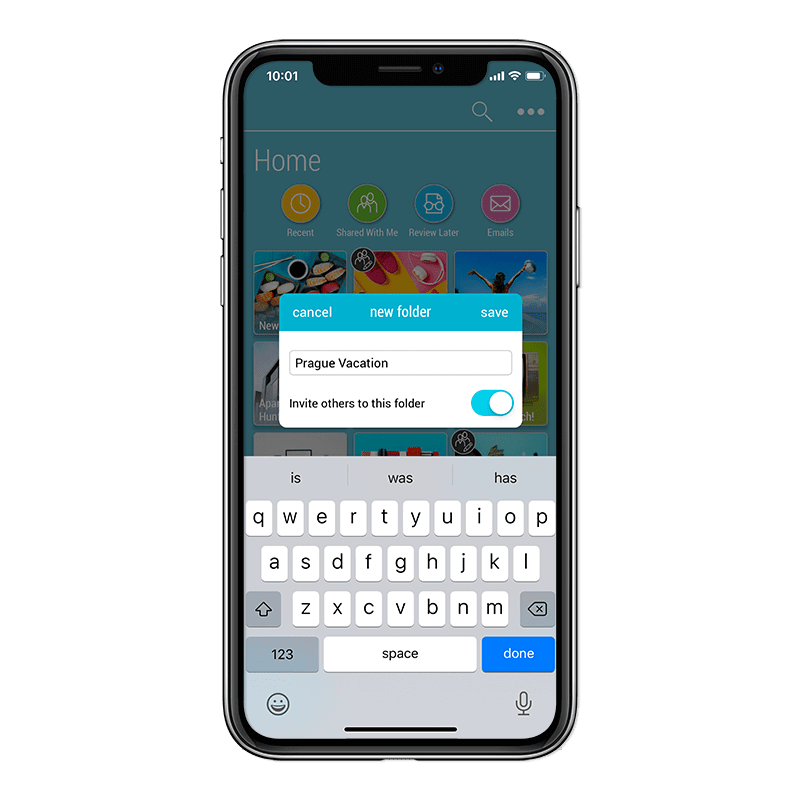 "Invite" Toggle for New Folders: When creating a new folder, the owner can now not only name the folder but also invite others using a new toggle.
New "Can Add" Permission Level for Folders: Allow group folder members to add or remove their own content, without the ability to modify items saved by others. You can use this to get more people contributing to your folder without worrying about how they might interfere with each other.
Single Notification Email for Group Folders Activity: Activity across all of your group folders is summarized into a single email rather than one email per folder. You can set your global notification preferences in My Info.
Improved Notifications for Comments: We've enhanced our notification system for comments in group folders, so participants are better informed of activity. To toggle notifications for a particular folder, try the "bell" at the top of the folder.
Emoji Keyboard on Desktop: Collaborate and react to shared content using emojis in many text entry fields across My Stuff. This capability was previously supported only in our mobile app, but you can emoji now when using Bublup via a computer browser, too!
"Resend Invitation to All Invitees": Allows the group folder owner to resend folder invites to any invitees who have not joined yet, all in one action. You can still also resend invites individually.
General
Firefox Support: In addition to Chrome and Safari, users can now live the Bublup dream on Firefox too! If you're a Firefox fan, try viewing and saving content in Bublup folders, or creating rolls. Be sure to update Firefox for the best experience.
Single Sign-Out for Your Security: When logging out of My Stuff, you now have the option to log out of just the session you were using, or, all sessions across devices.