Bublup for Large File Sharing
Send Big Files in Seconds
Bublup is your go-to file sharing service for files both large and small. With a simple link, your recipient can download your large files instantly. Without send limits, you can send as many files as you want, and the shareable links never expire.
Bublup is a free platform. However, if you have extensive sharing needs, sign up for Premium and share up to 50 GB!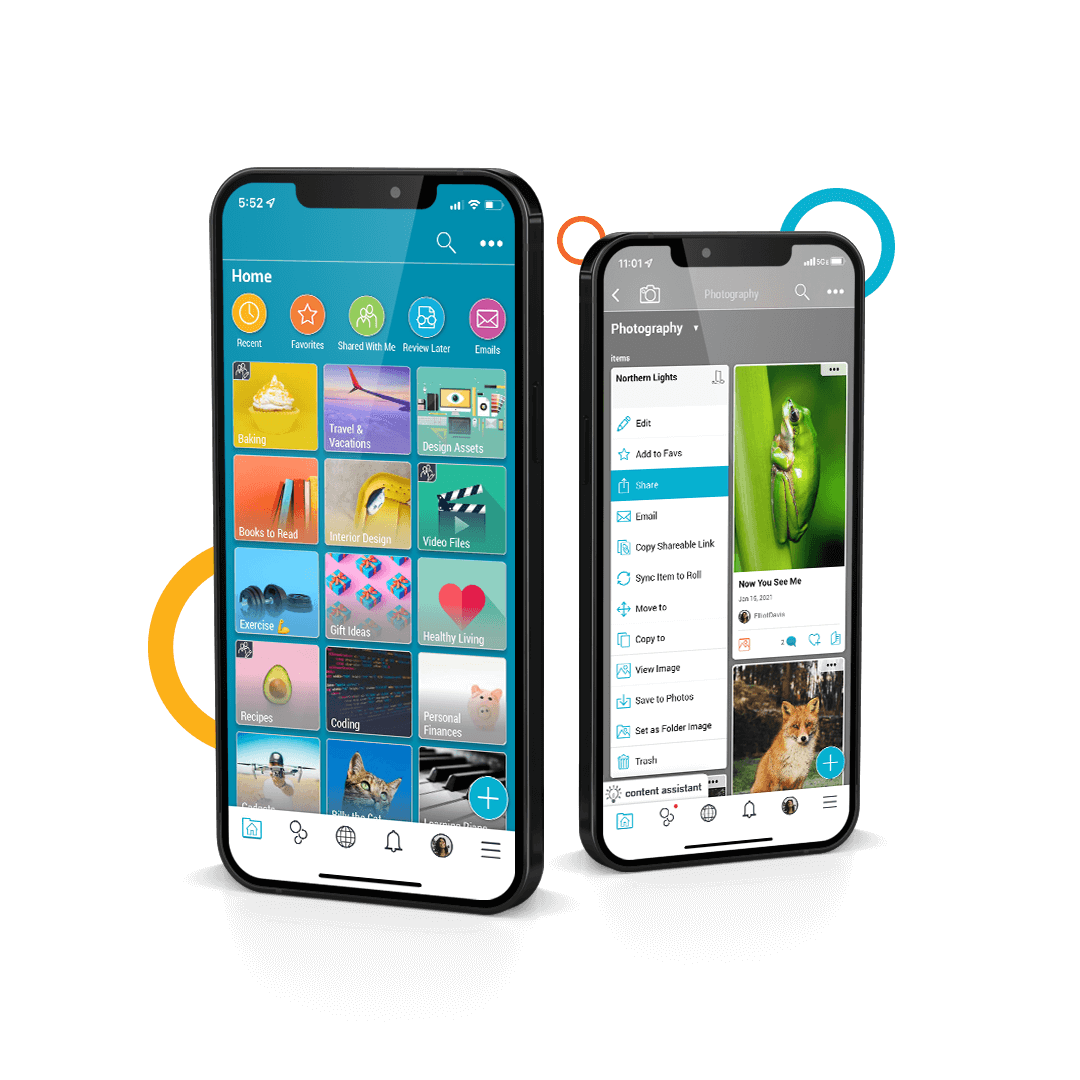 What to Look for In a
File Sharing Service
As the need to work remotely continues to grow, the need to expand your remote resources also grows. As much as 82% of companies plan to allow some of their employees to work at least some of the time remotely. Bublup will smooth this transition by allowing you to instantly share large files at any time, letting your recipient download immediately.
Secure
File Transfer
Bublup is committed to securing your information. We ensure all your data is encrypted so unwelcome onlookers can't steal any of your precious files.
Keep Track
of Your Large Shared Files
Bublup doesn't only make organization easy. It also makes it fun and visual. So much of what we learn comes from visual cues. Colors, pictures, and visual cues make file tracking easier and more intuitive than any other platform in the industry.
Superior
Upload Limit
Bublup's free plan has an upload limit of 3 GB, superior to that of both Dropbox and WeTransfer, which only have 100 MB and 2 GB upload limits. Additionally, If you're a business with extensive storage and transfer needs, you can consider Bublup's Premium option, which lets you store and share up to 50 GB of files.
Unlimited
Link Expiration Dates
With unlimited link expiration dates, you can revisit projects no matter how much time has elapsed. With Dropbox or WeTransfer, your shareable links expire after a week. We understand your schedule is busy, and you might not have time to use your shareable link right away. Don't worry. With Bublup, you can access your shareable links whenever you want.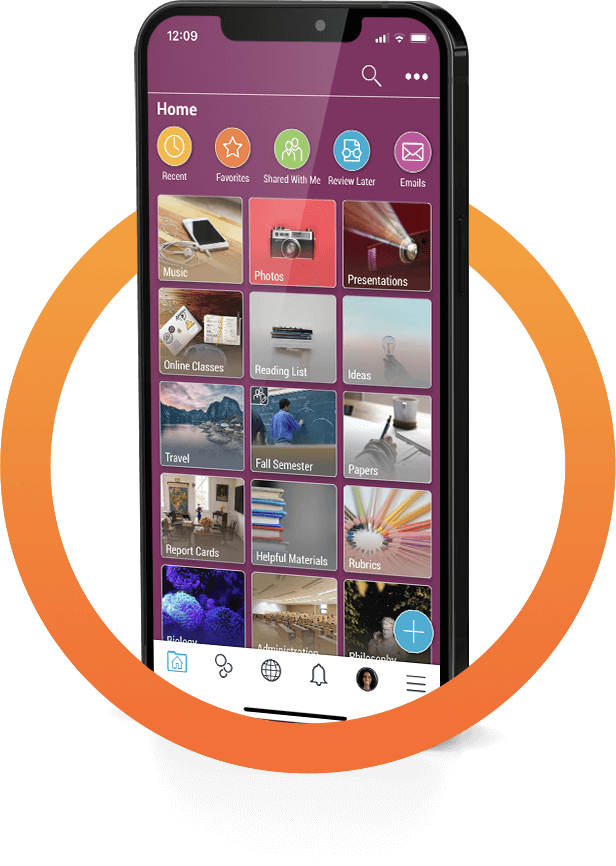 Free File Transfers and Storage
Bublup allows for more flexibility than other file-sharing services so you'll never have to worry about sending limits or lack of storage again. And file-sharing should be easy, right? That's why we let you share any file type or size in just three simple steps.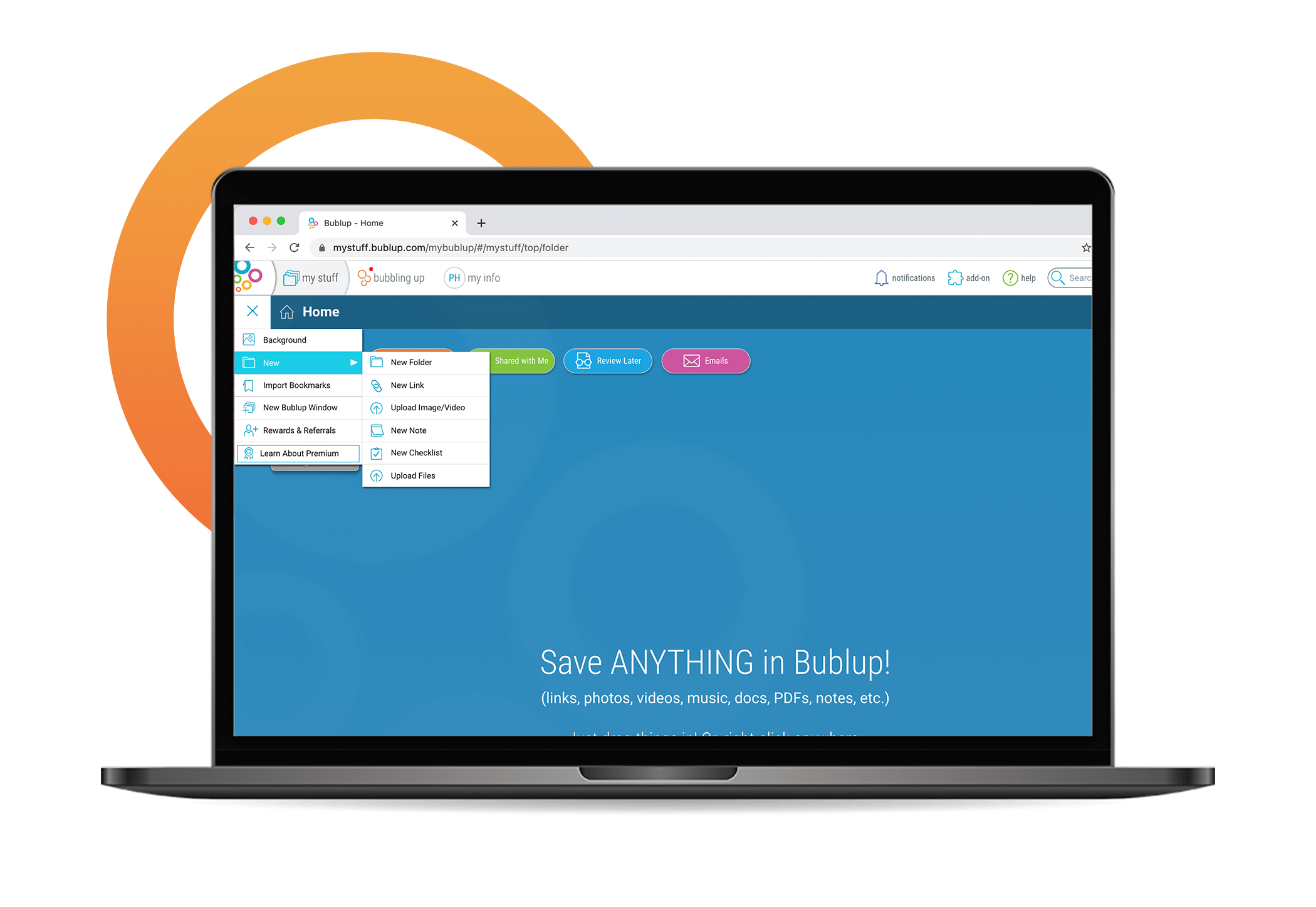 Step 1
Create a New Folder
Upload your document, video, or other files into a Bublup folder.
Click the "•••" menu in the top right corner of the file you uploaded and select "copy shareable link."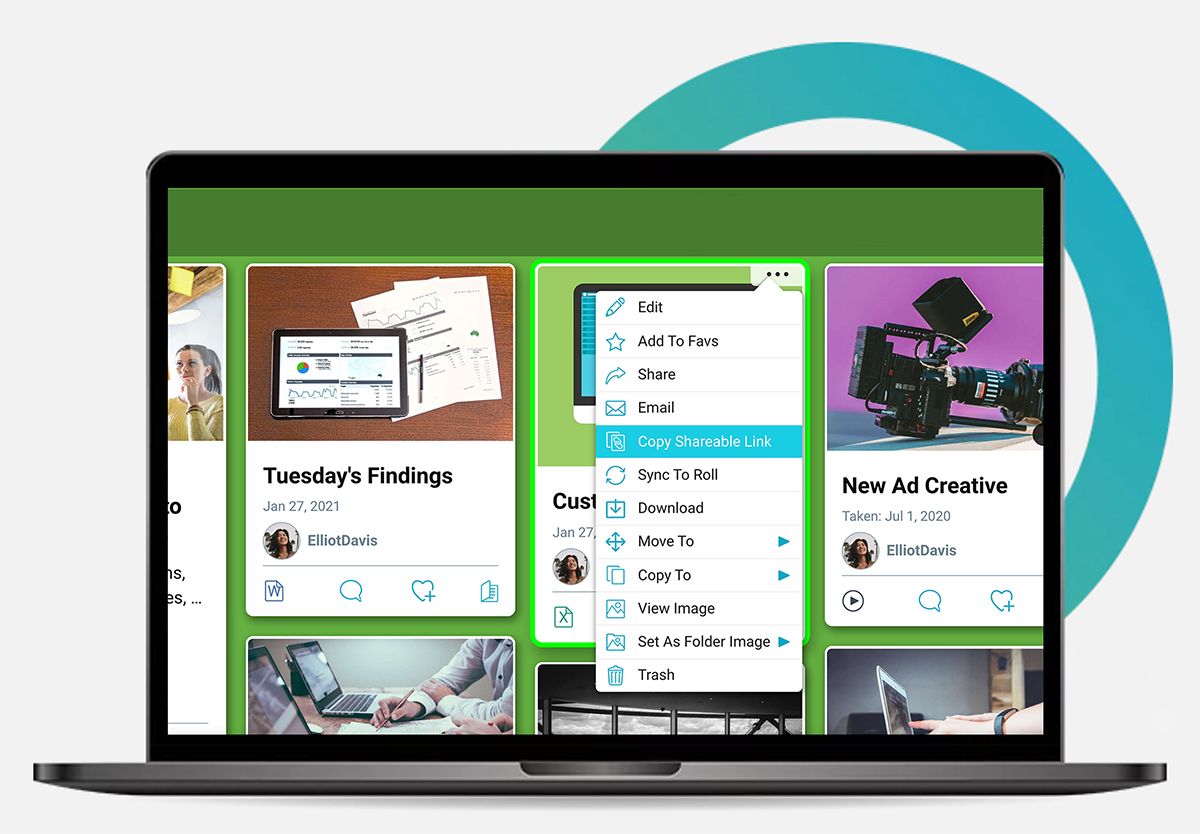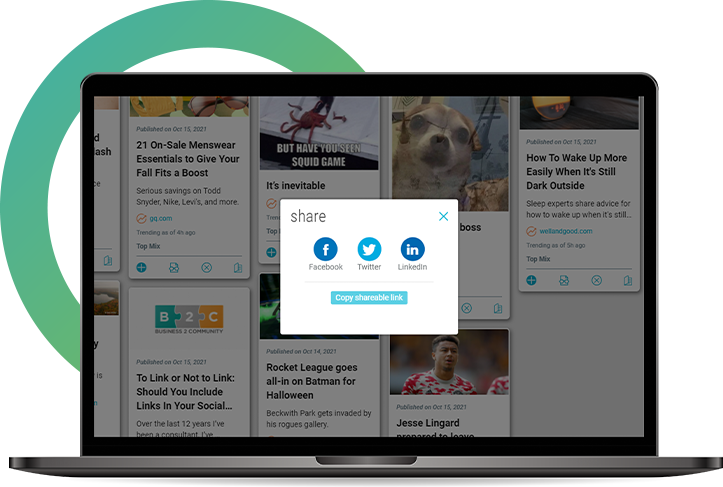 Send the link via email, text, social, or however you share.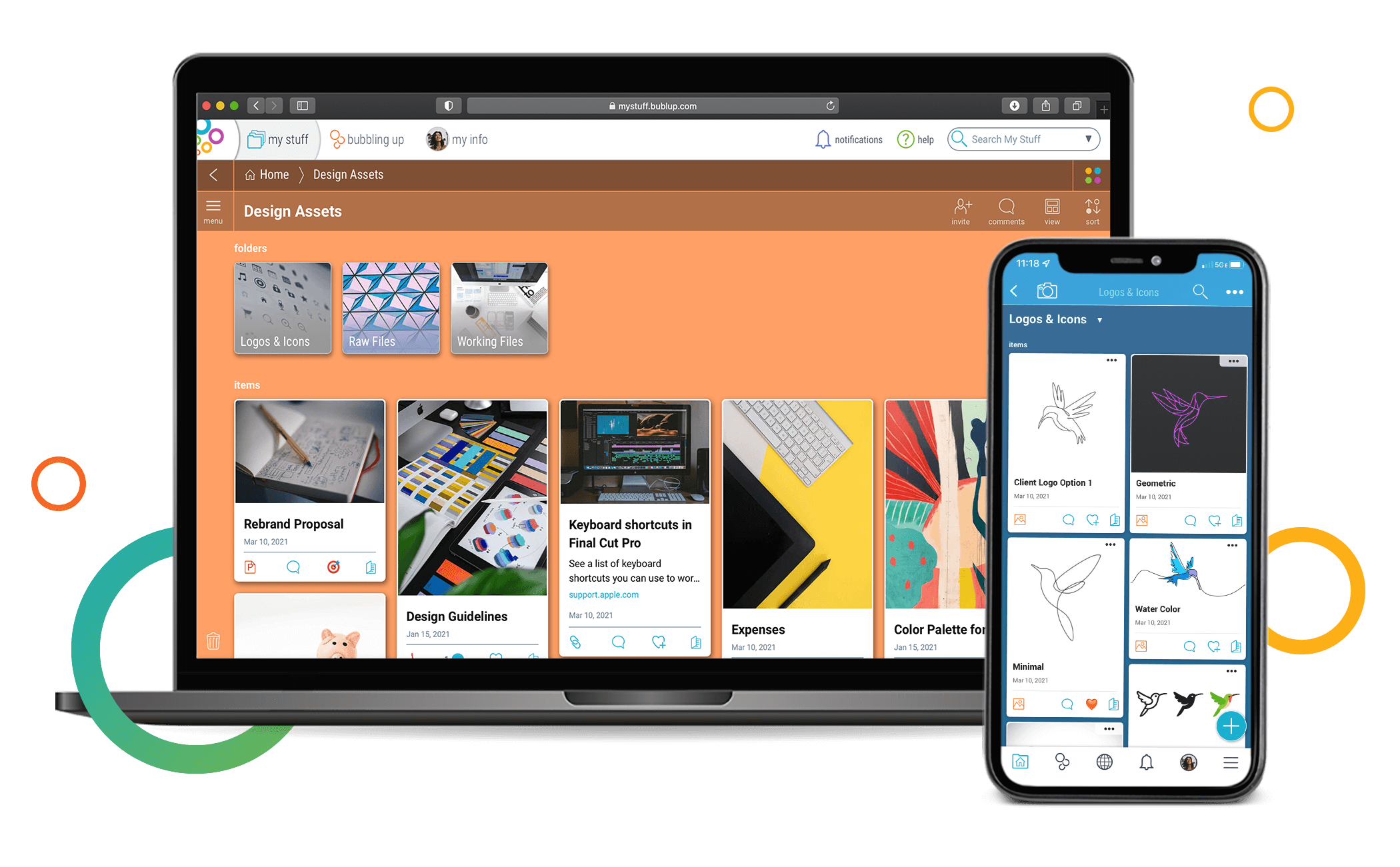 With Bublup, you never have to worry about the logistics of file sharing again. Simply drag your file to its preferred storage folder and use it whenever you want without worrying about whether it will expire or if you have enough space. Bublup understands that size matters. When you use our file sharing platform, you can rest easy knowing we'll handle all of your file sharing needs.
Hundreds of thousands of people all over the world love using Bublup.

"This app is fantastic. An easy to use feature packed app where you can store all your favorite sites, recipes, projects, pictures, etc. Give it a try. You'll be hooked."
-O.B W.
"This app is amazing! I am dieting right now and am able to save all my new recipes in my own folder!!!! Love this app so much!!!!"
-Connie B.
"I absolutely love this app. I use it almost daily to keep track of recipes, helpful tips on the web, shopping wish lists, etc..."
-Brandy R.
"By far, the best organizing app I've used. It's intuitive and visually appealing. The large tiles make it easy to find what I'm looking for and organize in a way that makes sense for me. Highly recommend. This app is perfect."
-Sarah Z.
"Organization is amazing with this app! Love it!"
-Kristina M.
"One storage to rule them all 🤗 A highly versatile, multi inter-platform so for iOS windows chrome & Android."
-David A.
"So much effort added to this beautiful easy to use interface. I have spent days looking for the right app to keep my notes organized and this is it. It looks and works great on my Samsung fold 3."
-M Hall
Sharing Files Is
Better

With Bublup
Bublup makes file sharing fun, simple, and intuitive with its visual approach to organization and file sharing. Other platforms can either be confusing or nondescript in their organizational methods. Our brightly colored, easily navigable folders make file sharing easy, and more importantly, exciting.
Sign up today to start sharing with