It's the day of the big photoshoot. You've consumed so much content and have so many great ideas in your head….how could you possibly forget them? Next thing you know, you're five minutes into shooting with a client, and you totally blank. Perhaps you did have the forethought to save some ideas- but the problem is they're saved across several platforms or deep in your camera roll. You start panicking and can't find them. Luckily, there's a hack that will help you prepare for your next photoshoot, all in one visual place.
I recently moved to the Netherlands and have been looking forward to experiencing the famous tulip season for years. Finally, I got my chance. I'd been waiting for this moment for so long that I got really anxious about getting all of the content I wanted. I used Bublup to organize everything from my shot list to inspirational photos and poses to draw from. I'll explain exactly how so that you can do the same!
Shot List
When you have a DSLR camera, a drone, and a desire to create short form videos, a shot list is a must. It's easy to get caught up in the moment and forget all of the great ideas you had in the first place. This is where Bublup's checklist feature comes in handy.
I created a checklist and added all of my content ideas. When I got to the fields, I was able to pull them up on my phone and check each one off as I captured it. By doing this, you'll always leave with every shot you came for! A checklist is also a great project management tool if you need a little help staying on top of your tasks! You might make a to-do list that includes editing photos, sending the photos, or posting on your social media channels, for example!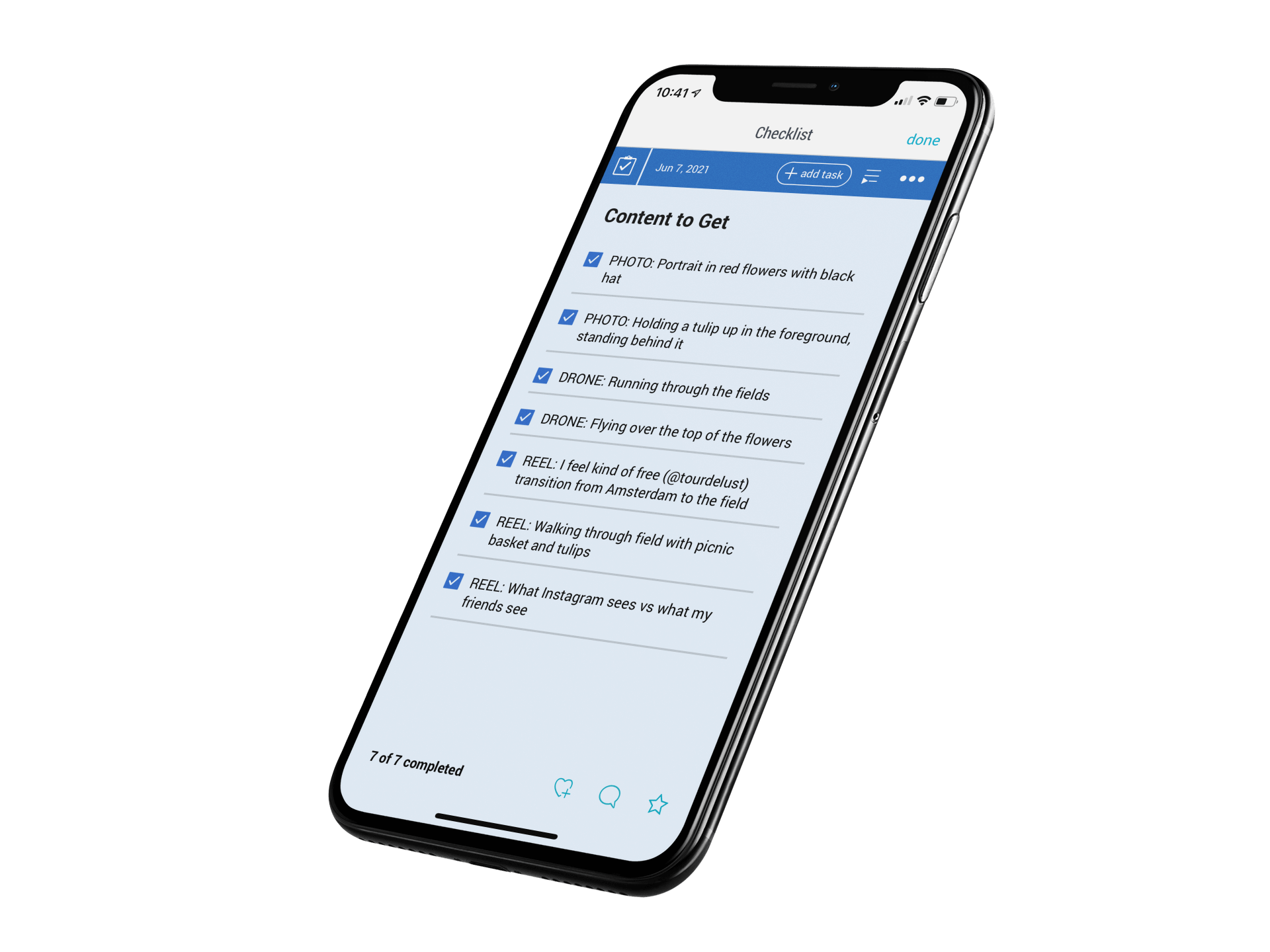 Inspiration
I find inspiration all over the place, and I find it often! For example, I'm constantly discovering new content on Instagram, TikTok, Pinterest, and Google searches. I can save stuff I like on each of these platforms individually or bookmark a link, but that's hardly helpful when I'm trying to find something! A Bublup folder allows me to save everything in one place.
For the tulip shoot, I created a Bublup folder and saved images I liked from various places. You can save links, screenshots, or image files. To save, simply copy and paste links, drag and drop, or use the browser extension.
If you're shooting a human subject, you might want to create a folder specifically for different poses to try out. That's what I did! You might also want to pull together great outfits to consider for a shoot or a list of epic shooting locations. The sky's the limit!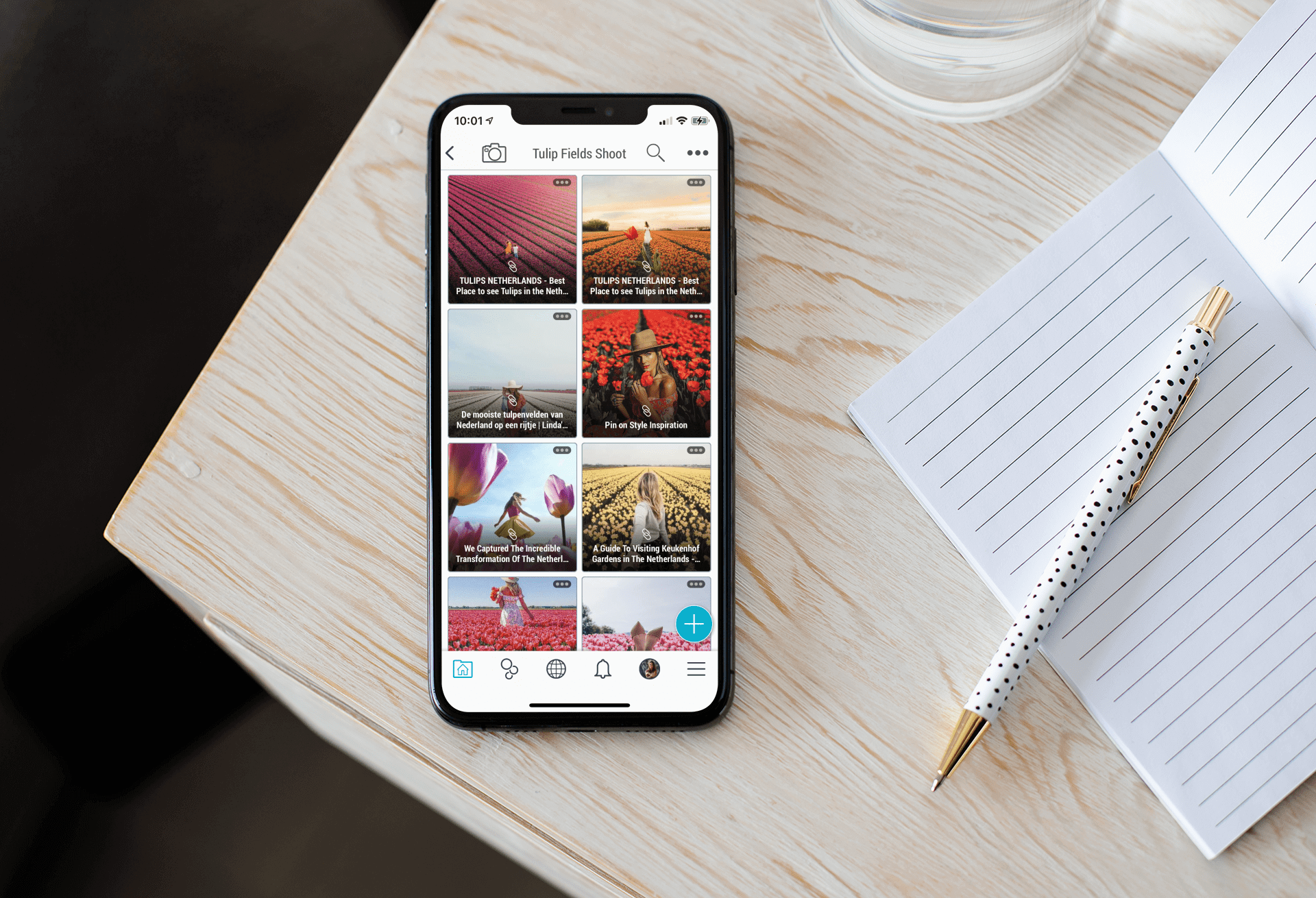 Sharing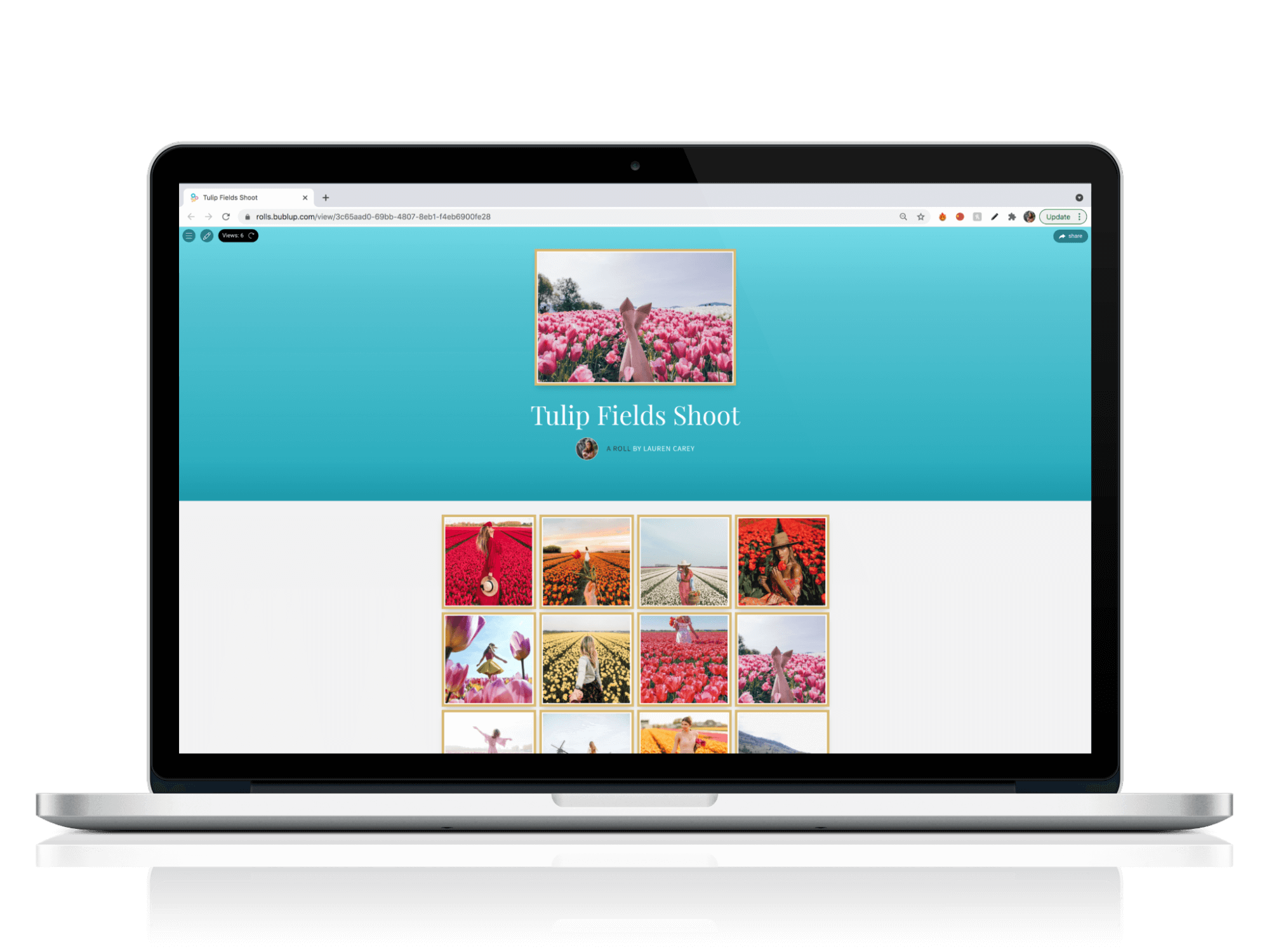 Bublup really shines when it comes to sharing. I visited the tulip fields with a friend, and we spoke a lot about the content we wanted to create before going. She wanted to see what kind of shots I was considering, so instead of spamming her with individual images or links, I made the Bublup roll above in less than two minutes. No exaggeration! The roll function took all the inspo I'd saved in a folder and spun it up into a beautiful web page. There are different themes and layouts to choose from, and my content looked amazing using the Seabreeze theme and Gallery layout. I also could have invited her to join my folder and add her own inspiration and ideas!
These same concepts can be applied to sharing photos with someone after the photoshoot. If you save your final images in a folder and create a roll, the recipient can download them directly from the roll itself! They can also download them from the group folder if you invite them to join!
All in all, Bublup is the best tool I've found for keeping my inspiration and ideas organized pre-photoshoot and for sharing deliverables after! Give it a try, and I'll bet your next photoshoot will run smoother than ever!