Back when the pandemic started, and all my favorite restaurants were closed, I decided to try some copycat recipes of my favorite dishes…and they actually turned out well! Like, really well! Little did I know this was the beginning of my journey going from a person who "doesn't cook" to a person who "loves to cook." With all the extra time on my hands the pandemic gave me, I dusted off my old pans, took inventory of my favorite family recipes, and searched the internet for the most drool-worthy recipes I could find.
Eat with your eyes
The level of visual organization that Bublup gives me is unlike any other app I've experienced. With all my new recipes I quickly went to work organizing my folders and updating the folder backgrounds with fun food pictures so that at a quick glance I'd be able to find what I'm looking for. If you organize your recipes in Bublup, I highly suggest you take a few minutes to edit the folder background, it's a game changer, especially when you have your hands full of dough, a pot almost boiling over, or something burning in the oven, and you need the next steps to a recipe NOW, it's beyond helpful to have the visual folders. Below is how I organized mine. I'd be lying if I said I haven't found myself going into the app just to look at how pretty it is!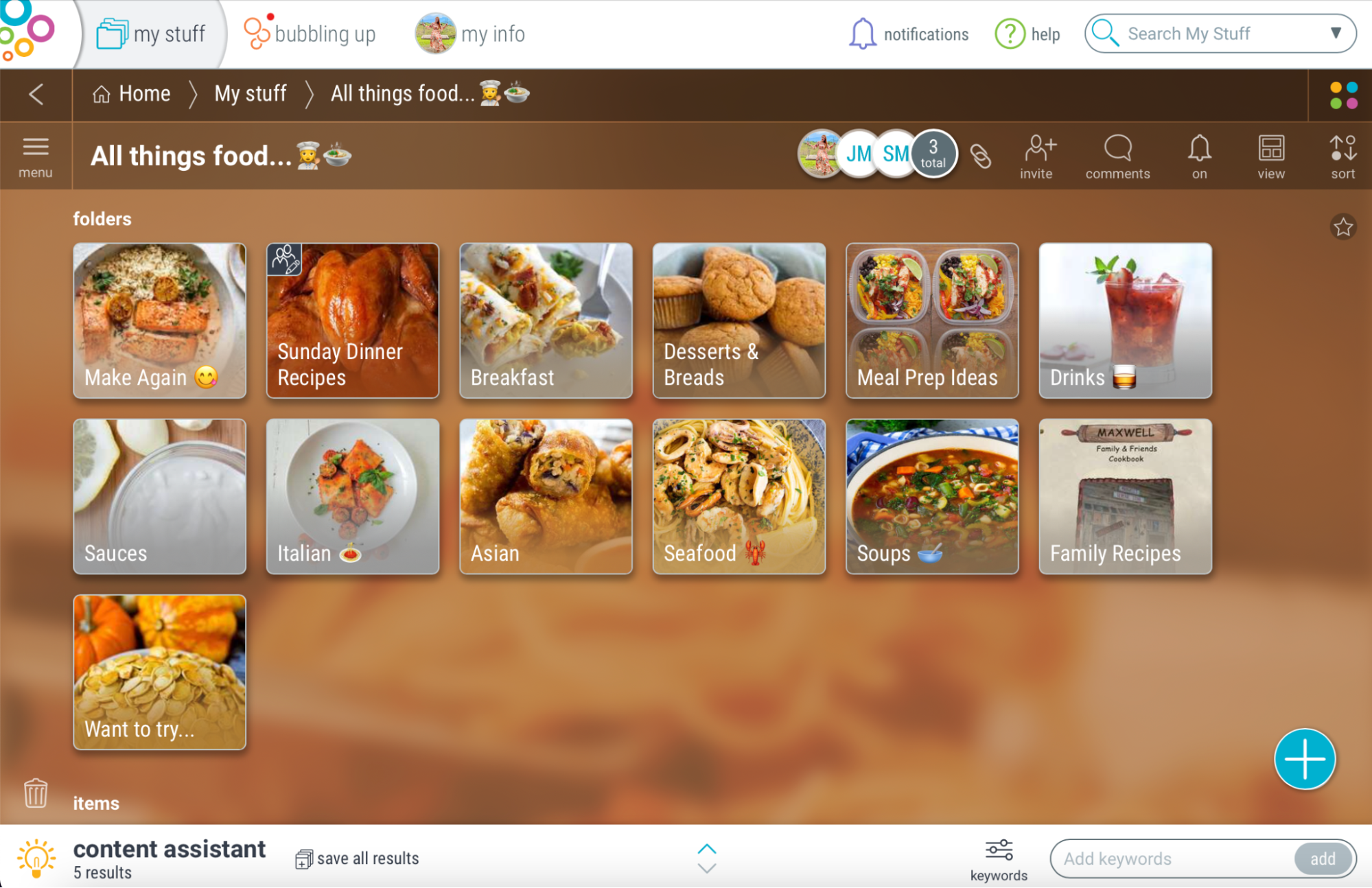 Because Bubup allows you to make an unlimited amount folders, I create folders for any similar items I have a lot of. Usually all the new recipes I find start out in my "Want to try…" folder. After I get around to trying them, and if they were good enough to keep, I then move the recipe into another more fitting folder to easily find later.
Classic Family Recipes Turned Digital
After I scoured the internet for recipes, I then got brave and decided I wanted to start conquering some of my favorite recipes that I loved growing up. The internet is a fine place to find recipes, but the treasures like Grandma's biscuits and gravy, or Aunt Donna's Fudge Sheet Cake, lived inside an old family cookbook. Using Bublup's in-app camera I was able to take a picture of all my family favorites and preserve them forever inside my Bublup folder. Now I don't have to worry about the pages getting dirty or misplacing the book, all the recipes are only ever a few clicks away.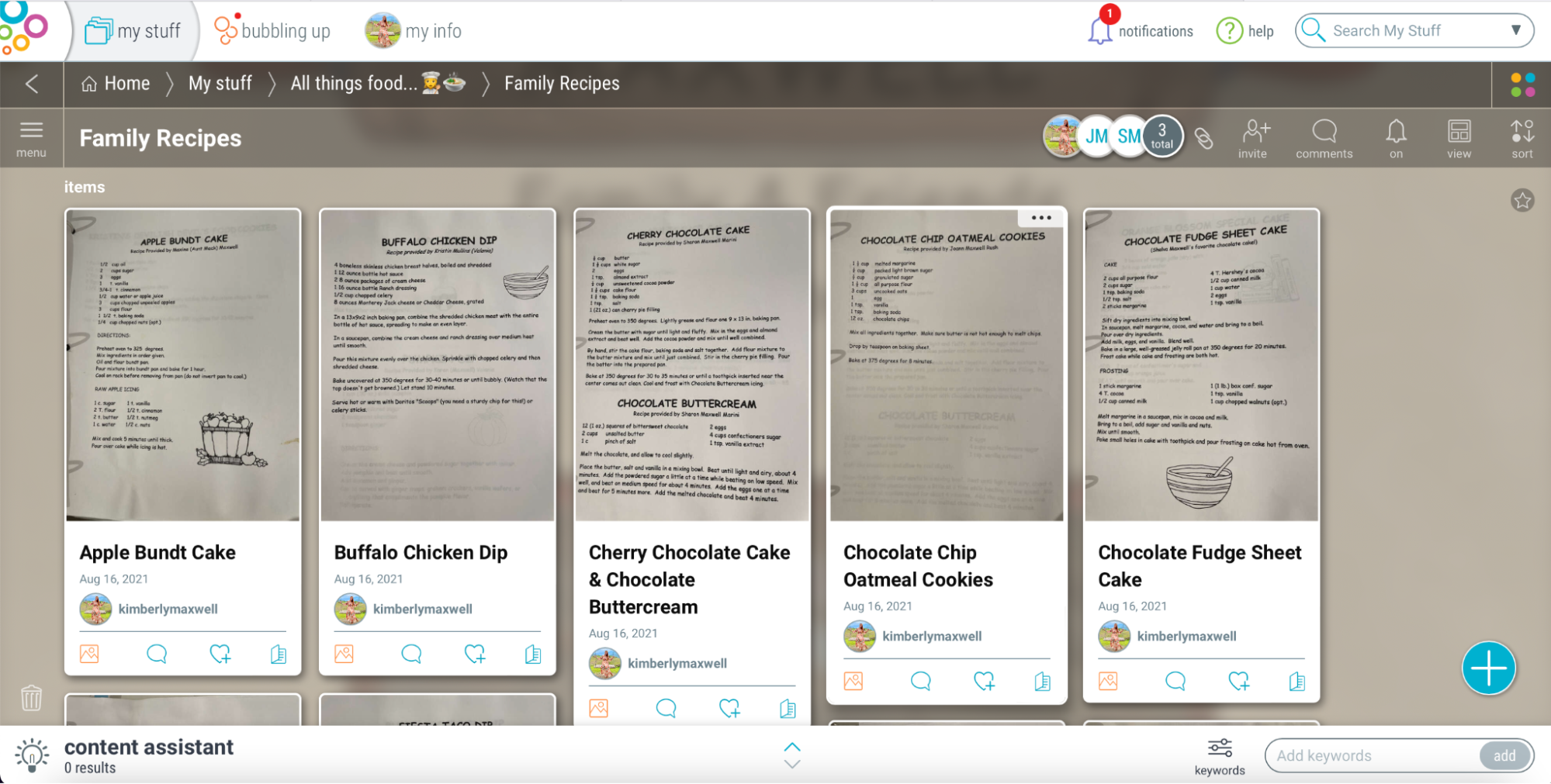 Saving Recipes to Bublup
You never know when a good recipe will land in your lap. I'll be scrolling through Pinterest, Facebook, or Instagram and will see a must try recipe and Bublup, like the good sous chef it is, is always there for me when I need to save on-the-go. By adding Bublup to my iOS share menu, saving recipes to Bublup is as simple as clicking share, and selecting Bublup. Bublup goes above and beyond by suggesting a few folders it thinks are the most fitting, and even brings up a Review Later folder, if I don't have time to sort the recipe properly and need to go back to it later. Saving items from the share menu is my favorite Bublup feature, just for the ease of use alone.
A Melting Pot of Recipes at Your Fingertips
With the pandemic stretching on and on, eventually I got to try so many recipes that I started to need new, fresh ideas. My Bublup sous chef came to the rescue again with recipe suggestions that did not disappoint! Bublup has a neat feature called Content Assistant that works behind the scenes to showcase suggested content that's related to the items within your folder. You can see the keywords that are currently being used to find suggestions, edit them, and add new ones to fine tune the suggestions you get. For even more focused results, you can adjust the importance given to individual keywords. Viewing suggestions on my "Italian" folder led me to making homemade ravioli, trying a new vodka sauce recipe, and even trying meatless meatballs (they were actually pretty good, too!).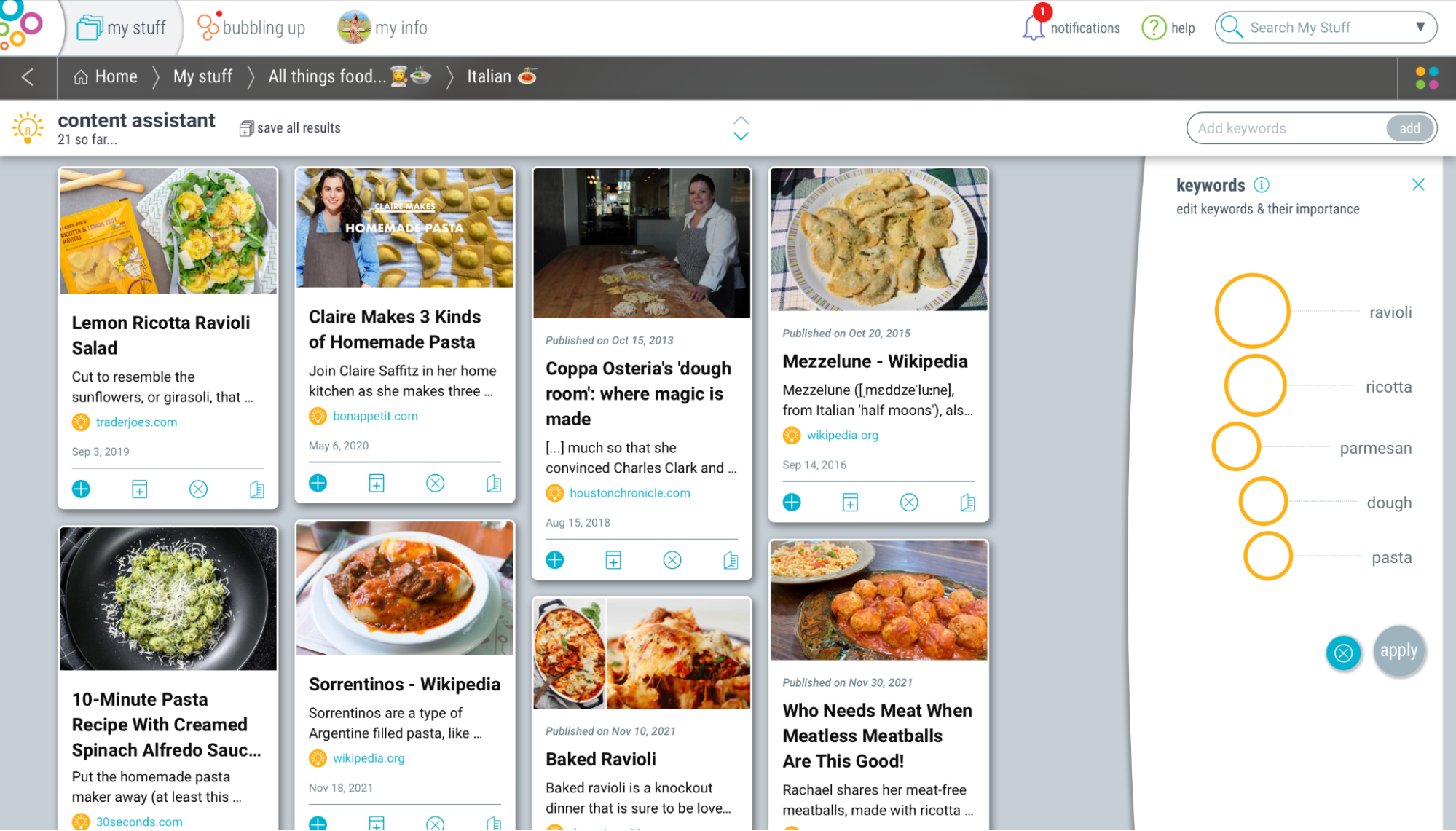 No Such Thing as Too Many Chefs in the Kitchen
Not long after I started my cooking journey, friends and family started sending recipes my way, and even started asking for recipes for things I made. Bublup made it simple for me to share individual recipes, using their copy sharable link feature. I even invited a chosen few to some of my folders so they could add recipes, and leave comments on their favorites. I also found myself starting to use the comments section to write notes for myself about how I can tweak the recipe to make it better next time.
****
Bublup is the only sous chef I've found that's available 24/7, can easily switch between my mobile phone and iPad in the kitchen, is there in a pinch with content suggestions, and allows me to sort ALL my recipes in one place. Try Bublup to organize your recipes, it'll definitely have you coming back for seconds!
Watch Bublup in action below.