Happy new release day! With Release 4 we have a robust and powerful set of new features, many of which you've been asking for.
This release we focused on ways you can customize your Bublup experience more, whether that be the look and feel of the app, or advanced ways to manage membership in your folders. We didn't stop there though! We also souped-up our discovery and curation capabilities so you see and save more of what you love.
Keep reading to find out what new features are available today!
And if you're not the readin' type, watch Wade as he breaks it all down in our Release 4 Unboxing video.
Customization
Look & Feel for My Stuff
You asked for it, and we did it! Bublup is introducing a new, less colorful feel to the app for those who prefer well… a less colorful vibe. In your "my info" settings, under "Look & Feel", you can choose between more colorful and less colorful to determine how your Bublup looks. Try it out and see which is more for you.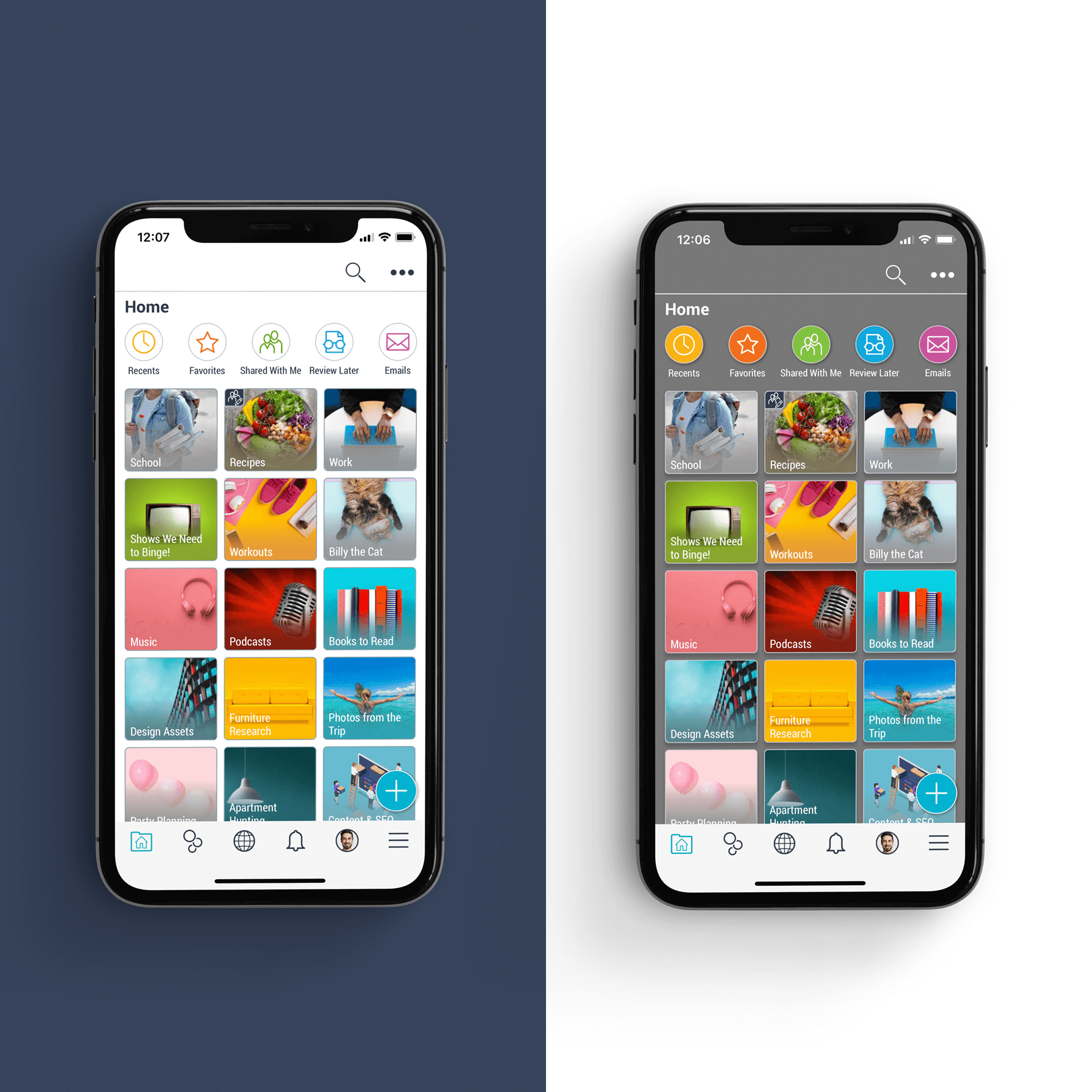 Advanced Member Management
Controlling who has access to your company's content just got WAY easier. Advanced Member Management allows the owner or admin(s) of the Group Folder to specify who has access to any subfolder. With just a toggle of the button at the top of your folder you have instant membership customization! Previously, all members of a Group Folder had access to every subfolder created, but now you can be more selective and ultimately have a more seamless organization system. Embrace your inner Gandalf and "None Shall Pass" any folder you own.
For example, if three team members need access to your Video folder, but only one needs access to the Backup Files subfolder, you can configure membership accordingly. Or, if you are working with someone external, like an accountant, you can grant them access to just your finance folder, versus your full set of client folders and files.
Additionally, you can give administrative rights of a folder to another member of the folder if you want to delegate gatekeeper responsibilities. Score!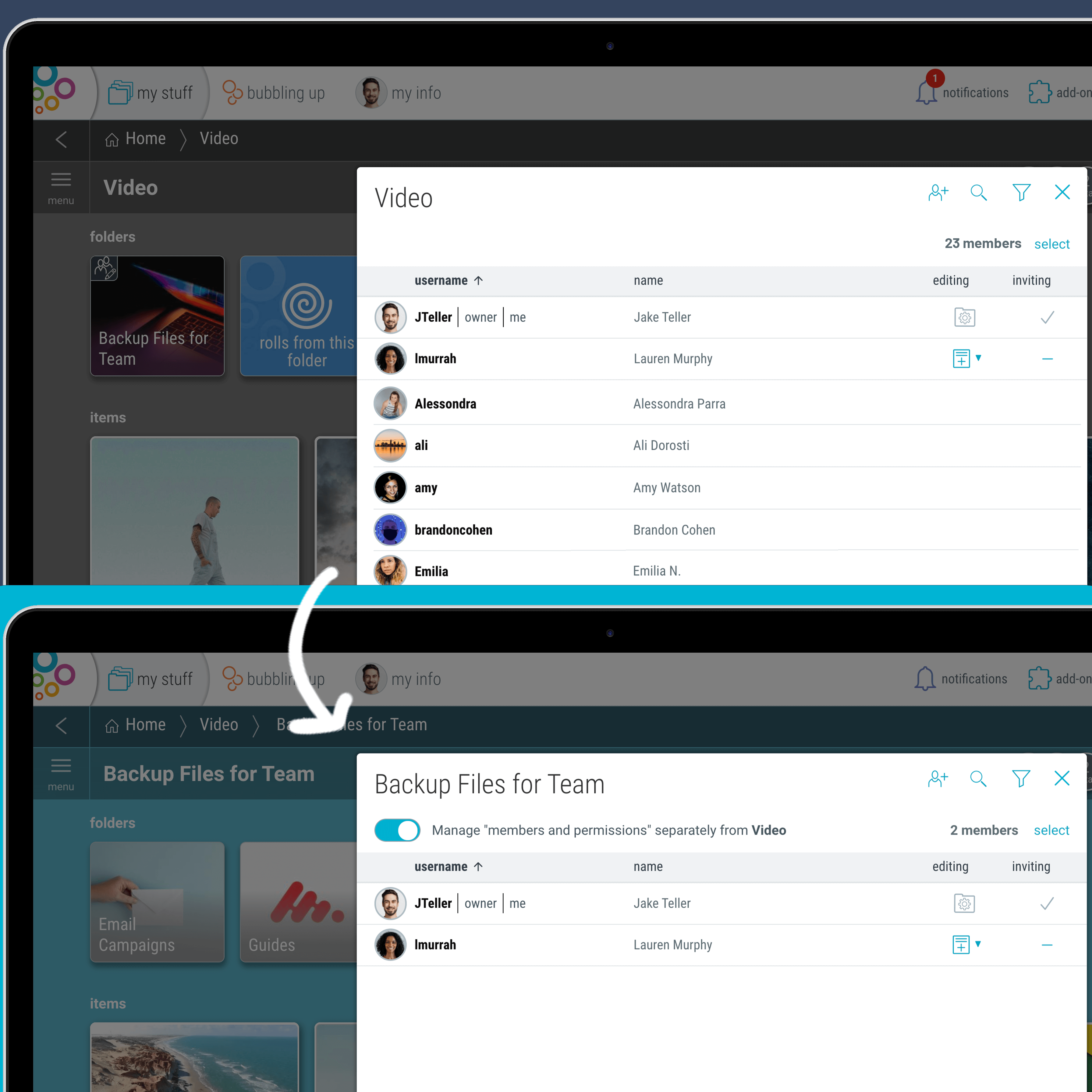 Color Palettes For All Rolls
Rolls have always been an easy and beautiful way to create a web page in seconds. With multiple themes to choose from, there is sure to be one that is perfect for you.
In this release, we upped the ante by adding multiple color palettes to all 15 non-seasonal roll themes. Now you can find a theme and color that's "on brand." Some themes, like Showcase (the Bublup Marketing team's favorite), have six palettes, giving you lots of choices.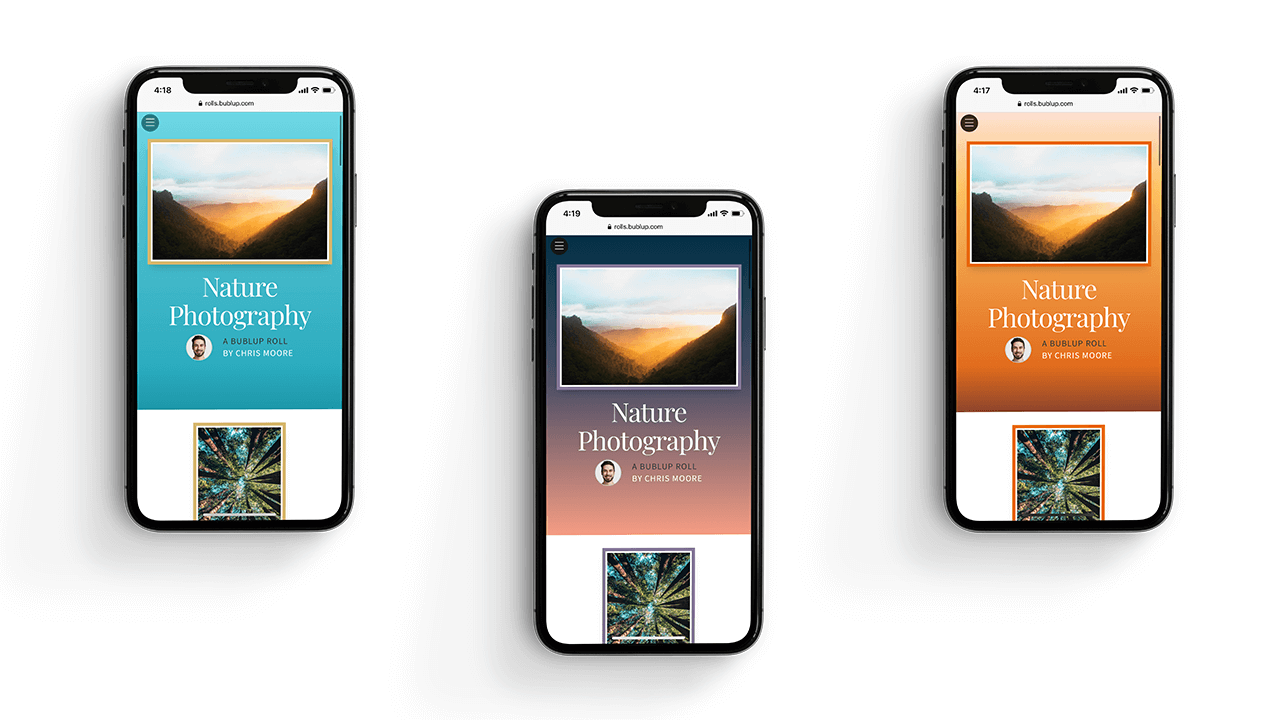 List Layout for Rolls
Rolls have a new Section Layout called List. It showcases your content in a compact list format, so you see more on your screen at once. Pro-tip: List View is perfect for creating a social media link-in-bio.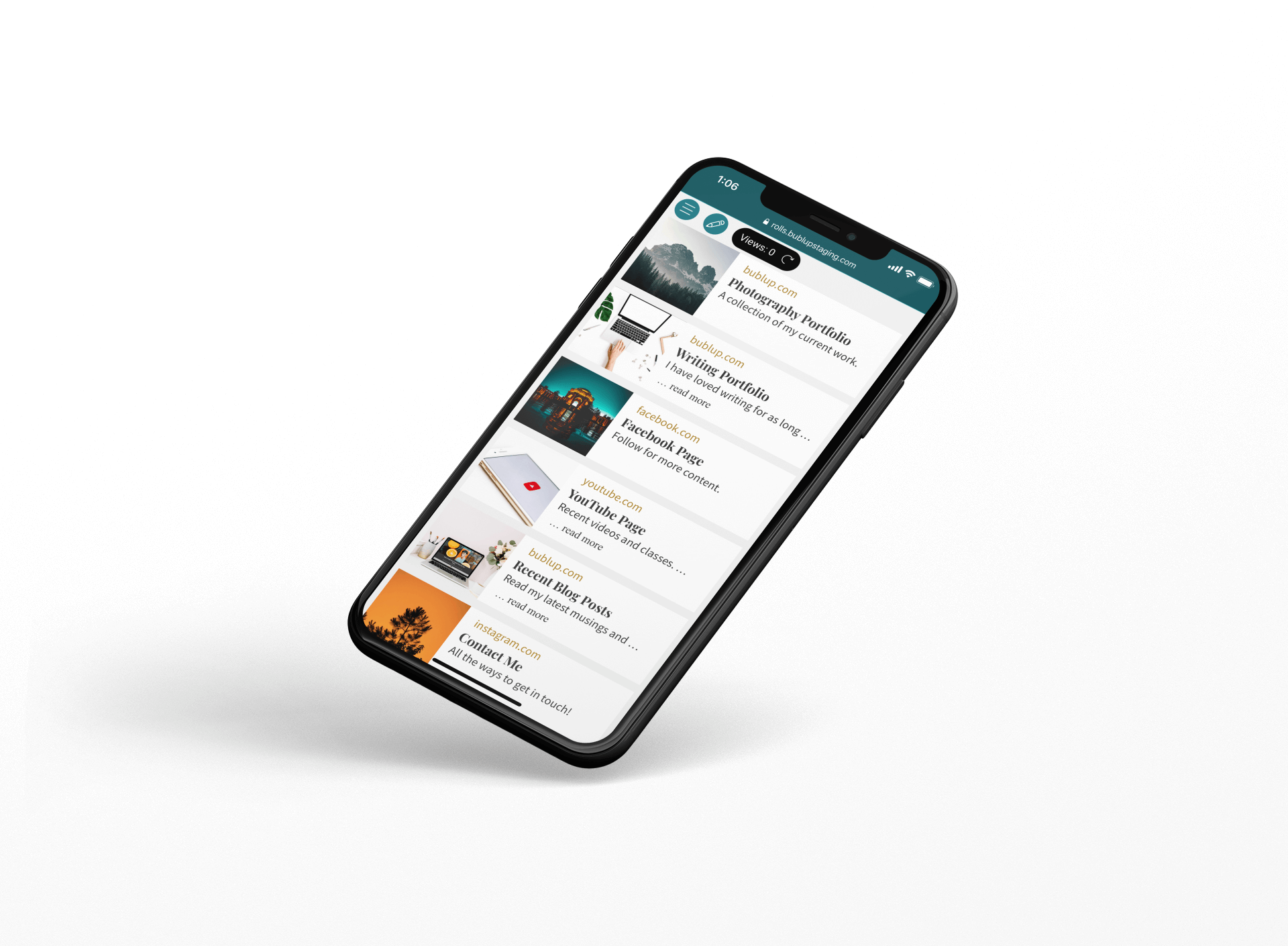 Discovery & Curation
Introducing Content Assistant
Have you had the experience searching for something online, and your results not being exactly what you are looking for? Everyone has and Bublup is solving this once and for all. Instead of starting your search over with new phrases, fine-tune as you go with the new Bublup Content Assistant. You can see the keywords Bublup uses to find suggestions, edit them, and add new ones. For even more focused results, you can adjust the importance given to individual keywords.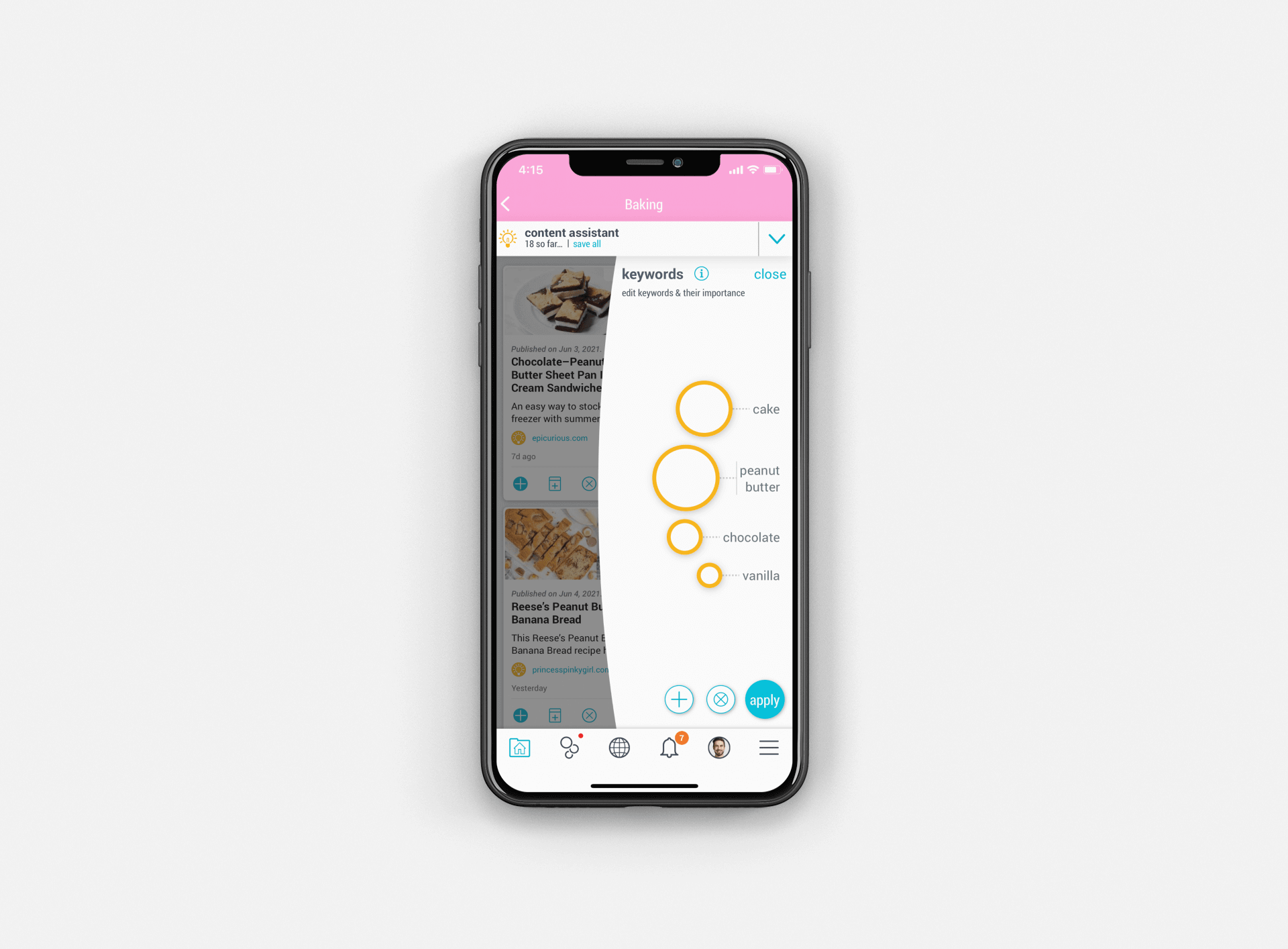 For example, if you're searching for cake recipes, and really love peanut butter, with Content Assistant you can fine tune to get what you are really after. Use the circles to increase the importance of cakes, and add the phrase "peanut butter" in the keywords too. Bublup will prioritize those recipes first. Researching has never been tastier.
Bubbling Up For You
Our curated feed of interesting and trending content from the internet is even smarter and more customizable.
Get Choosy With Item Types: You can now select which types of Group Folder items you want to see in your Bubbling Up feed. Set it up to only see images, or to never see PDF's or Bublup Notes. Mold our feed to work for you.
One Tap Saving to Review Later: We get it. You're busy and might want to read articles later. The new Review Later shortcut is located next to the plus button on Bubbling Up items, making it easier than ever to save those good reads for evening couch potato sessions.
Bulk Downloads
With a premium account, you can now download up to 50 items at one time from a folder (previously, it was capped at 20). We did the math for you, that's 150% more downloads at once!
Turn Off Content Assistant (Formerly Suggestions)
We get that Content Assistant may not be welcome in every Bublup folder; Company folders come to mind immediately. Premium Users have the power to turn off Content Assistant on a per-folder basis. Keep our content discovery superpowers where you want them, leave them out where you don't. Make Bublup work for you.