About a year ago, I was introduced to Bublup, and it quickly became an essential part of my daily routine. As a self-confessed control freak, the cloud storage app has helped me organize literally everything in my life. Finally, I feel that I have found a place where my scrambled thoughts can be displayed in an organized and aesthetically pleasing way.
Organized? Who, me?
Before Bublup, I found it impossible to keep my daily routine organized and efficient, especially when it came to meal planning. After a long day at work, I would find myself staring blankly into my fridge (which would start erratically beeping after being open for too long) and eventually settle on a bowl of pasta or cereal.
Enter Bublup. I created a special meal planning folder where I can organize my weekly meals, store recipes, and make shopping lists, which, it turns out, is even more essential in 2020 – the year of staying at home!
By spending just half an hour each weekend organizing my meal planning folder, not only do I save myself so much time and stress, it ensures I have a far healthier and balanced diet. The most productive way is to create a "Current Week" folder which I can subcategorize into each day of the week.
I like to have pictures of what I'm making, maybe a recipe, a wine suggestion if I'm feeling fancy and notes, usually with a list of ingredients. I find it brilliant that I can save information in all different formats. The link option is ideal when I'm trying out something new and need to be able to access the recipe easily, and I love using the in-app camera to document my successes and failures.

Notes are also a great way of keeping shopping lists or jotting things down as you're cooking – I find it so useful when I'm baking to remind myself exactly what temperature and how long to cook things for before they start burning!
Sharing is Caring
Before Bublup, I just had scraps of paper in a drawer in my kitchen with information like "Xmas cake – 130 degrees, 2 hours" on, and obviously, I would never be able to find the right one when I needed it! My folders make the whole process so much quicker and easier. By sharing my "Current Week" folder with my household, we have reduced all the arguments surrounding food! The new response to "What's for dinner?" in my house is now simply "Check Bublup!"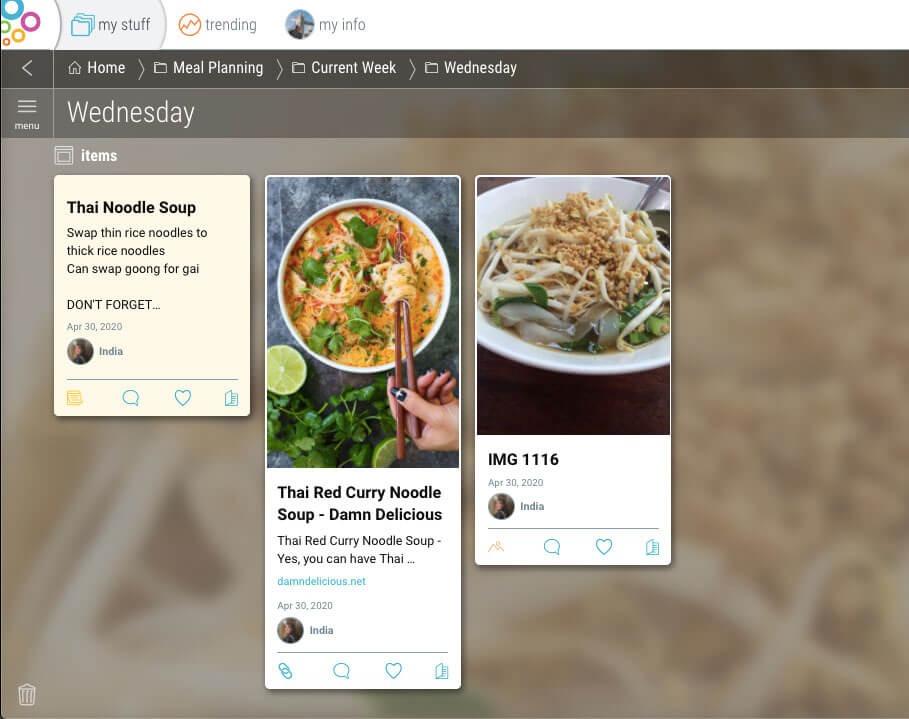 The roll feature in Bublup is also something that I am always using! I often get asked to share recipes, and instead of sending multiple links and photo attachments in an email, I can simply provide one easy link to all of my secret recipes! In fact, I have some rolls that are ready to go if anyone ever asks! Here is one of my favorites.
A New Kind of Dinner Party
While there are no more after-work drinks with friends or candlelit date nights at your favorite restaurant, these are also times that we shouldn't take for granted, and we can use to reboot, refocus, and enjoy our friends and families in different ways.
With that in mind, I decided to expand the use of my 'Meal Planning' Bublup folder as a way to stay connected and provide some much-needed fun and entertainment during these uncertain times – Virtual Dinner Parties. Bublup makes it so quick and easy, too!
Create a "Virtual Dinner Party" folder, invite your friends and family, add a link to a recipe that everyone can easily make and off you go. Get a group chat going, the wine flowing, make the same meal, share pictures of your creations in the group folder, and enjoy your dinner party via your computer or phone!
Aside from the obvious benefits of eating healthier, being more organized and saving time, I really enjoy my Bublup time every weekend. It is really great to be able to take half an hour and get myself prepared for the week ahead – it has become part of my routine and it is something I rely on. I use it to make my busy life easier, more practical, and definitely more organized.
I find that I have extra time every day now which I can fill with more exciting things than planning and making dinner!