We all know the almighty power of Googling something. We can learn something new or win a heated debate with our friends using a quick search. What many of us don't always consider, though, is how the first few results float to the top.
The process of getting your content or website to appear near the top of a Google (okay, okay, and Bing) search results is search engine optimization or SEO. For anyone with their own brand or content, it's essential you have an understanding of it if you want to gain visibility.
Why Should Marketers Care About SEO?
You may think SEO falls on the technical side of things, but marketers and content creators have a huge role in the website's ranking.. While there's a lot that goes on from the backend, marketers should be aware that factors, such as the words they use in their landing pages and articles they link to in their blogs, have an impact on where you land after a Google search. You don't have to know anything about coding, meta tags, or any of that other jargon to make a difference when it comes to SEO.
If you're already spending hours planning & writing for your website, landing pages, blog, and more, why not make sure your content and assets work for you as people search. As of April 2021, Google has clocked 630 billion searches for this year alone. Even if 10% of those are "nearest Starbucks near me," it's easy to understand why you should build your content strategy with search engines in mind.
If you're mindful of what helps boost your ranking, you could see a serious payoff.
Easy Ways Marketers Can Optimize SEO
So now, let's dig into the good stuff! Here we'll explore some actionable ways that you get your website and content in front of more people:
1. Update Your Old Content
That's right. Don't let that article about the best 2016 social media tips collect dust. Instead, go back to your existing content (even if you made it years ago) and update it to be relevant and valuable today. This obviously can't be done for every old blog post you've ever written, but take a look at your archive and see what can be updated or given a new spin. This will not only improve your SEO but will save you time in brainstorming new content.
Google values "fresh" content, and updating your older content can help boost your rankings. It's like throwing your takeout from last night in an omelet in the morning!
2. Write Content Curated to Search
Most of us are aware that using keywords in your content plays a helpful role in SEO. What this has unfortunately led to is bloated posts trying to jam-pack as many relevant words as possible. People who opt for this strategy don't set out to provide valuable content or put their readers first. While it's still important to use keywords, don't make that your one-and-done approach.
Instead, start by making a list of questions or searches you think your customer or target audience would make. What are their concerns? What are they looking for? How can you help answer their questions and bring value to their life?
This is the kind of research you should use to build your content strategy around. I don't suggest neglecting keyword planning altogether, but that you should create authentic content with the intent of bringing value to your readers. You can find a few more of these kinds of SEO copywriting tips in this roll.
3. Don't Forget to Interlink
If you're a blogger or landing page copywriter, don't look at each page independently but rather as an intertwined group of content. Just as graphic designers make sure branding is cohesive across different assets, marketers should view their content similarly.
Interlinking is when you link to other blogs you've written and pages on your site as you write new pieces of content. This not only helps keep readers on your site, but it also will help your SEO efforts. Additionally, it can help inform your content strategy. Instead of drawing up new and detached content ideas, you can refer to your existing posts and see how you can make complimentary material.
Look at your existing pages and posts to see how you can build, expand, and interlink within them.
4. Turn on Roll Search Engine Indexing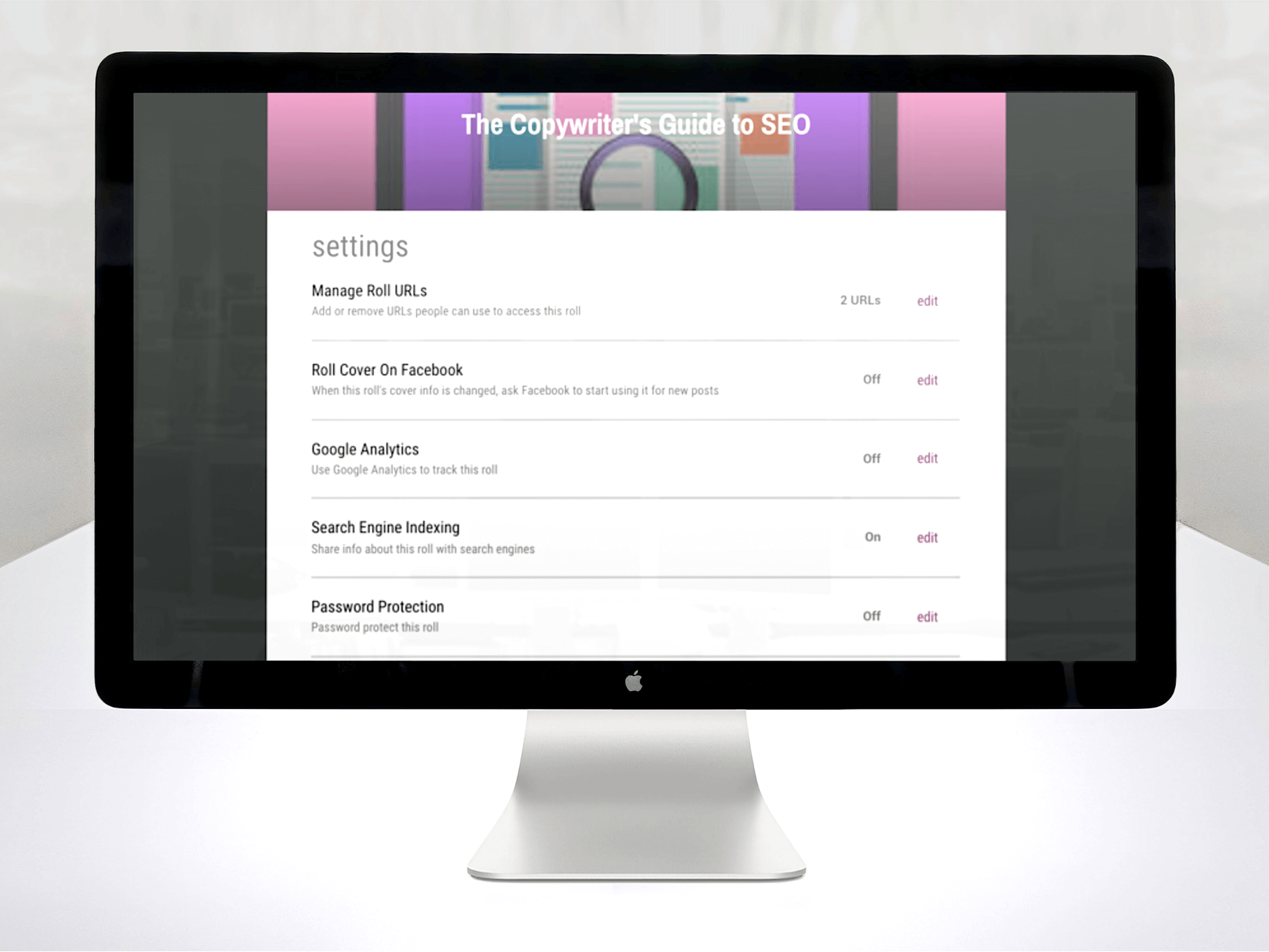 Bublup Rolls are an amazing alternative or supplement for having a website. If you've been leveraging rolls for your own content creation, you're in luck! Rolls can also be indexed on search engines, just like a website or blog post.
Once your roll is created, visit the roll's menu and select settings. From here, make sure that "Search Engine Indexing" is turned on. You'll see a few other options to customize your roll as well.
Beyond websites, this can also be helpful for those who use a roll to host their portfolio. Let's say you're a video editor in LA and have all your work saved in a roll. When the Search Engine Indexing option is turned on, that will increase your chances of your portfolio showing up when people are searching for an LA-based video editor.
Wanna learn more about SEO? Take a look at this roll to get a few more in-depth tips on boosting your ranking. If you'd like to create your own roll, you can get started with Bublup today!