So you want more storage. Maybe you've run out, or maybe you prefer knowing there's extra lying around. Totally understandable, and we at Bublup want to help. Bublup provides you with 3 GB of storage right off the bat, but if you want more, there are various ways to add storage. In fact, we just unveiled a whole new way to add additional storage to your arsenal (hint – you've been asking for it). This blog post will walk you through every option to get more space for your needs, including…..drum roll, please…..an annual plan! Let's get started!
Bublup's Referral Program
Not only is Bublup's referral program a way to earn storage, but it's also a way to earn *free* storage. Who doesn't love free things? All you need to do to earn extra storage is share Bublup with your friends, family, colleagues, whoever! Let's walk you through it.
Let's say you have a folder filled with recipes that you want to share. Invite anyone to your folder using your Group Folder invitation link, and voila! Not only do they have a great penne alla vodka recipe, but now you (and they) have an additional GB of storage! It's a win-win-win.
Another way to earn free storage is by using your personal referral link. This is different from your Group Folder invite link because it's custom to your profile, not the folder, and you don't need to invite anyone to one of your folders to get the extra free space. Know someone who is going to find Bublup as useful as you do? By all means, share away. You can find your personal referral link in your profile.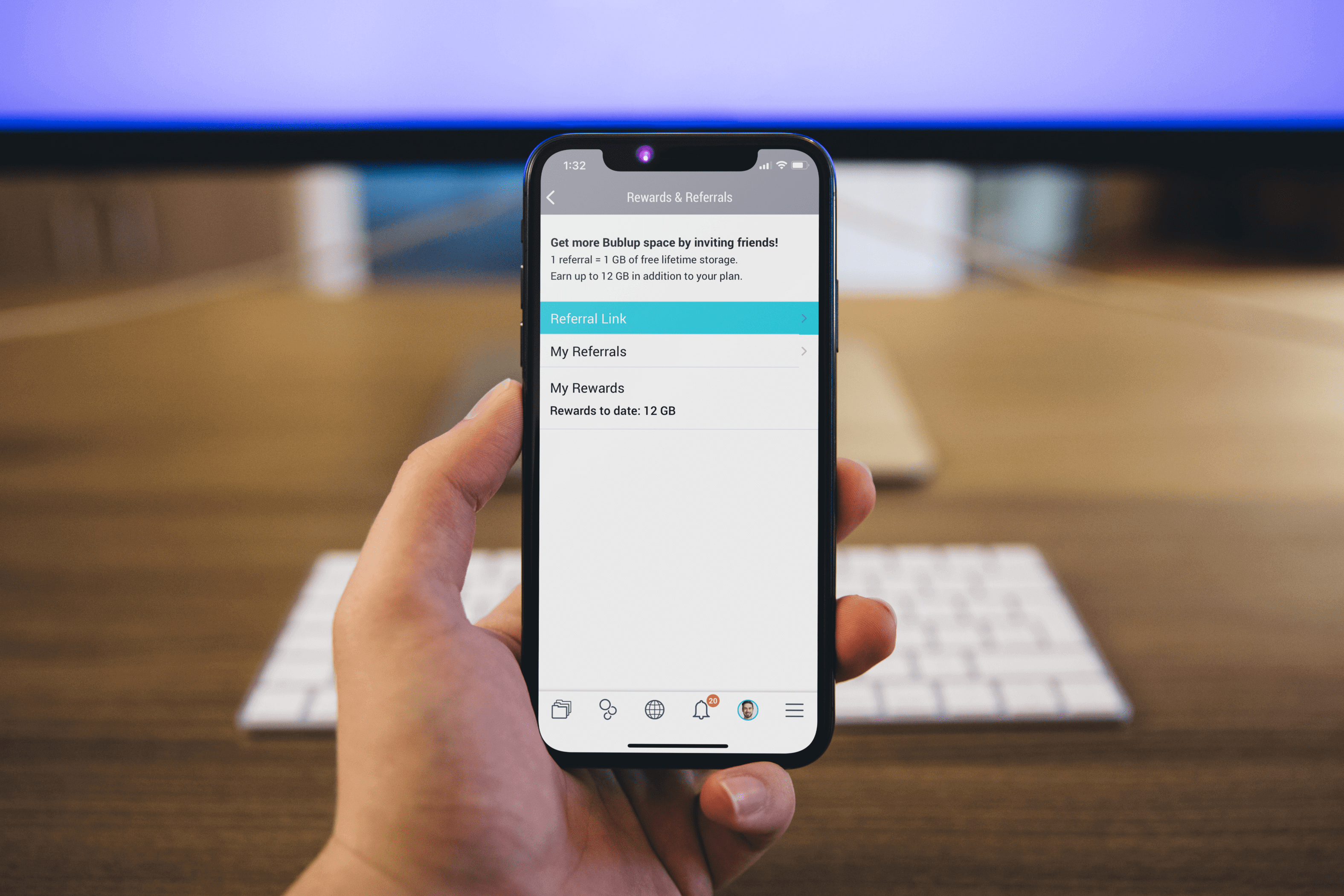 No matter how you share, you can earn up to 12 GB of extra storage through our referral program. We think it's a pretty nifty program: you get additional storage (as does the person you referred), you get to share your stuff with the people closest to you, and we get to share the magic of Bublup with more people.
Before you know it, 3 GB of storage will become 15 GB. Think of all the things you can save with that space!
Bublup's Paid Plans
While free plans are great, they may not provide you with the amount of storage you need. That's where Bublup's Premium (paid) plans come in! We have a variety of plans that offer extra storage and more features like custom branding and (our personal favorite) advanced roll settings. Check them out and determine what's the best fit for you!

For as little as $2.99 a month, you get 100 GB of storage. That's over six times the maximum amount of referral-based storage for just a few bucks a month! If you need even more space, we have a plan for you, too. Our Premium Plus plan provides you with 1 TB of storage for only $9.99 a month.
To put on our Billy Mays voice for a moment—but wait, there's more! You now have the option to sign up for annual Premium plans rather than monthly. So you can get the same amount of storage for a once-a-year fee, plus 20% off.
**
Whether it's for school, for personal use, or for use with friends & family, everyone needs storage to save their stuff. Our various options guarantee there is a storage plan that fits your needs so you can have the best Bublup experience possible. Happy saving!