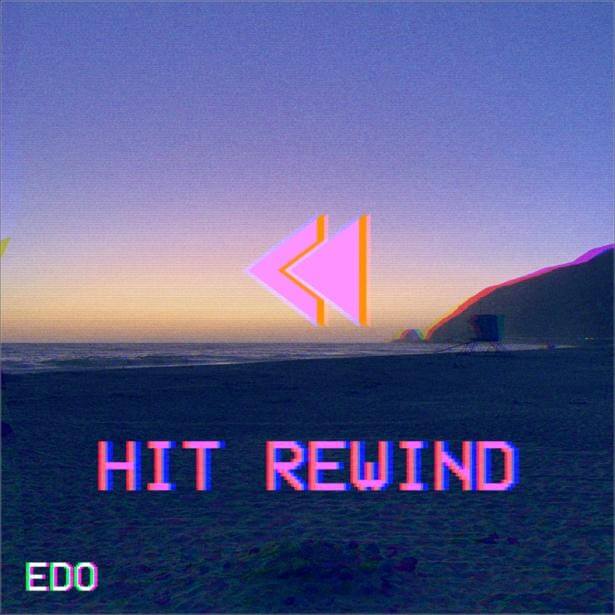 This is the cover art that I made for my song "Hit Rewind." I had just quit my day job as an attorney and picked up enough side clients to hold me over for the time being. It was the Jewish New Year, and I journeyed with a good musician friend and his pup to camp for a night at Point Magu State Park.
A fellow content-creator had recently recommended that I try out Bublup's new cloud service. I thought it looked like a useful way to organize my music and ideas, so I signed up for it. Even better? I was fortunate to receive a promotion to try out the 100GB account and enjoy the app's Premium features.
My eyes lit up at the idea of 100 GB of cloud space—RAW music files are big, and sharing them back and forth with other artists and producers can fill up space quickly.
Plus, it would be great to put my case files on, so I could access them from my phone when I'm talking to a client on-the-go, or in a courthouse situation.
I had already played around with the app, and started to get used to popping it open to take videos, photos, and notes of things that inspired me.
I had just started a song idea a few weeks before.
I didn't know what it would be called or what it would be, but I knew I wanted to draw my inspiration from a guitar riff I had made, which sampled the intro from one of the first songs I can ever remember hearing: "Yareach" by Shlomo Artzi. That's my dad's favorite artist, and the song means "moon" in Hebrew. I have been hearing it on repeat from the time I was born. It's a beautiful song that perfectly mingles stories of sadness and frustration with feelings of hope and joy, all taking place under the moon.
We got to the beach around noon, wrestled down some tents in the wind, met our neighbors, and started setting up a fire. I had started a folder for my new song and uploaded all the source files I was using for inspiration. As the sun started to set, it finally hit me how relaxed I was finally starting to feel.
I took any lingering thoughts rattling around in my head and threw them into the Bublup app so that I could come back to them later, including a few in the new song folder.
My friend is vegan, so we then had the worst campfire "hotdogs" I've ever tasted in my life, but, really, I couldn't have been happier.
I played some guitar under the pink sky and recorded everything straight into a video on the Bublup app.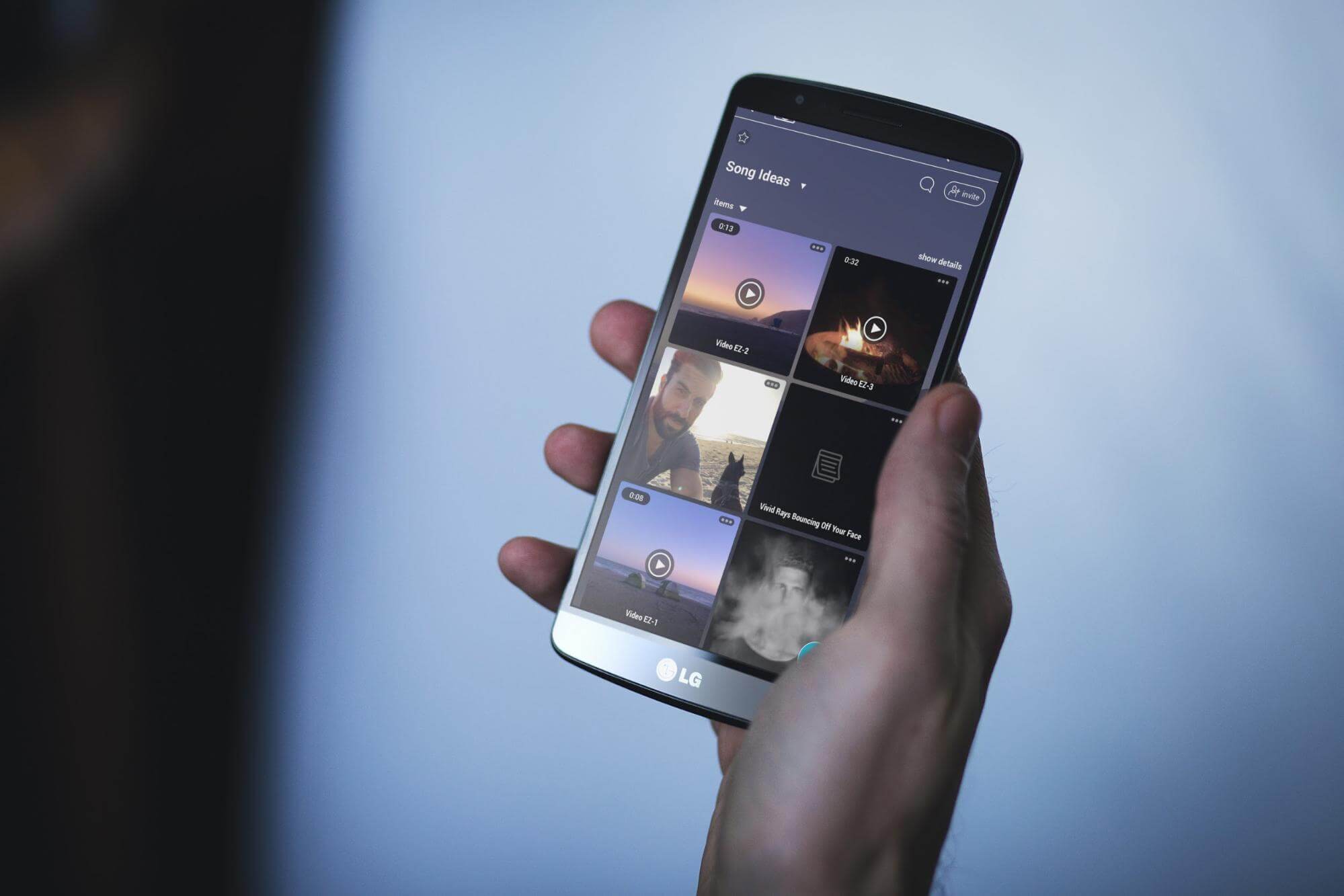 Just before the sun finally disappeared, I took a stroll down the beach alone, while my friend made sure his pup had all he needed for the night. The guitar riff I had recorded sounded like the color blue to me, and I wanted to take some photos in blue lighting. I wanted to capture somehow the color and texture of the way the riff sounded to me in a photo.
That's when I walked down towards the wet sand and took this photo straight into the app: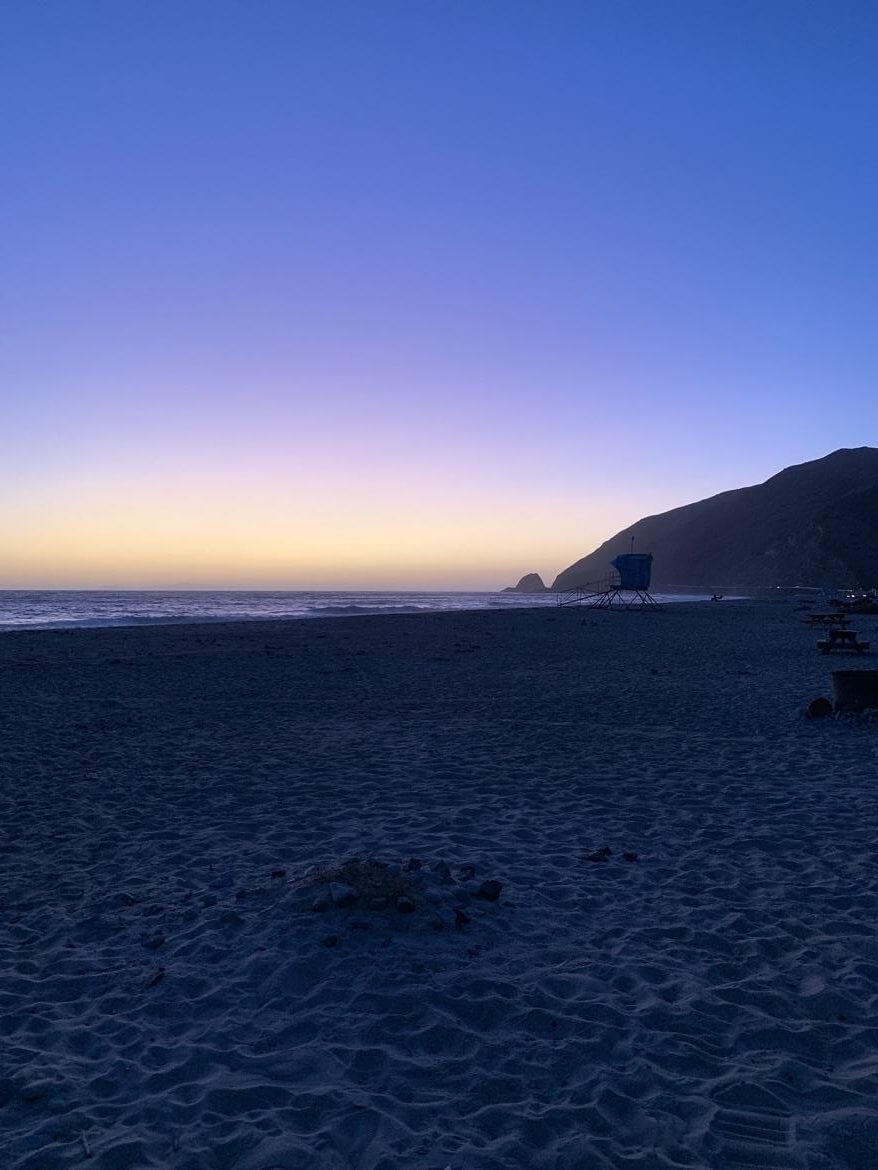 These colors and these textures perfectly captured the sort of feel I had when listening to the riff I had made.
I looked up and saw the moon looking down on me, and everything felt right. I printed my footsteps into the wet sand on the way back to the campsite.
The Bublup app lets you customize folders with your own colors and images, so I changed the folder background to this new image and added some neon colors. Now the feel was there every time I opened up the folder.
My friend and I played some music by the campfire before we went in for the night. I got back to my tent, laid on my sleeping bag, and opened up my Bublup app. I spent a few hours writing notes for the new song, and going through all the clips I had recorded, read through notes I had taken earlier, and I stared at this photograph. I thought about the moon looking down on me tonight. And even in my tent, I could still feel it over me, pulling up at me like a tide.
I thought about how strongly I was pulled back into my childhood when I heard "Yareach". I thought to myself; I want to go back to that moment. I fell asleep thinking about the chorus of the song: "yesterday was good, and it will be also tomorrow."
As we packed up the next morning, I felt excited to get back to my little home studio to work on the song. It took a few more weeks of capturing thoughts, ideas, and lyrics into my song folder before I would finish the track.
Bublup turned out to be a great tool. The process of gathering ideas and ultimately creating a recorded and produced track was made so much easier.
I not only could keep everything, including very large files, all together but by letting me customize the look and feel of the folder, it really added that extra spark to this process.
The photo ended up being the cover photo for the song, and writing "Hit Rewind" was one of the most fun and meaningful projects I've worked on.
So, if you're a content creator, and you're looking for a tool to help you capture all those ideas and inspirations for your project, I think Bublup is a wonderful friend to take on your journey.