One of the questions I get asked most as a content creator is how I'm able to juggle traveling, finding inspiration, planning photoshoots, and posting on Instagram. With everyone, including myself, suddenly having more free time, I wanted to jump into this topic and share my tricks. While there's no easy answer to this, I will say it requires a lot of discipline and organization. Lately, I've been staying organized by using Bublup. I talk about Bublup quite a bit in my stories because I'm using it all the time to create inspiration boards and to make the most out of any city when I'm traveling.
Bublup is an app that combines the best of Pinterest and Google Drive. It's great for individuals who have various projects and interests and need the ability to store different file types in one place. I love that I can organize my content by folders – and that it can hold photos, videos, notes, GIFS, and other files. It makes managing multiple projects seamless.
While I was in London earlier in the year, I decided to put together a full rundown of a typical day in my life so that you can see what I do to stay on top of everything.
A Day In The Life of a Travel Creator
8:00 AM: Wake up
My wakeup time varies between 6:00 AM – 8:30 AM when I'm traveling. However, I decided to take it slower this time in London. My friend, Elona, and I stayed at Brown's Hotel and woke up around 8:00 AM. We immediately got our makeup on so we could head out the door.
9:00 AM: Breakfast time
For breakfast, I'll usually eat at a cafe that I'm planning to shoot at – or skip it altogether. Since I didn't plan on eating anywhere else this time, I took advantage of the delicious breakfast at Brown's Hotel.
10:00 AM: First stop
The first stop is usually when my day really begins as a content creator. Before traveling, I always do hours of research on the destination. This research includes Instagrammable cafes, restaurants, shops, iconic streets, and landmarks that I want to shoot. I'll then load everything into a Bublup folder and plan my trip itinerary according to the location and opening hours of each stop. You can access my Bublup folder for this trip here.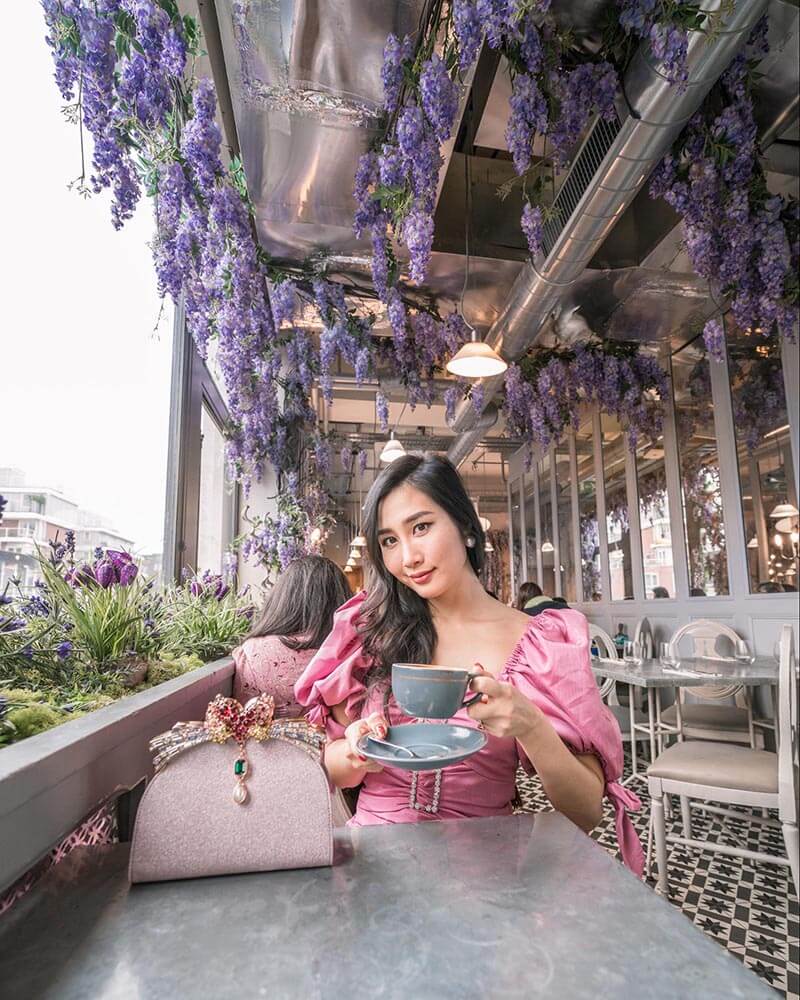 Aubaine (inside Selfridges) was my first stop. It's one of my favorite cafes in London because it's beautifully decorated inside and photographs well. When it comes to cafes, I always try to arrive when they first open since they're usually slower, and the space is pretty empty. Many of you ask how I'm able to get photos without people in them, and arriving early is my best tip!
11:00 AM: Travel time
Most of my shoots for one location last up to an hour before I move on. As I'm commuting from one spot to another, I'm always looking out for cute streets, colored walls, or storefronts that would make a great photo op.
If I come across anything really Instagrammable, I take a picture of it and add it to my Bublup folder and make a quick note about where it's located, the time they open and close, and how crowded it is. I like to rearrange my Bublup folder based on the colors, so I know where I need to shoot next. This method is how I'm able to create a seamless, color-coordinated Instagram feed.
11:30 AM: Regent Street
By early noon into the midday, we'll shoot in areas where traffic and crowds don't change much as the day goes on—for example, Regent Street in London.
12:30 PM: The Tube
London Underground, or The Tube, is another great spot to shoot at around noon since traffic is slower. I recommend avoiding subways in the mornings or evenings when most people are commuting to and from work.
1:00 PM: Lunch
I typically eat lunch around 1 pm near the hotel that I'm staying at so I can head back after and freshen up for more shoots. It's usually then that I spot out cute storefronts and walls to add to my Bublup folder like this Benefit store!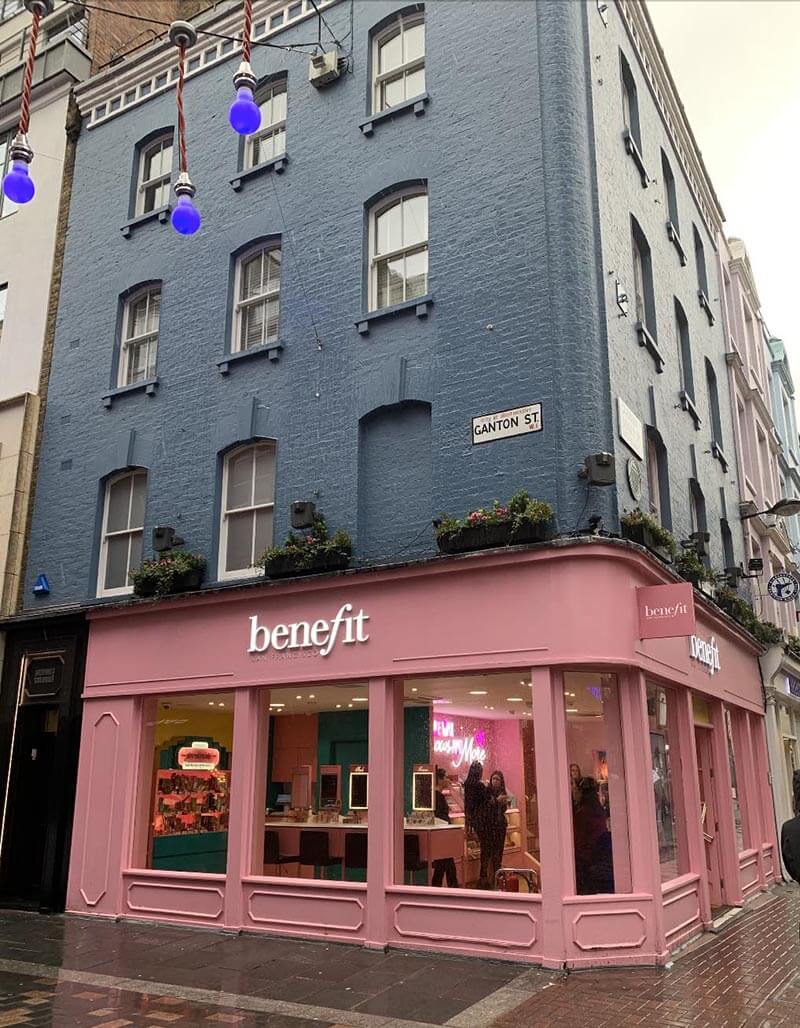 3:00 PM: Hotel
After lunch, I'll do a quick outfit change in my room. Since I collaborate a lot with hotels throughout my travels, I will spend the latter half of the day through the evening shooting inside.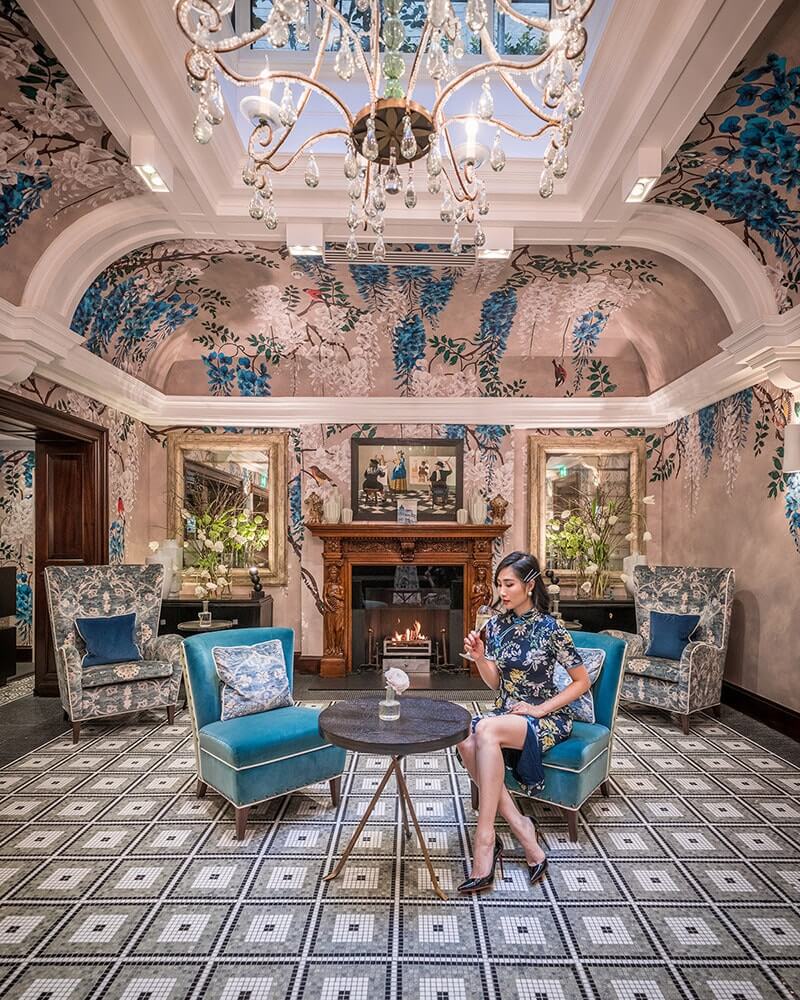 I save all my favorite hotels into a Bublup folder by city, so I know where to stay for my next trip – and to remember how they look. It can be easy to miss shots and forget that a room was available when it's not in front of you. So, I tend to add multiple images of a hotel into Bublup – that way I don't miss anything when I'm shooting.
4:00 PM: Outfit Change
I have a soft spot for hotels with beautiful bars. The Donovan Bar of Brown's Hotel is stunning. I love the lit bar top and upscale decor, so I had my friend, Elona, help me snap some photos for the gram as well as behind the scenes footage I can use for stories later.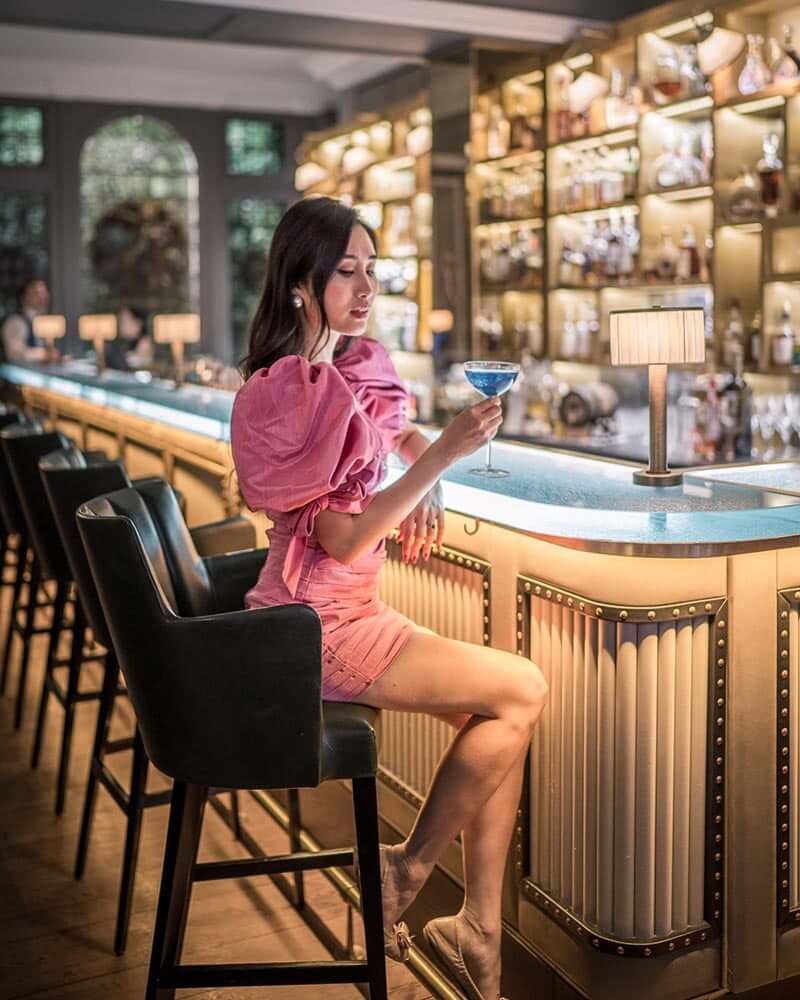 6:30 PM: Dinner
After shooting for several hours, I'm ready to eat by 6:30 pm. I'll sometimes eat at the hotel or go out to a nearby restaurant. This time, we opted for Charlie's inside Brown's Hotel. The three-course meal and wine selection did not disappoint!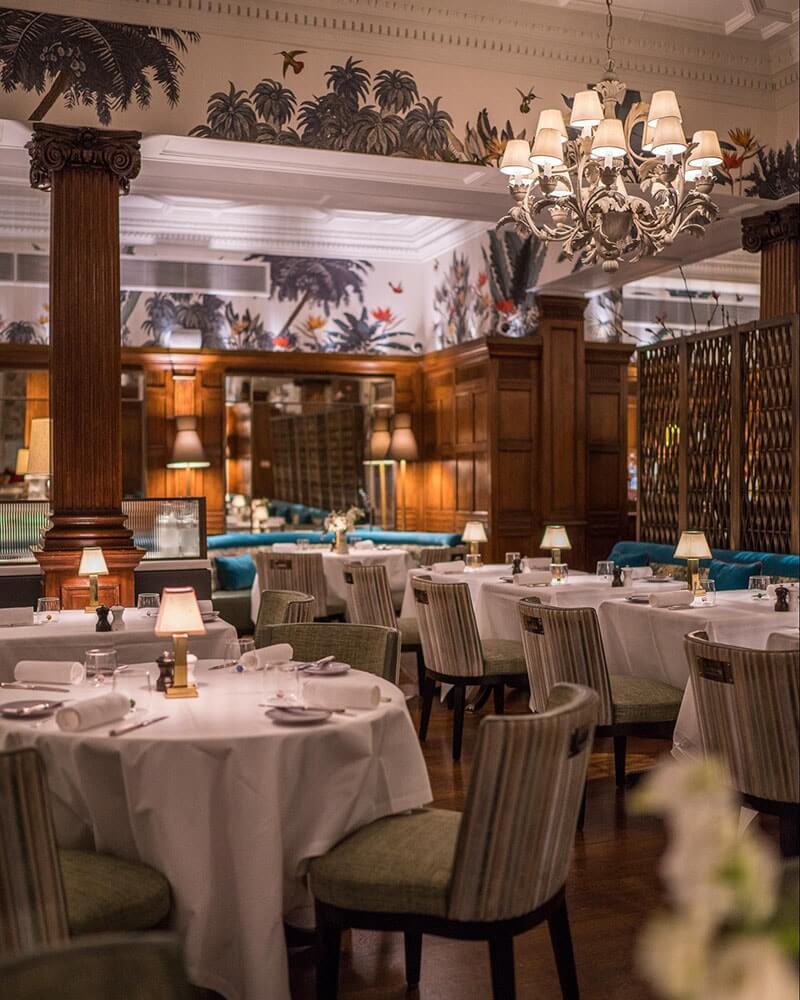 9:30 PM: Work
After dinner, I continue to work whether I'm editing photos, engaging on Instagram, replying to emails, or heading out for a late shoot. I'm a night person, so I tend to be really productive during this time. If I have another day in the city or another destination, I'll go back through Bublup to sort out my travel plans.
12:00 AM: Bedtime
I can be restless when I'm traveling and will be the first to admit that I probably don't sleep enough. However, I love planning trips and creating beautiful content, so it's easy to stay motivated. Bublup has been tremendously helpful in keeping me organized and on top of my content game.
I hope you guys enjoyed this post! Don't forget to follow along on Instagram for more behind-the-scenes content. You can access my folder here to see my favorite Instagrammable spots and hotels in London.
Disclosure: This post was sponsored by Bublup. All thoughts and opinions are my own.