It's a new day and age. Prior to the pandemic, freelancers made up almost 50% of the millennial workforce. Remote teams were already becoming more prevalent than ever, but now, they have essentially become the norm.
There are tons of tools and businesses out there that have been aiding and supporting this large-scale transition. Whether you're a telecommuter, wannabe-freelancer, someone shifting their own team to be remote, or somewhere in-between, take a look at some products for working remotely that will keep you connected, employed, and organized.
Slack
Even if you don't work remotely, there's a good chance you use Slack at work. With 6 million daily active users, this messaging app has taken the world by storm…and for good reason.
Instead of the cumbersome process of back and forth communication on email, Slack is more like instant messaging (think AIM). They even have away messages! But sadly, no buddy profile 🙁.
As one of the top products for working remotely, Slack really bridges the gap left by not being in the same office. It's ideal for so many things, like having a group brainstorm, asking for a quick favor, posing questions, and everything in between. You can set channels for organizing conversation, and you can create channels for different projects, topics, or teams.
Aside from productivity, it's a great way to introduce more communication. As a remote team, you won't get a lot of time to chat with everyone. Slack makes it easy to share funny articles and videos opens up a simple line of communication between everyone.
Upwork
One of the first questions an aspiring freelancer will Google is, "How do I get clients?" The first stop many of them will make is at Upwork.
Upwork is a platform for both freelancers looking for work and people looking to hire freelancers. It's a powerful and interactive digital job board. One of the more challenging aspects of working remotely is landing clients or gigs when you can't meet in person. Upwork offers a great resource for finding work where that isn't an issue. You can bid on projects, communicate with clients, and spotlight your work and experience. Another great feature of Upwork is its built-in invoicing system. While Upwork will take a cut (the cut gets smaller the more you use it), it helps hold clients and freelancers accountable.
Bublup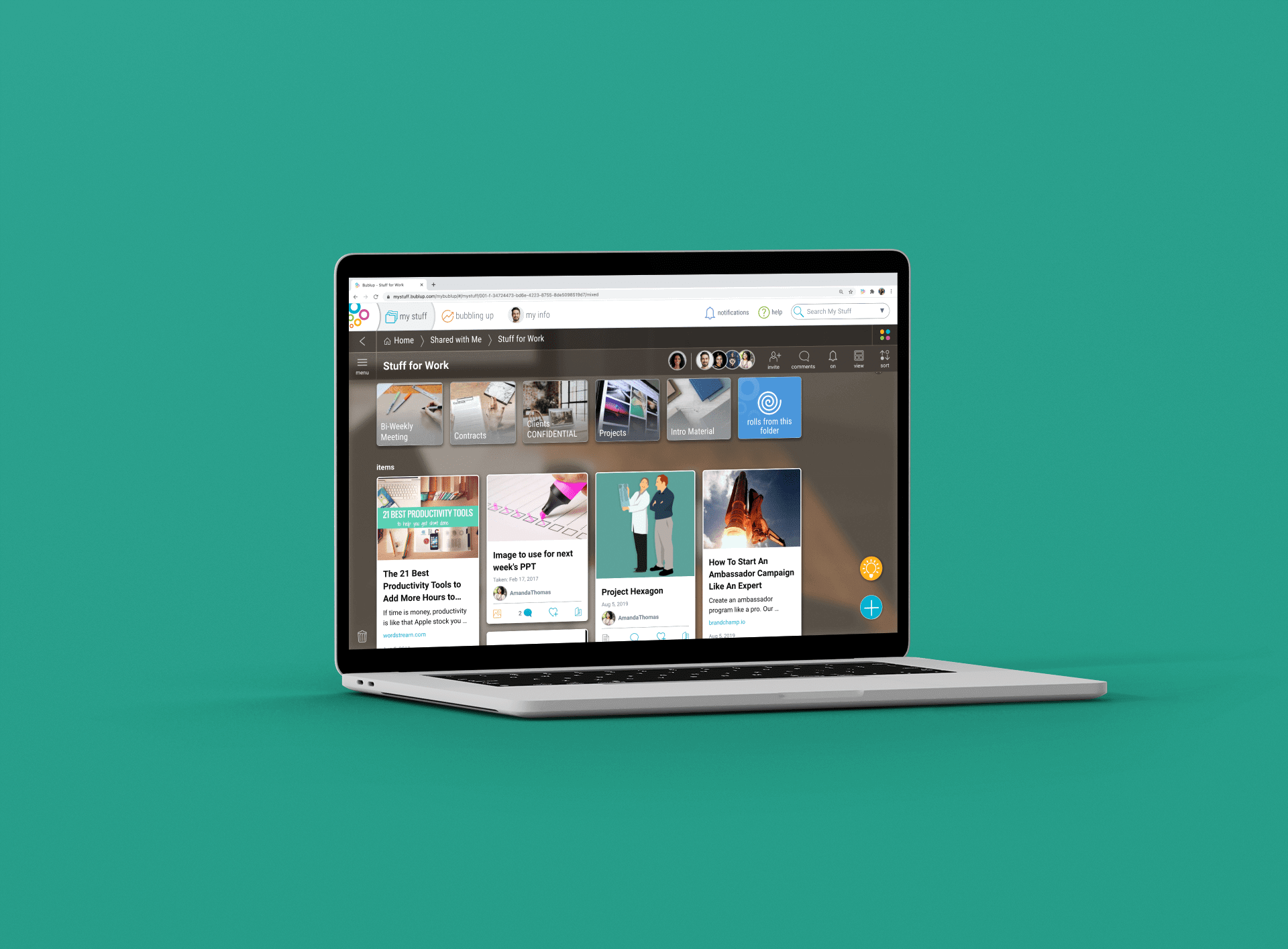 Remote workers rely heavily on cloud storage since there's no local hard drive for everyone to access. The problem is, most of the cloud storage options available to us just aren't inspiring, and many limit the types of files you can save. Boring blue folders and file lists are nothing to write home about. That's where Bublup is changing the game.
Bublup is the place where you can bring your ideas to life. It's a new kind of cloud where you can see everything you save. And when we say everything, we mean everything. Spreadsheets, links, photos, videos, PDFs, documents, and more can all live side by side in folders you make.
Whether you're working with a large or small team, having a place where you can keep all of your links and files in an organized way is so valuable. You can invite other users to any folder you create to make a group folder so anyone else on your team can contribute and collaborate. Since everything is in one, easy-to-navigate place, it's perfect for teams looking for products for working remotely.
Zoom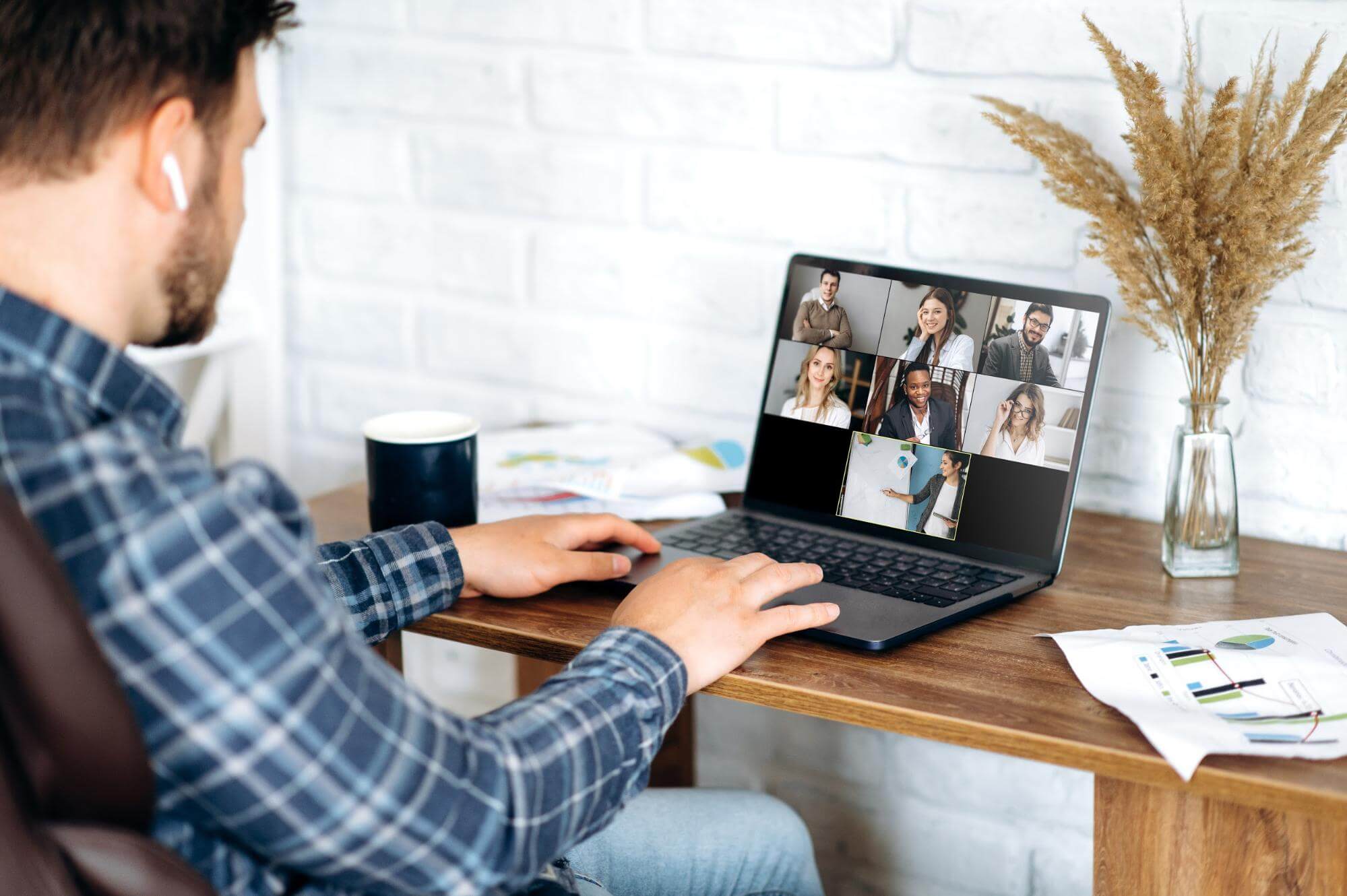 Who says you can't have a productive meeting when you're not in the same room? Zoom is the best virtual meeting tool around. If you've ever tried to have a Google Meet with more than five people, you know the struggle. There's always audio issues, users are kicked off…it's a headache.
Zoom gives a great video conferencing experience, which is vital for anyone telecommuting. Since you're not meeting in person, Zoom allows you to share your screen, video chat, or send links or notes through their built-in messenger. You can even click the button to "raise your hand" if you want to jump in, eliminating that awkward interrupting moment that always seems to happen on a conference call. If you're part of a large remote team, give Zoom a try. While their free version only allows meetings for up to 40 minutes, their paid version is well worth it!
And hey, if you need a fun background for one of your Zoom meetings, we have your back!
Smartsheet
Smartsheet is like Microsoft Excel on steroids…but even that doesn't do it justice. Out of all the productivity products for working remotely, it might be the best, as its features are perfectly catered to remote teams and all teams, to be honest!
When you're working remotely, it's easy for tasks and projects to get lost in the shuffle. Smartsheet gives you the power to neatly organize all of your team's work. Their notification system can send automated emails to employees when there's something that needs their attention, so it's an excellent way for everyone to keep tabs on their workload.
You can keep just about anything in Smartsheet, like content and blog submissions, finances, social media calendars, and more. Watch your team's productivity and organization skyrocket when you switch over, no matter where you're all working from. And they have team, business, and enterprise-level accounts, so it can work for whatever size team you have.
—
The workforce is clearly shifting, and these products are changing with the times. Give these products for working remotely a try if you're looking to succeed as a remote employee or team.