When setting up your marketing team for success, having one central location where all your photos, videos, links, PDFs, and other files can live together is essential. In Bublup, everything you save is easy to navigate at a glance with pictures and titles. Combine that with in-app features like comments and reactions, and Bublup is perfect for helping your marketing team stay connected to the same visually organized information.
Whether you need to quickly share the new swag designs with a client, or you're sick of searching for the most up-to-date drafts, read on to learn how to organize your marketing team on the visual cloud, better known as Bublup.
Jumping onto the Visual Cloud
Get ready to say goodbye to clutter and hello to beautiful organization as you set your marketing team up in a new home on the visual cloud. You'll start by creating folders to store all your projects- content, files, research, etc. Your top-level folders should represent the main pillars of the work your team does.
Pro Tip: Create a Bublup account for your marketing team and create your team's folders within that account, rather than from your personal account. This will allow for better management of your team folders, i.e., control of folder structure, ability to remove team members from folders, easy transfer of rolls and more.
Create Top-Level Folders
An example of a top-level folder structure that might work for your team is:
Brand & Art Assets
Competitive Analysis
Digital Advertisements
Email Campaigns
Legal Documents & Templates
Marketing Resources
Social Media Calendar
Survey, Insight, Reporting
Swag Designs
Team Directory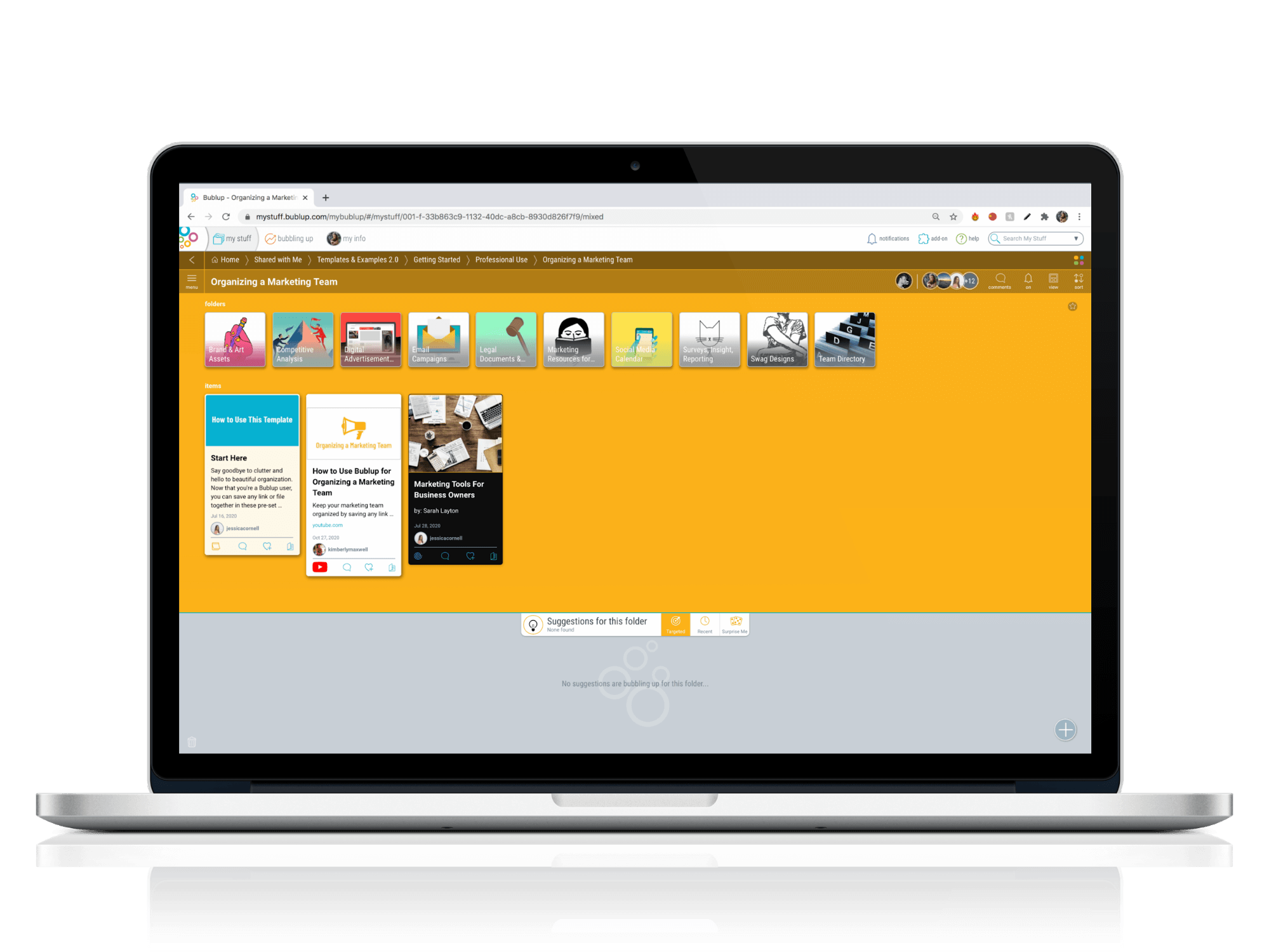 Create Subfolders
There is no limit to your organizing capabilities in Bublup, as folders can contain endless sub-folders. Create sub-folders that fit best with your workflow. Example: you might want to divide up your Email Campaign folder into four subfolders: Drafts, For Review, Sent, Campaign Research, Stats.
Populate Folders
Outstanding visual organization is what sets Bublup apart from other similar apps. In Bublup, you save links in the same folders as PDFs, photos, videos, GIFs, notes, and other files. It all looks good together, whether you're researching the latest social media trends, uploading logo options for a new client, or collaborating on a website redesign.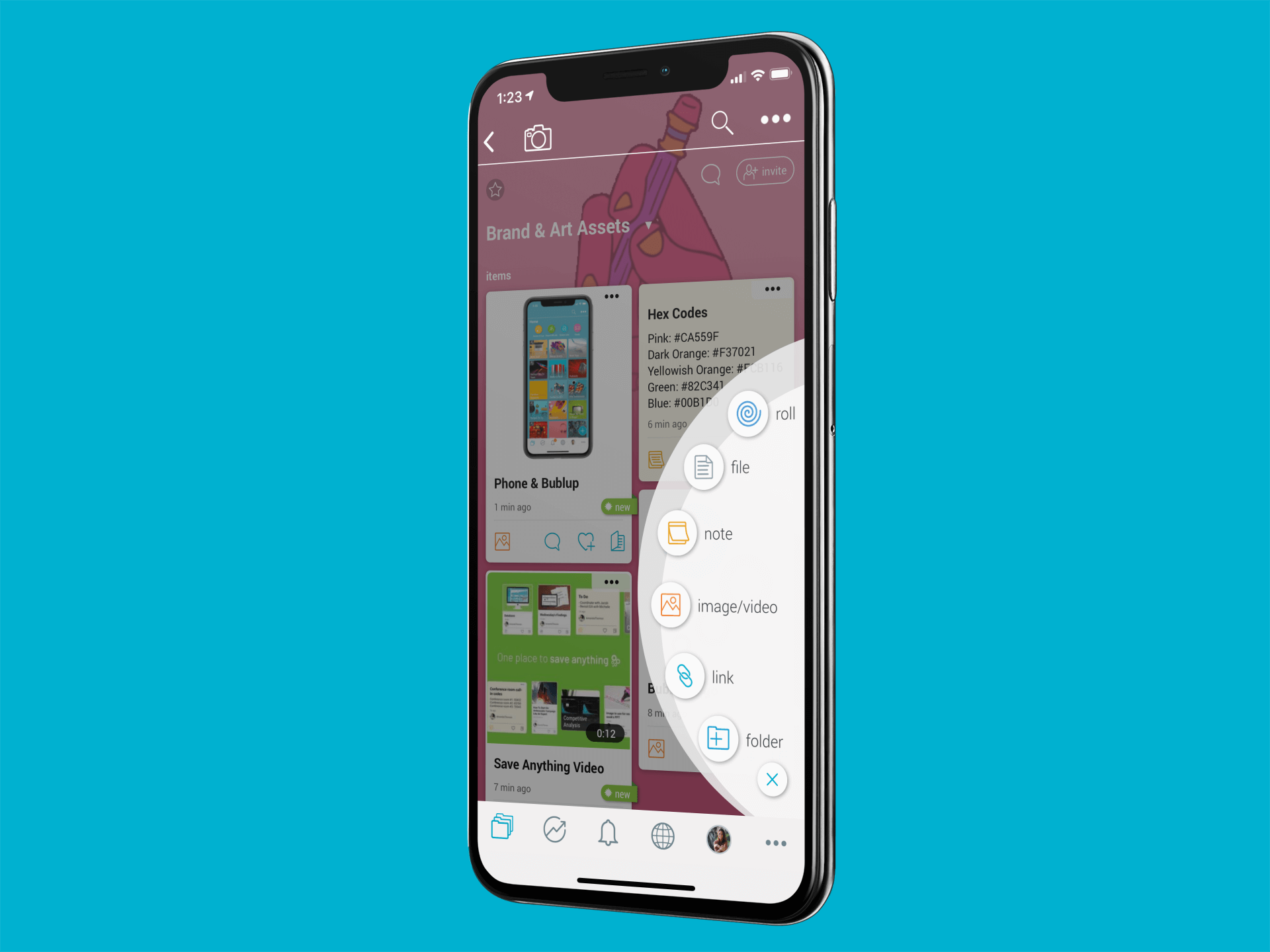 When you're adding items to folders from your desktop or mobile device, you have a few options:
Use the "+" button. Anything can be saved by clicking the blue "+" button in the bottom right corner of your folder. Select the file type you wish to upload or paste a web link.
Use keyboard shortcuts like control+ C (to copy a document) and control +V (to paste) items right into a folder.
Drag and drop content right from your desktop into a folder; it doesn't get much easier than that!
Email to Bublup The app's email forwarding feature is another great way to organize the influx of client emails your team gets. When forwarding emails to Bublup, emails, and their attachments, save as PDFs in the "Email" folder located at the top of My Stuff. From there, you can move them into their designated folder alongside other pertinent information about that sale or rental.
To set up email forwarding, go to:
My Info → Preferences
"Save Emails to Bublup"
Add the email(s) addresses that you wish to forward emails from. Once complete, simply forward emails to your username @mybublup.com (i.e., forexample@mybublup.com).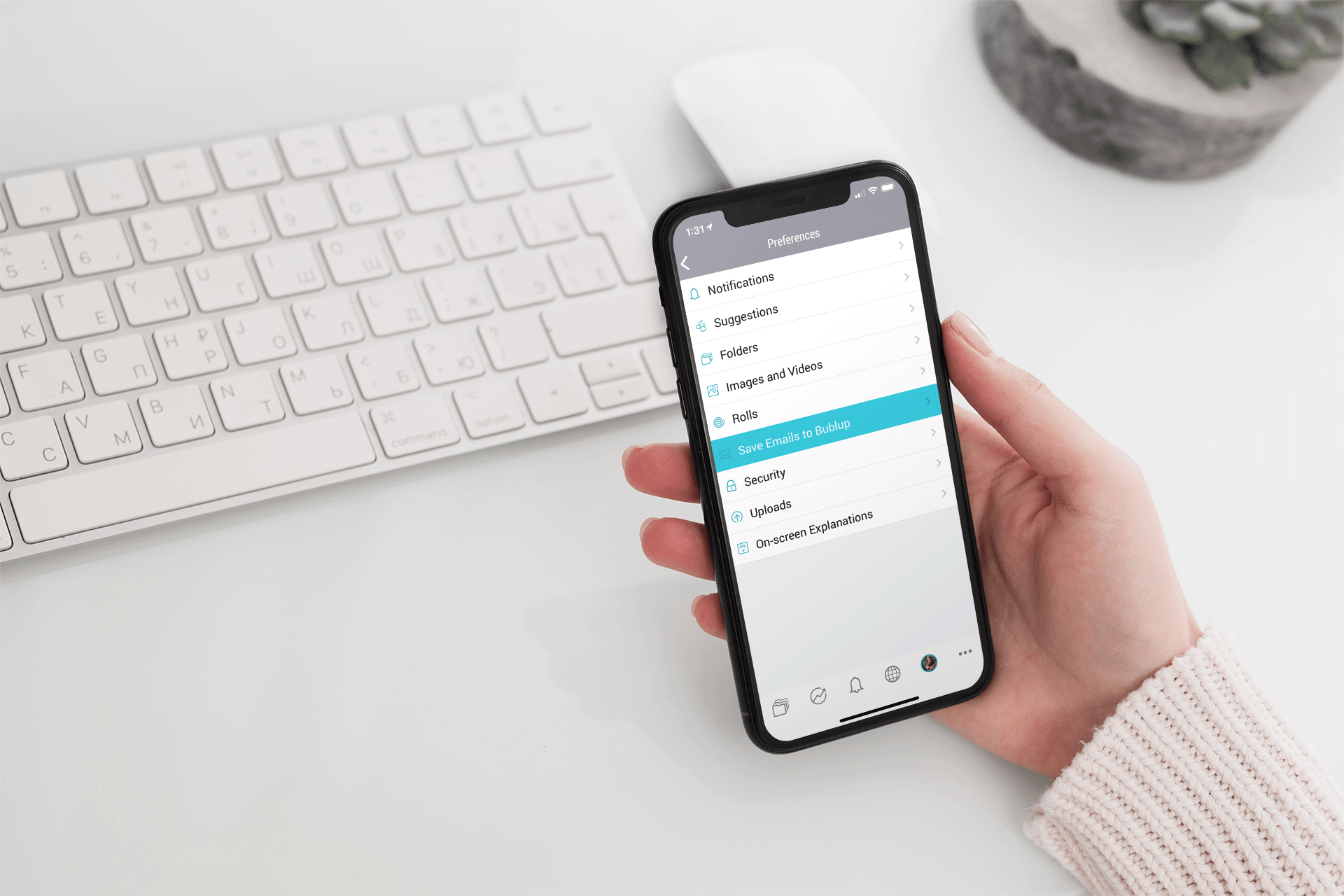 Now It's Time to Invite the Team…
Once you're ready for your team to join you and start collaborating in Bublup, you have a couple of options to invite them. When you're inviting team members, be sure to grant the appropriate folder permissions (can add content, edit content, view only, and invite).
Invite the team to group folders: You can invite anyone to a group folder whether they are currently a Bublup user or not. While inside a folder, click on the "invite" button in the upper right corner. This will prompt them to join your folder. (If the invitee does not have Bublup, they will first be prompted to set up an account.)
Create an invite link: When clicking the "invite" button in the upper-right corner,you are also given an option to create a group folder link, which can be shared anywhere. If you're looking to onboard your team to Bublup in a fast, simple way, this option might be easiest.

Pro-Tip: All accounts come standard with 3GB of free storage, but if you find your team needs more space, check out our premium plans where you can get up to 1TB of storage for less than $10/ month. Fun fact, during the current public health crisis, Bublup is donating 10% of all premium subscriptions to Feeding America. Do good by getting organized!

Get to Work!

Now that you have your folders in place that follow your marketing team's workflow, you've uploaded all your working content, and invited your team members, it's time to hit the ground running. In Bublup, your team can collaborate by commenting right on items, tagging other team members, and leaving quick reactions on items.

Ideal Sharing Tools for Marketing Teams

How you present your content to clients matters, and especially when you're a marketing team! We've got you covered. Here are two of our top sharing features:

Create a roll: Roll up your folder that contains the most recent design drafts (for example) in a beautiful web page called a roll. Rolls allow you to beautifully share a wide variety of item types in one link that can be viewed by anyone, even if they don't have Bublup.
Copy shareable link: A simple way to share your content is to use the "Copy Shareable Link" option. This creates a link for your item, which may be especially useful for larger documents, photos, or videos. Like a roll, this link can be shared with both Bublup users and non-Bublup users alike.

Personalize Your Bublup Experience

While your new workspace is Bublup, everyone doesn't need to know your secrets. With a premium account, you can personalize rolls, group folders, and emails by including your organization's brand when sharing, instead of the Bublup brand. Make your brand visible to your audience to elevate your content's professionalism. Learn more on how to create a custom brand here.

We hope this post helps to organize your marketing team on Bublup. If you have any questions or feedback, feel free to reach out to us at info@bublup.com.