It's here! Based on lots of feedback (thank you), we've made improvements throughout the app that will supercharge your productivity by enhancing the way you organize, collaborate, share, and discover content relevant specifically for you.
Increase Your Productivity
Recents & Favs
Formerly "Recent," this yellow special folder now includes not only your most recently visited folders and items, but also folders and items that you Add to Favs. Perfect for locating your most frequented content in a pinch.
Quick Access to Special Folders
You now have instant access to Recents & Favs, Shared With Me, Review Later, and Emails when you click the colorful dropdown menu inside any folder.
Advanced Search
We've added "Advanced Search", allowing search by date range or username. Premium users can also search PDFs or MS Office documents based on text within those documents. Try "Advanced Search" by clicking the "down arrow" within the search field.
Collaborate More Effectively
User @ Mentions in Comments
Increase real-time collaboration by mentioning a username in the comments section of an item or folder. Need to talk to everyone in the group folder quickly? Use @folder to notify everyone
More Expressive Reactions
Show your team members that their ideas are

, on the

, or a little

with our latest reactions that will be sure to

.
Filtering of Notifications and Grouping
Never miss a beat again with improved filtering of notifications.
– Sort your notifications log by "All," "Invitations" only, or "Comments" only
– Mute notifications on a folder (but still see when a user mentions you in comment)
– Aggregate similar notifications to keep your activity email clean and simple
Impress Your Audience
Branding
With a Premium Bublup account, you can now add custom branding to your folders, emails, landing pages, and rolls! You can use this brand new feature (no pun intended) to improve the way you share content from Bublup while also directing traffic to a URL of your choice. Check out our "Level Up & Brand Your Bublup" blog post for more details.
New Rolls Themes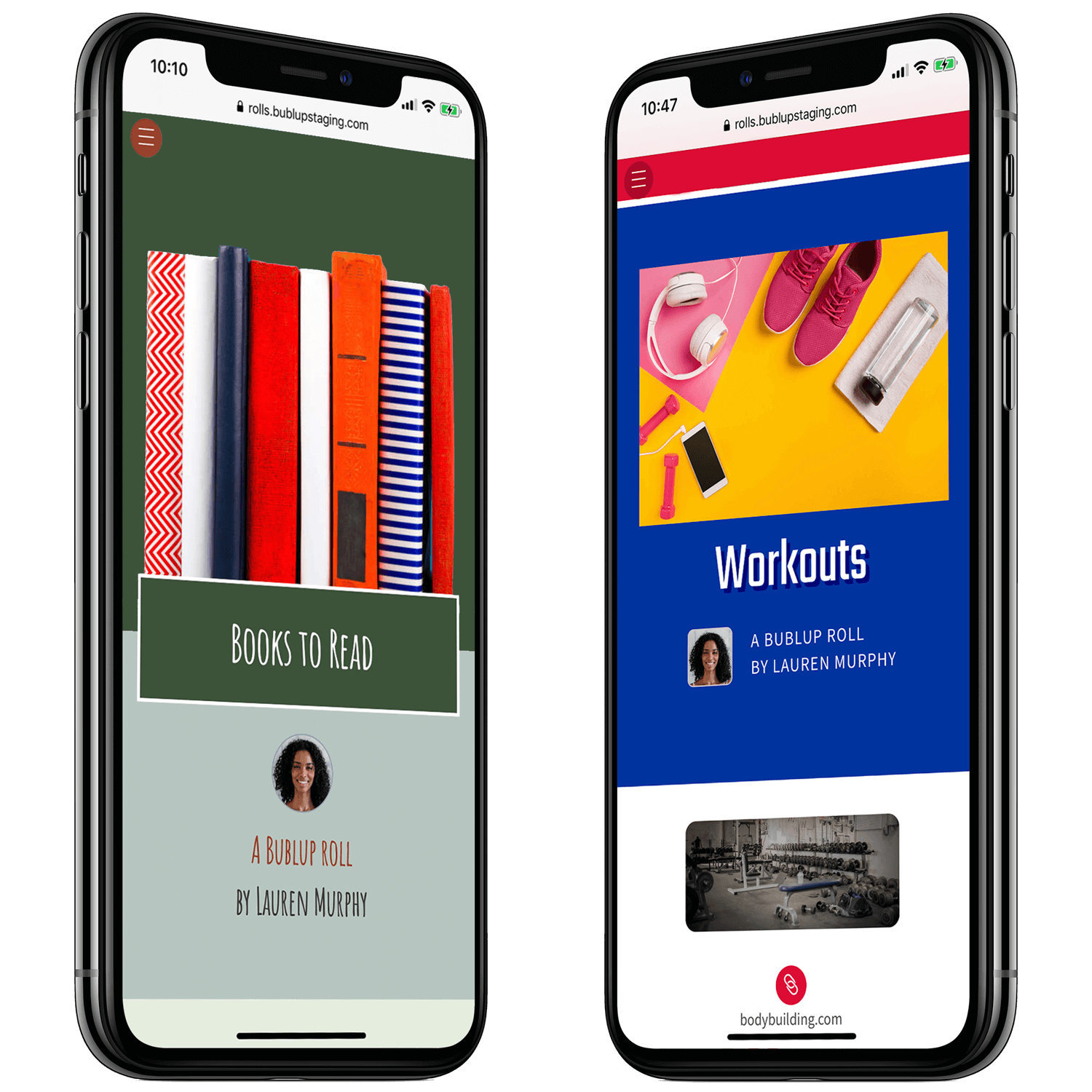 Journal: Accentuates your content with varying shades of green, providing a subtle background, giving your content a personal feel.
Sport: The theme that will grab your attention. Bold splashes of red and blue help highlight the items in your roll. Works best for quick hits and lively content.
Smoother Editing of Rolls
Live Preview of Roll Themes: When exploring themes, you will now see a live preview of your roll in the selected theme before making the change.
Sync From Source Folder: You can now choose whether your new content gets added to the top or the bottom of the roll or section.
Bulk Changes: When changing a tile layout, section layout, or adjusting image size, you now can select "Apply to all".
What's Bubbling Up for You?
We've made it dramatically easier to find new content personalized for you! Bubbling Up for You is now a single feed that includes trending content, suggestions from your folders, and content from group folders you belong to. As you save and collaborate more, and adjust your preferences, you'll notice the content mix in your feed evolves.