After months of isolation, you probably can't wait to get away and start planning your travels. Whether you decide to travel abroad or explore the state or country you've spent the last couple of months in, you still need to prepare accordingly. Bublup will make organizing yourself and packing for your trip so much easier!
I believe that before every trip, you have to research the place you're going to. As we look into different restaurants, sights, and potential day trip locations, we must remember that our packing list is heavily dependent on what kind of travel we're going to practice, and where we're going. For example, if you're planning a city break in Lisbon, you should know that comfortable shoes are a must. The city was founded over 7 hills and you will find yourself constantly climbing up or down. Also, if you're planning a camping trip, your wardrobe will look much different than if you were going to a luxury hotel. So do your research and use Bublup to save any relevant information, or better yet, use it to create a whole travel itinerary!
Now that you know everything about the place you're going to, you can start to pack. Here are a few tips on how to use the app effectively and create a perfect packing experience.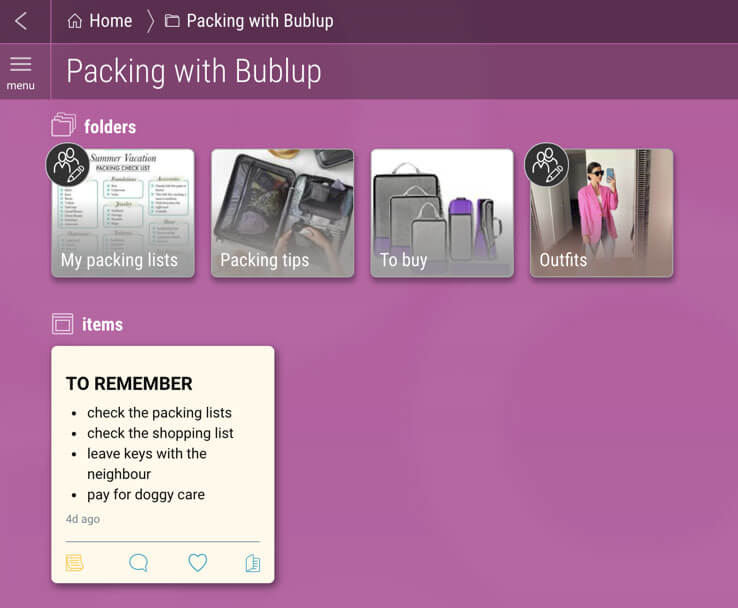 1. Create a packing list
Use Bublup to create a folder with your own packing lists. Make sure to divide them into categories. The easiest way would be to create a folder just like this one here and use notes to list all the items that you want to take with you.
You can also look for premade packing lists online and save the picture directly in the folder. Using other people's lists is handy, as they give you a new perspective. For example, if you're going on your first camping trip, you might be unaware of certain items that are good to have.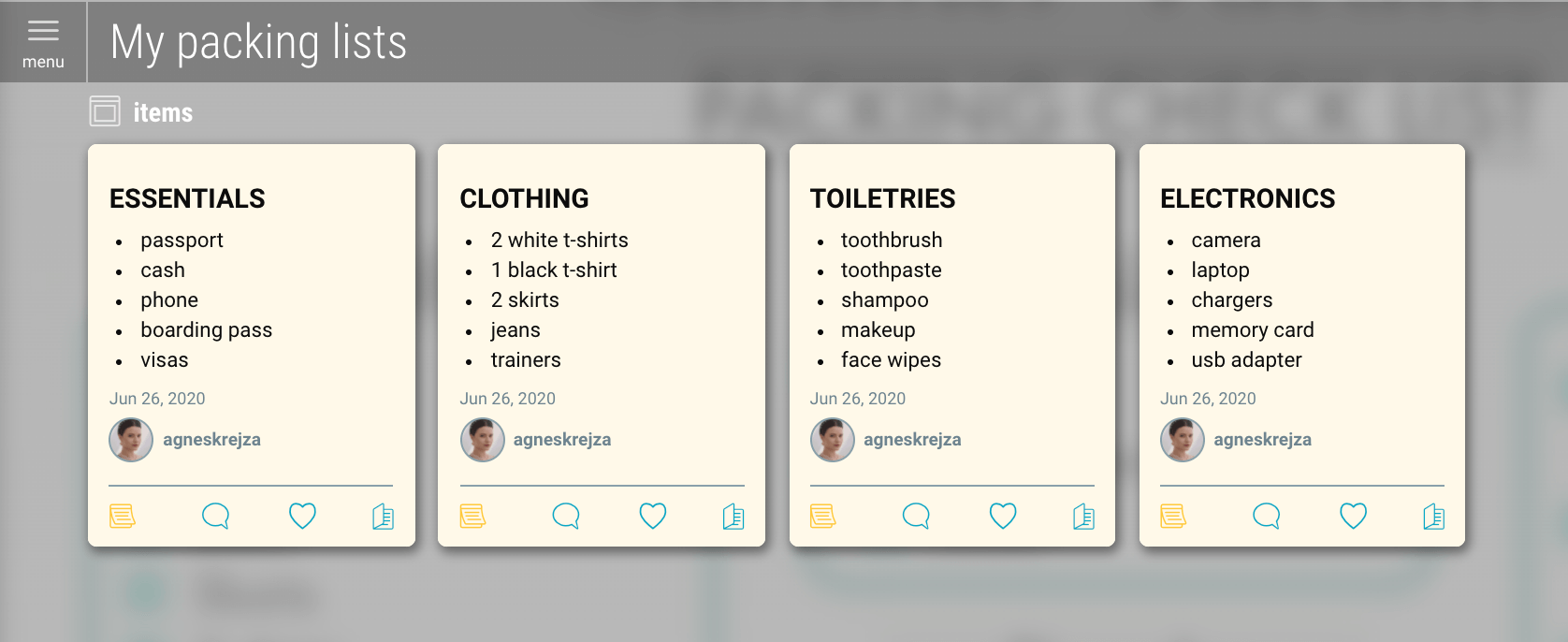 2. Plan your outfits
As a personal stylist and avid traveler, I can't stress hard enough how important it is to plan what you're going to wear each day. Creating a comprehensive packing list of your outfits will help you avoid overpacking or under packing. You don't want to end up with 3 t-shirts on a 14-day holiday!
Create a folder for your outfits. Either lay out the combinations on your bed or try them on yourself, then snap a picture and upload it to Bublup. During your holiday you will have everything in one place, and you won't have to worry about what to wear!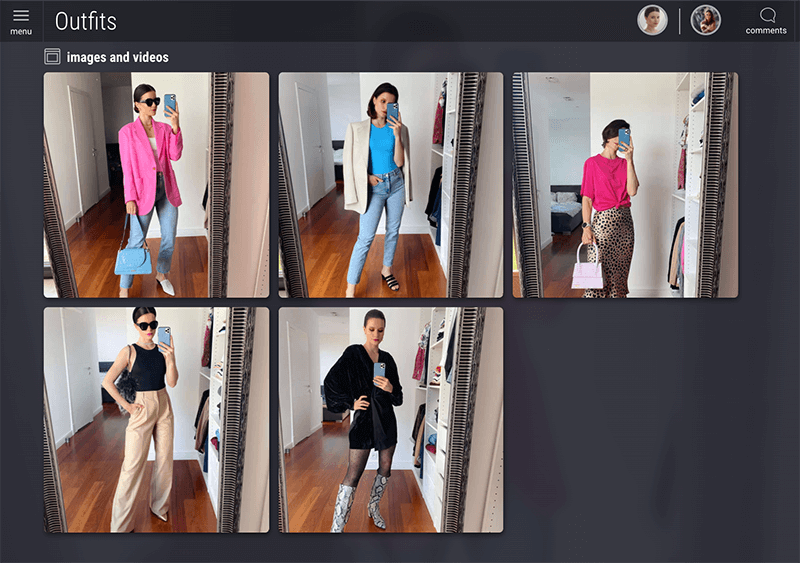 3. Create a shopping list
Identify items that you are missing and create a folder with a relevant list as well as direct links to the items that you need to buy. The amount of times I forgot to buy a good waterproof SPF before a trip is outrageous and you can't buy one in any old shop.
4. Packing tips and tricks
Use Bublup to learn new packing hacks! Simply save all your research in one folder so the information is available on the day you start filling up your suitcase. If you found some good packing advice online, save it. If you want to try packing cubes, explore the idea and save any videos or articles. If you want to maximize the space, maybe try the army roll. If you don't know how to do it, there's plenty of YouTube tutorials. Save everything in one place and explore your options when you have free time.
The most efficient way of saving all your research to Bublup is using the Bublup plug in or simply doing the research through the app. Everything will be one click away from the designated folder.
5. Invite your travel buddy to the folder
If you're traveling in a group, then there is no need to double up on certain items. For example, you don't need individual hairdryers, which are bulky and take up space. Identify who will bring what in the folder and share!
6. Create the final checklist
The moments before leaving for a trip can be quite stressful, especially if you're in a rush. Before you start doubting yourself, check your final checklist. It should list all the things you need to double check or do before you walk out the door. I would suggest double checking all the lists and a few small tasks, like leaving the keys with your neighbors so they can water your plants.
The final checklist should be visible and easily accessible.
Bublup is a great organizing tool that is simple and easy to use. A well-organized holiday is stress free and simply more pleasant. Follow my packing tips and use Bublup to make your life easier!