If you've been using Bublup for a while, you know there's a lot this app can do – like being able to save everything in one place, or creating a beautiful mini-website in seconds. But did you know there are hidden features you probably didn't even know about? I'm here to take you behind the scenes to show you a few secret capabilities that might surprise you!
You Can Set Each Group Folder's Notifications!
You can seriously streamline a project by knowing what's being changed in your group folder. Did you know you can set notifications for each of your group folders individually? Notifications can be set to show up in your app, via email, or even right on your phone's home screen. You can even turn them off. Set them now to see how your folders transform.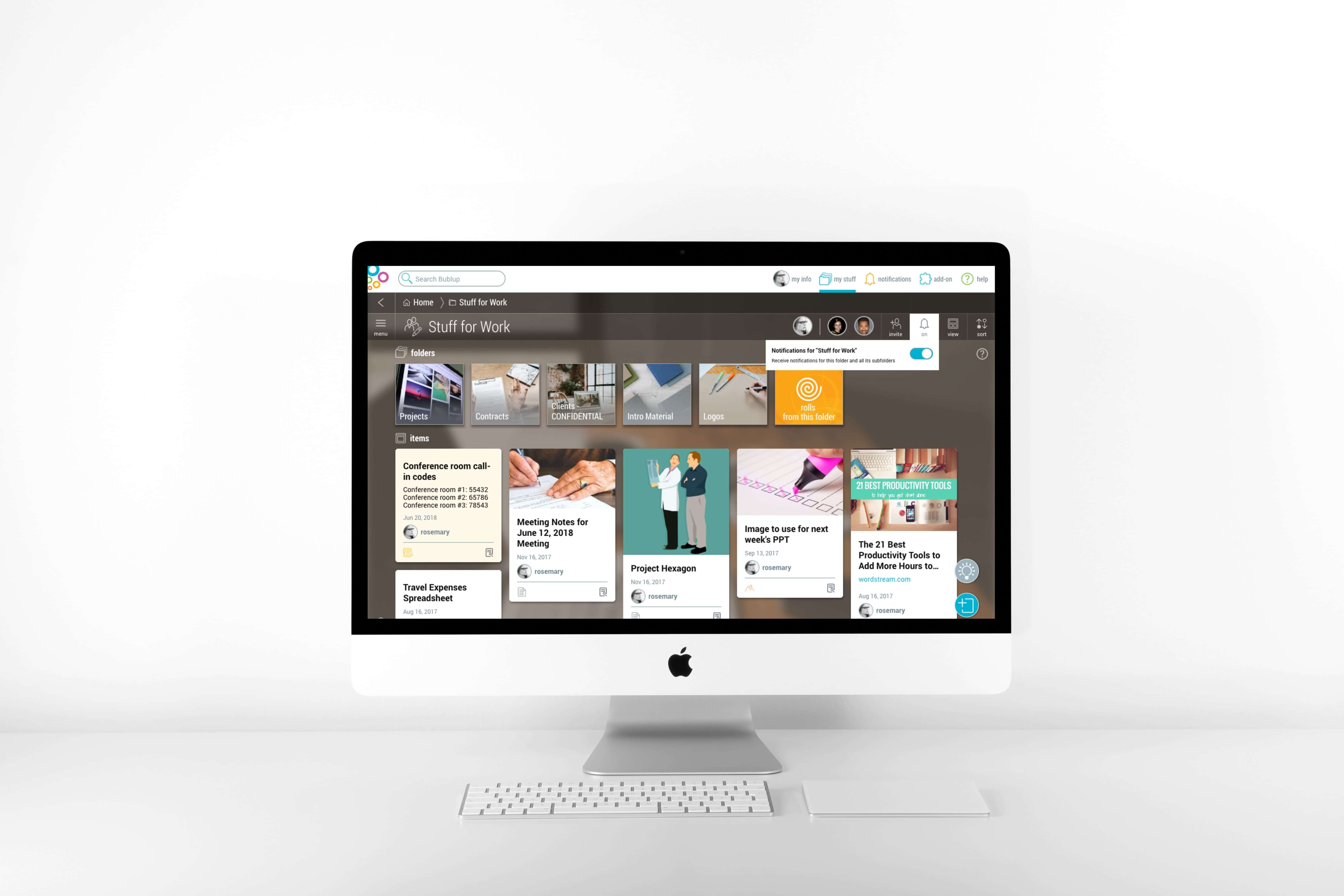 For more info on setting up group folder notifications, click here.
Show Off Your Favorite Photos with a Fancy Slideshow:
You know you have tons of nice photos from your last family reunion or pictures from your last vacation but you never know how to show them off. Why not put all those captured blue skies and loving smiles into a folder in Bublup so you can try out the slideshow feature?
Whether you're trying to look like a polished pro with a client or with the fam after Thanksgiving dinner, Bublup's slideshow feature helps make your photos pop.
Here's how to use the feature.
Stop Chasing Your Friends for Their Photos. Take Photos Directly Inside a Group Folder Instead!
How many times have you gone to an event with multiple people, and then tried to collect all the photos from everyone's different devices the next day? If only there was a way to get every single photo from the event automatically uploaded into a folder while it was happening… Oh, wait! That's what Bublup's Camera Mode Group Folders is for.
You can already upload batches of photos from your phone right to your folders for your friends to see instantly. But with the camera mode turned on, your folder is connected directly to your camera. So the photos will automatically pop right in for everyone, no separate upload required. The best part? You can add as many people as you want to the folder.
For more info on how to turn use camera mode for a group folder, click here.
Get Your Daily Dose of Entertainment and News from "Trending" on Mobile
The internet is a big place with a whole lot of amazing content (and yes, a whole lot of garbage too). The Trending feed can help you sort through the ever-expanding wealth of knowledge and entertainment that's out there by showing you the stuff that's trending across the entire internet in more than 40 categories! For now, it's only available on the mobile app so make sure you select the categories you're interested in, check back every day, and let Bublup do the rest.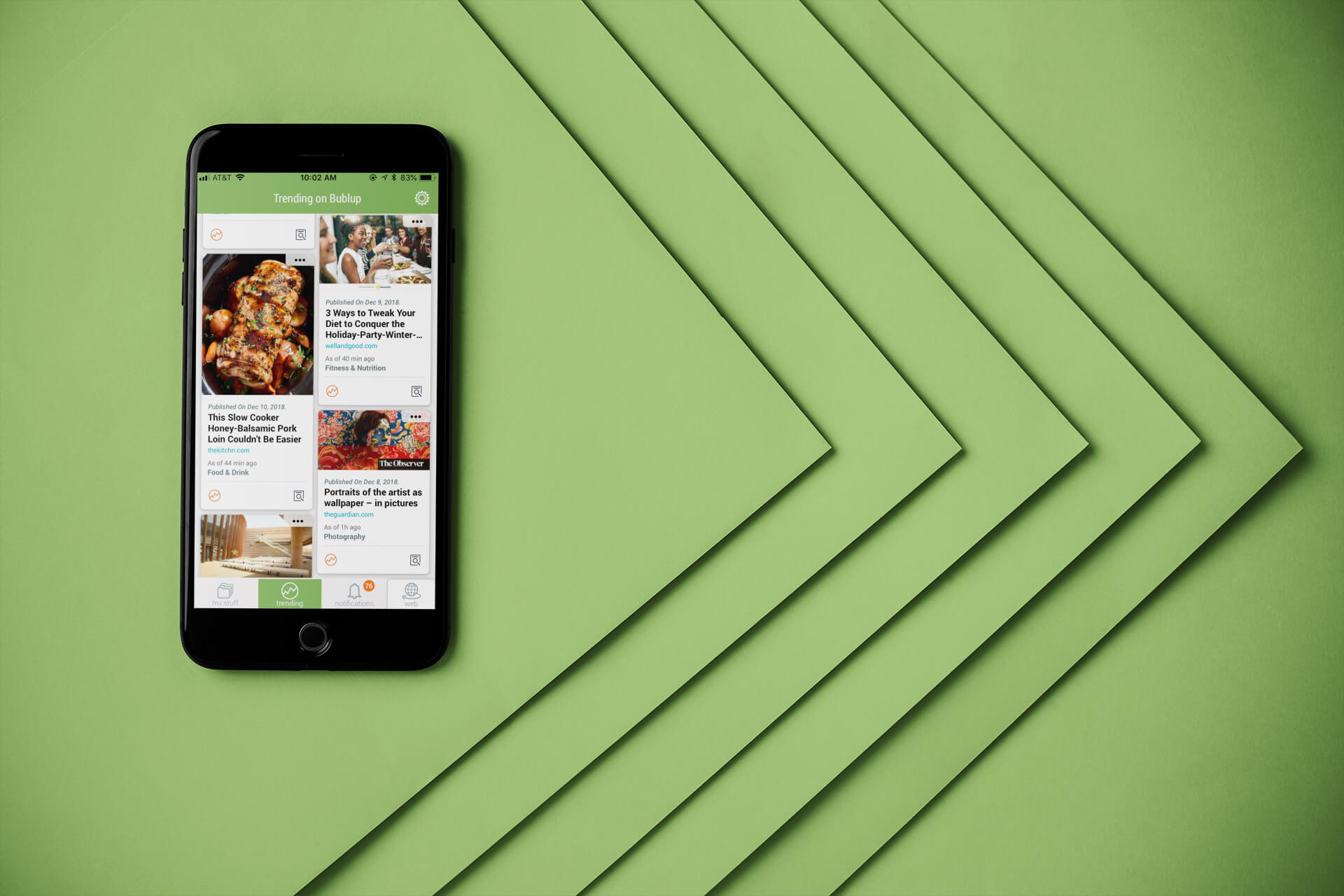 For more on Trending, click here.
Get Suggestions for Relevant Websites WHILE You Browse
If you're ever looking online for the answer to a question (where to go for dinner, what to do in Croatia, how many fish are in the ocean, etc), our app can actually offer you crowdsourced suggestions of relevant web pages that might help you. These are called Bublup Suggestions, and they're based on whatever it is that you're looking at online at that very moment. They won't get in your way, but they're always there waiting for you whenever you want to take a peek.
For more info on finding your Bublup Suggestions, click here.
We're Just Getting Started!
If any of these catch your attention feel free to tell your friends. We're still in beta and making many improvements so stay tuned for more to come. This is just the beginning!