After the calendar rolls over into a new year, the winter season comes to an end, taxes get filed, and we follow the adopted annual pastime of "spring cleaning." Whether this means dusting the ceiling fans or deep cleansing the office drawers, it's also a great time to declutter digitally. Free up limited space on an internal hard drive by organizing and storing old projects, images, documents, emails, and other data on Bublup.
I, for one, am a firm believer that important data files don't exist until they exist at least two times, be that on two different hard drives – stored in two different locations, for safety's sake – or on an external drive and somewhere in the Cloud.
Cloud storage platforms are already powerful, but Bublup succeeds in taking it to another level by allowing me to save documents, links (bookmarks), photos, and videos from anywhere in the world, all in the same place. Let's take a look at how to go about this space-freeing process.
Folder Organization & Structure
Many people face the challenge of poorly organized desktops and document folders throughout their computers; this might be you if it seems like you're playing hide-and-seek every time you need to find a file.
When it comes to backing up and creating redundancies of these documents, it's important to create a file-naming system so that finding items down the road is a breeze. As someone that works on multiple projects each month, I find it best to organize my backup folders like this:
"2019" – the year I'm backing up

"1911" – November (11th month) of 2019

"Torro Offroad – SkyLux Product Photos" – for specific client folder/projects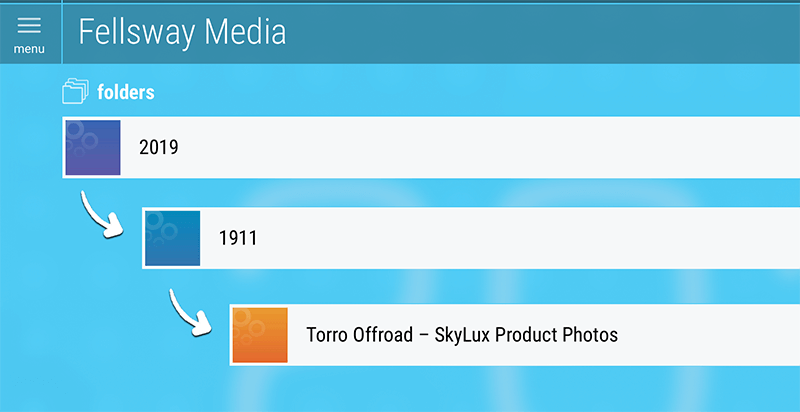 The benefit of utilizing numeric folder titles for the high-level organization is that they're easily sortable in ascending or descending order. Labeling by the month's name won't allow you to do that and can create issues with quickly accessing data down the road. If your projects don't necessarily follow a strict month-to-month timeline, you could instead do the following:
"2019" – the year I'm backing up

"Torro Offroad" – specific client folder

"SkyLux Product Photos" – for the project
Flexibility inside that main folder year is entirely up to you, and you may already have a system in use that you're familiar with and allows quick movement – if so, use that! The point here is to get things backed up and off of your everyday computer. If you're interested in using all of Bublup's fantastic features, you can even customize folder backgrounds by uploading your own image, something I find incredibly useful when I'm utilizing the site or app with my clients.
File Naming & Uploading
Once you've got folders set up recognizably, it will be time to get files and bookmarks themselves uploaded and appropriately named. You can start the naming process either on your computer's file browser or on Bublup's end, where you're able to add not only a file name but also a description to be visible underneath the main title.
Giving items a recognizable name, be it by project, client, or something else, ensures that it's easily found inside of a folder and also by Bublup's search function. Bublup will automatically sort by newest item, though you can manually rearrange them however you prefer. Bublup's ability for a manual sort is a unique feature to the platform enhancing the inherent visual organization cues that are lacking in other cloud storage systems; you're no longer stuck in an antiquated world of sorting only by upload time or alphabetical file order.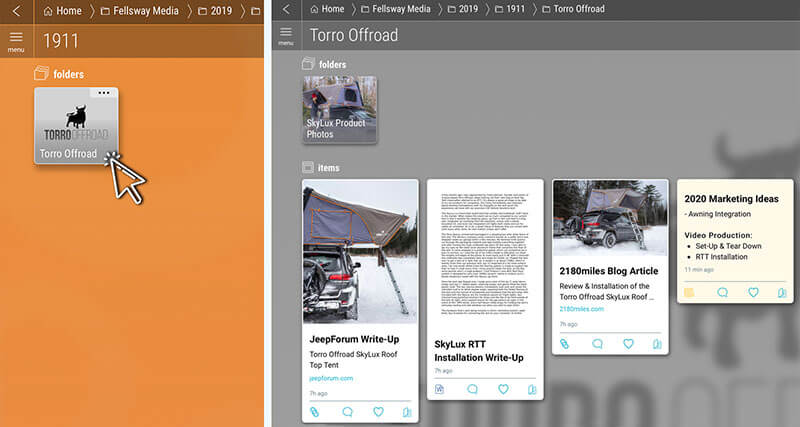 Uploading & Sharing
Now that you've backed your data up, you'll be able to use your Bublup login to access those files and bookmarks whenever you need to, both on mobile and desktop. Whether you're working in a team environment, or work solo like me, there may be times you want to give others access to the items you save. Enter Bublup's "Invite To Folder" and "Shareable Link" features that allow you to grant instantaneous access to anyone you choose.
Look for the icon of a person with a "+" in the top right on desktop and top left on mobile to send an invite by username or email, or create a shareable invitation link to join.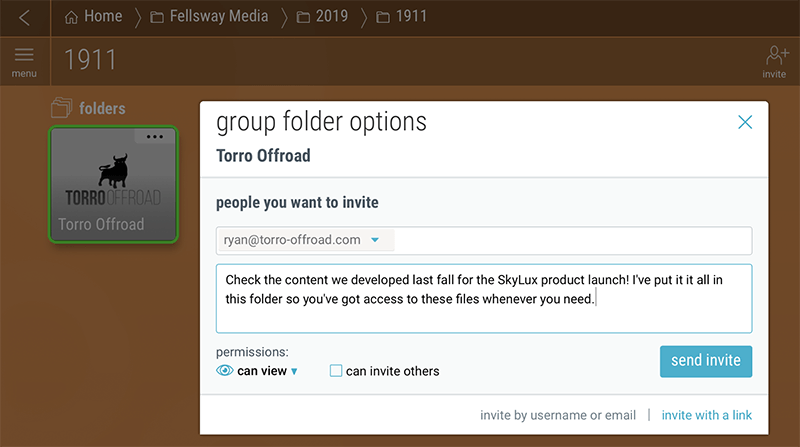 The folder share capability is one of my favorite features of Bublup as it allows me to give my clients complete access to text, photos, and marketing materials I've created for them, as well as organized hyperlinks to any online projects I've completed on their behalf.
Instead of sending an email with links and long paragraphs explaining where their information can be found, I can send a clean, simple link to a folder containing everything they could ever dream of all organized in one place.
Not only does this make clients happier by not having to ask me every time they need something, but it also makes me seem infinitely more organized and professional by providing them with this kind of access to their files.
Embrace the reliability of cloud storage
Hard drive space seems to disappear at an alarming rate sometimes. As we continually create data with written word, imagery, emails, weblinks, and the variety of other things that take up gigs at a time, freeing up room for new projects is as important as keeping old ones backed up.
While external hard drives do a decent job at clearing up space, nothing can beat the redundancy and reliability of cloud-based data storage, constantly available at all hours of the day for years to come. Be sure to check out the incredible suite of features available with Bublup's web and app-based cloud storage and make room for another year of digital creativity.