With the holidays right around the corner, it's that time to start figuring out what you'll be buying for everyone on your holiday wish list. If you're anything like me, you're prepared to walk around a mall, aimlessly for hours, writing down ideas, losing track of time, and comparing prices of crap your family doesn't need on a napkin you stole from Applebees while you suck down a mid-day margarita. Well, if that is you, hats off, but I have evolved this year and have begun organizing my holiday shopping lists in the cloud-based storage app, Bublup.
My Wish List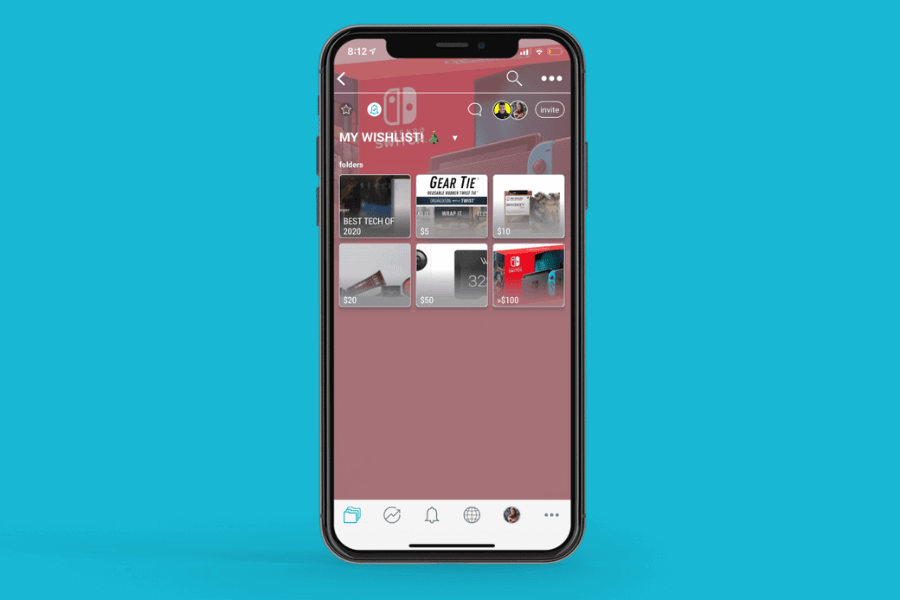 I started organizing shopping lists last year because the app was so easy to access, change, and share. I made myself a wish list, threw in links to items I wanted on Amazon or other websites, and easily shared that group folder with friends, family, and anyone willing to buy me a present. To make online shopping research go faster, use Bublup's Chrome Extension.  From your desktop, you'll be able to save more gift ideas in less time, see bubbled up suggestions while you browse, and have one-click access to your folders.
For my own wish list, I try to keep my finger on the pulse of technology by breaking down the items I want into pricing categories. Some people don't want to buy a $100-300 present. So, I've included $5, $10, $20, $50, and >$100.
It's easy to break down a personal wish list by simply adding more folders, and your family will thank you for giving them pricing options. Seriously.
Shopping For Others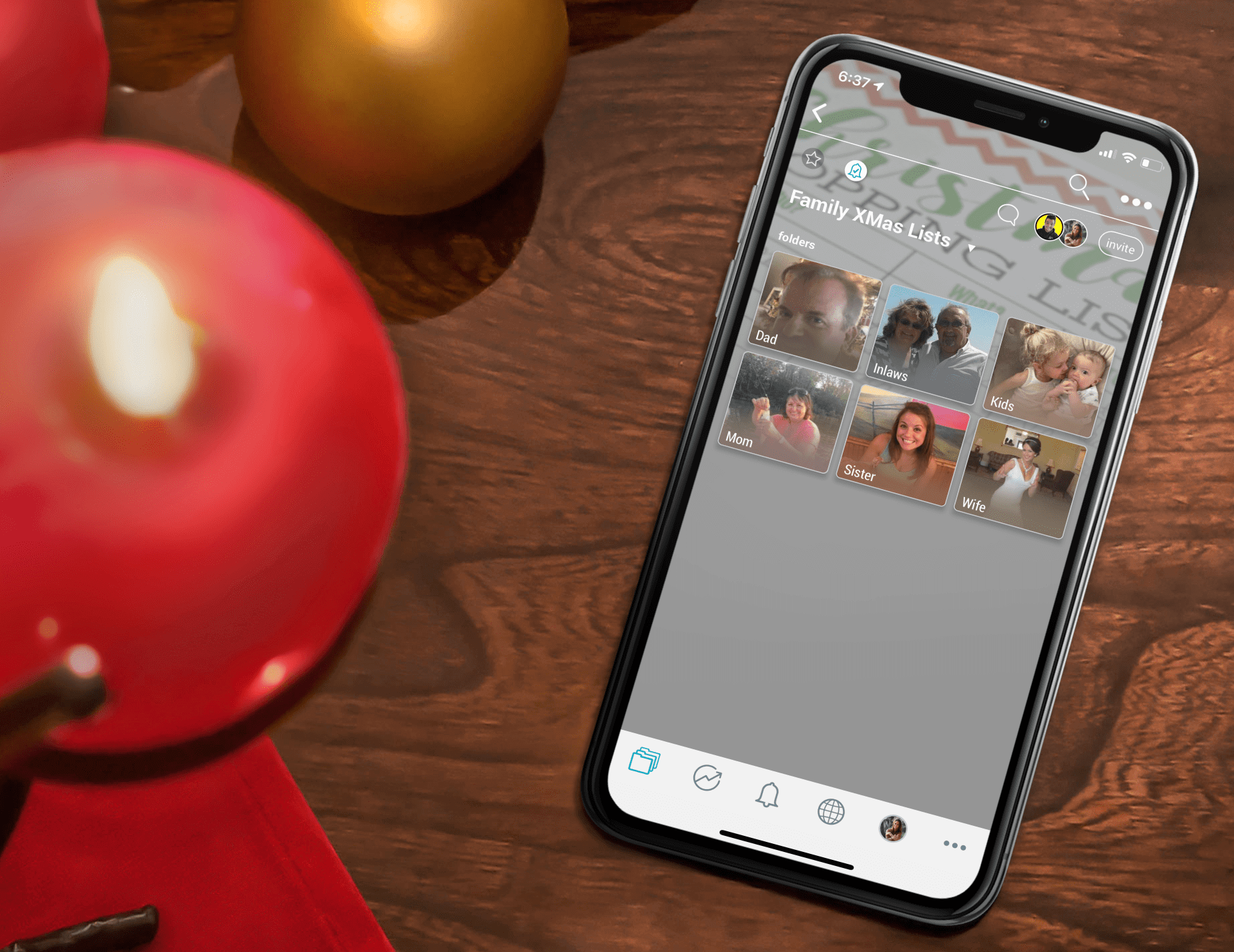 I have been updating my holiday gift list since before last Christmas. Doing so to compile a growing list of gift ideas while keeping it vague helps me plan gift ideas for birthdays, anniversaries, and just-because gifts.
I break down the main folder into the people I'll be shopping for, for example; my wife, kids, sister, mom, dad, and in-laws. Inside each one of those folders is a "purchased folder" where I keep track of what I spent the past year and note what was purchased. Each folder can have store specific items, online coupons, notes, or photos. (I typically use them to compare prices for in-store only.)
It's also great to use Bubup when brainstorming and shopping as a group or family. I can't emphasize enough how important organizing your lists is for both saving time and keeping your ideas clean and easy to navigate. The visual layout and navigation Bublup offers makes compiling gifts, notes, photos, coupons, and everything in-between seamless.
Wish Lists via Bublup Rolls
For someone who is not so technologically inclined (like your grandparents or maybe even your parents) we have the roll feature. Making a wish list of items showcased in a roll format gives you an easy way to share a link that allows your dinosaur family members access to your list without downloading Bublup.
You'll also be able to update the list as you see fit; adding and removing in real-time won't change the share link. It's cool being able to update your roll cover, and the theme layout of your custom page. I went with the theme "Journal" because I thought it gave my roll a more personal feel.
Sample Wish List for Tech Lovers
I went ahead and created an example of a roll with five of my favorite tech items for the holidays this year.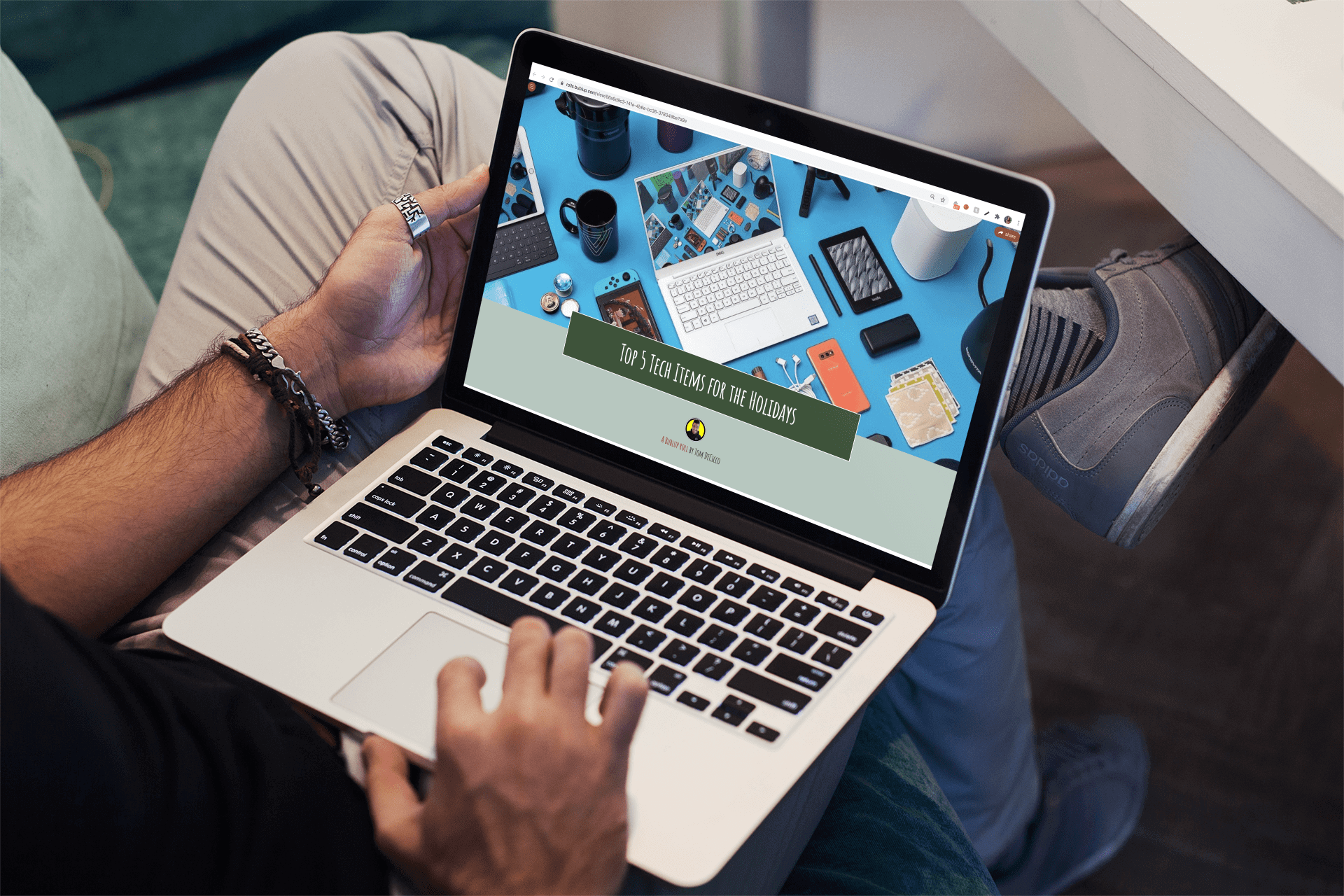 1. Palm phone: For the tech nerd that has everything. It's a fun little companion phone that you can use to supplement your daily-driver and stay connected without being absorbed by social media, emails, and the stuff that distracts you in your daily life.
2. ROMOSS 30000mAh Power Bank Sense 8+: I also included one of my favorite power-banks just in case you don't want to unplug but rather use more juice so you can never miss a digital moment. This power bank is high capacity and can charge everything from a smartphone to a laptop. I love it!
3. YOCHOS A66 Wireless Earbuds: If you're a traveler, I included one of my favorite pairs of budget true wireless earbuds. The Yochos A66's pack quite a punch for the price tag. I highly recommend it.
4. Canon 80D : If you're looking to up your creative game with photos or video, I included my first love, my creative companion, my workhorse camera, the Canon 80D on this list. While technology keeps moving forward, with 4k, 8k, and beyond, this 1080p/60fps recording, 24MP camera is still a tank. If you want to take professional photos and video on a regular consumer budget, check out the Canon 80D, for SURE!
5. Cartridge-less Printer : Lastly, we are niching down a bit…it's super nerdy, but this cartridge-less printer is BY FAR the best thing I bought in 2020. Cartridge-less means there are NO CARTRIDGES! I have already saved myself hundreds of dollars on printer ink this year, and from the stock I have already purchased, I haven't even made a dent in it. I love this printer. It has wireless printing and scanning, vibrant colors, consistent tone. It's a great piece of equipment.
Check the roll out here!
I'm a serious nerd, and if you couldn't tell, I love sharing my thoughts and findings on consumer tech via my YouTube channel. So included in the roll, you'll also find various videos for the products I mentioned, along with purchase links so you can make an informed decision if you would want to buy some of the tech I mentioned.
With all that being said, using Bublup during the holidays to shop, stay organized, and share a personal wish-list are just a few examples of why this app rocks.
Thanks for reading. Happy Holidays, and stay safe.